Give Women In Sports The Recognition They Deserve, Because These Ladies Are Badass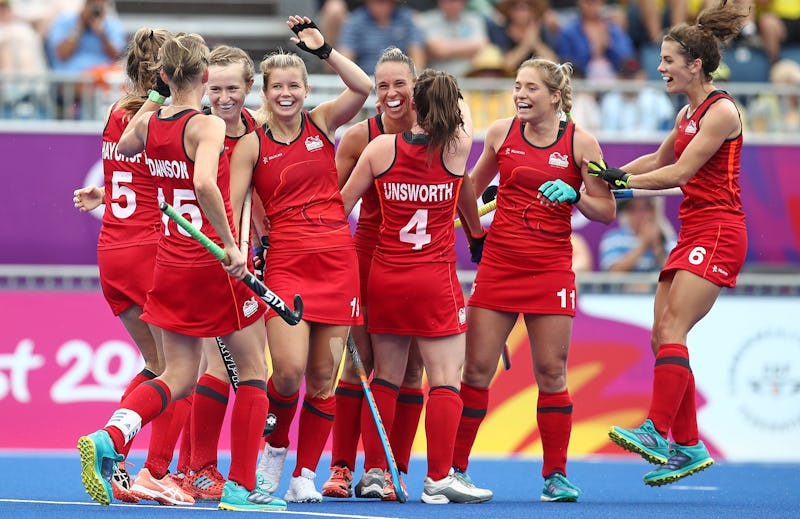 Scott Barbour/Getty Images Sport/Getty Images
Many of us got caught up in the "it's coming home" hype around the recent men's football World Cup. Yes, it was a joyful few weeks where hope triumphed over experience, and pints were thrown over heads. And like always, when the tournament ended, there were lots of tweets saying things like "well that's it for another four years". But did you know there's another massive sporting event set to take place this weekend? That's right, the women's hockey World Cup starts on Saturday in this very country and I've barely heard a peep about it from anyone (oh and the women's football World Cup is on next year just FYI, guys).
You'd think after the excitement of the past month, everyone would be looking for another excuse to go to the pub and shout at the telly. But it seems as though a lot of people just aren't that interested in the women's hockey World Cup. If you look at search stats comparing the two tournaments, FIFA World Cup was googled significantly more than women's hockey World Cup. And the ladies' tournament isn't even being shown on TV (but you can watch it on the BBC Sport website). Why? Well, yes hockey may be considered a less popular sport globally than football, but I can't help but wonder whether if this was the men's hockey World Cup, there would be a raft of articles about how we should all follow it to fill the FIFA-shaped hole in our lives.
Sounds like sexism again. When the men's England team made it to the semi-final of the football World Cup, tweets flew around saying it was the first time since 1990 that the team had progressed so far. Except it wasn't. The England women's team reached the semi-final in 2015, and it's Under 17s team won the entire tournament in 2018. What does that tell you about the way women's sports and, women generally, are viewed?
And it's not the only sporting success for women that has been under-appreciated, England also won the women's cricket World Cup in 2017.
Can you imagine if England's men's team ever managed to do the same ? You'd never hear the end of it. A little like when the team beats Australia in The Ashes, it would be all over the news and social media.
In my humble opinion, attitudes towards women's sports are well overdue a big overhaul. Yes, I realise that interest is on the rise, but it is still nowhere near as high as it should be. So why not show our national women's hockey team your support and get involved?
They're in with the best chance of winning the tournament in years, as they're currently ranked second in the world. Plus it's taking place on home turf in London, giving the squad the home advantage. My fingers and toes are certainly crossed for them.
But do you know what? Why do we need the women's hockey team to be in with a chance of actually winning to drum up support? Because even if the men's England football team didn't have a the slightest chance of progressing past the group stage of the competition, that wouldn't stop fans from letting their hopes and dreams run away with them. So to have anything less than pure unbridled optimism for the women's hockey team's chances is downright unfair.
Gareth Southgate cares about the women's hockey World Cup, so do I, and so should you. Please lend the women's hockey team your support and it might just help to mend your men's football World Cup heartbreak and restore your hope in the nation's sporting prowess.