The Women's March Won An Award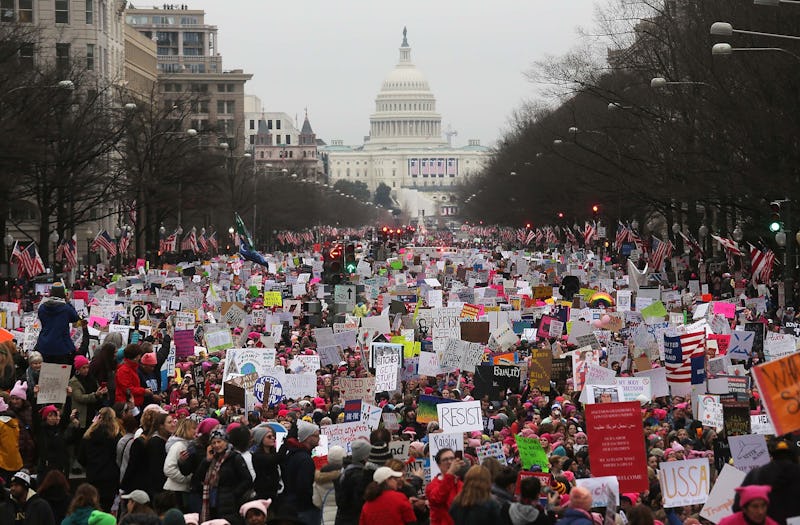 Mario Tama/Getty Images News/Getty Images
Did you participate in the women's marches on Jan. 21? If so, you know you weren't alone. Over 2 million people are estimated to have marched in the United States alone. So, congratulations — because you helped win a prize, and a big one, too. The Women's Marches have won an award for encouraging freedom of expression. At its Literary Gala this year, PEN America is honoring the Women's March with the PEN/Toni and James C. Goodale Freedom of Expression Courage Award. March organizers Bob Bland, Tamika D. Mallory, Carmen Perez, and Linda Sarsour were specifically applauded for their work. Bland will accept the award on behalf of the Women's March at the Gala on April 25.
In a statement about the award, PEN America Executive Director Suzanne Nossel praised the marches for inspiring a national surge of activism:
The Women's March convinced Americans that mass civic action was possible. If not for the Women's March, people would not have flooded to airports over a weekend to reject a discriminatory visa ban just days later. We honor the Women's March for acting at a critical moment to overcome the inertia and fear of failure that can impair public mobilization, and for inspiring millions in America and around the world to do the same.
Previous winners of the award include the women who helped expose the Flint water crisis and the surviving members of the Charlie Hebdo staff. The award lends even more prestige to what has frequently been called the United States' largest protest ever and calls attention to the cultural shift they represented.
Aside from its huge turnout, the marches brought national attention to conversations around intersectionality and inclusivity in feminism as well as the nature of resistance and protest itself. And Women's March organizers didn't end their work after Jan. 21. They continue to rally followers around action steps and are currently promoting voter registration and awareness around voter rights and voter disenfranchisement. Additionally, other marches followed the Women's March including the Day With a Woman marches, the smaller immigrants' marches, and soon the upcoming March for Science on Earth Day, April 22. It's as yet unclear if there are plans for a Women's March on Washington 2018.
So if you marched in the Women's Marches and need a little self-esteem boost today, take care in knowing you're being honored by a national literature and human rights organization this year, alongside American composer Stephen Sondheim and Ukranian filmmaker Oleg Sentsov. Treat yourself to a reward knowing you're now a PEN America honoree for life.