The Newest Way To Provide Feminist Resistance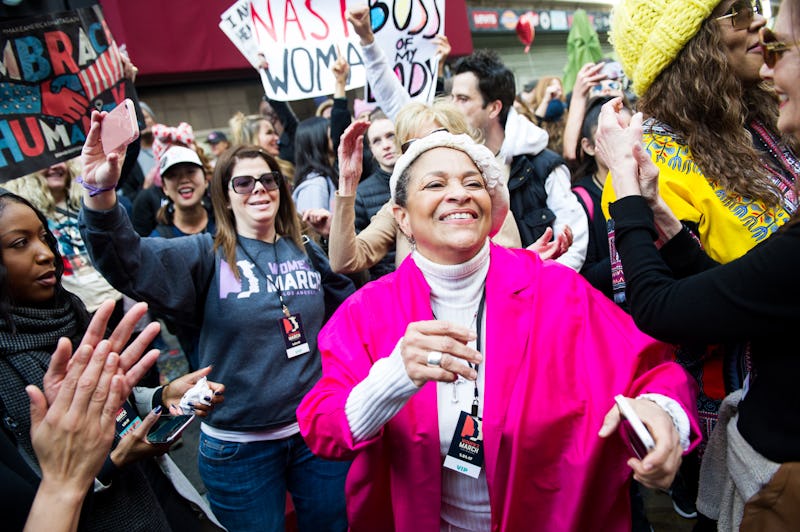 Emma McIntyre/Getty Images Entertainment/Getty Images
As part of its "10 Actions in 100 Days" activism campaign, the Women's March on Washington recently announced its "Hear Our Vote" initiative, which encourages women and men to register to vote, particularly in upcoming local elections. Along with announcing the initiative, the organization released a helpful guide to how you can make your vote heard and continue the Women's March mission.
The inspiration behind the "Hear Our Vote" initiative consisted of recognizing the importance of voting at the local, state, and federal levels as well as raising awareness that voter suppression, particularly against ethnic minorities, still very much exists in the United States. The Women's March organization particularly emphasizes the importance of inclusivity in the "Hear Our Vote" initiative, asserting on their website that "when we say 'hear our vote,' we mean ALL votes. We march forward together or not at all."
The Women's March website lists a variety of actions you can take to make your vote heard and be a part of the organization's inclusive mission. First and foremost, you should check to see if you are registered to vote (via a link on the Women's March site) and, if you are not registered, do so immediately. The Women's March also suggests that you then use this helpful Rock The Vote online tool to determine the dates of your state and local elections and mark them on your calendar.
In addition to verifying your registration status and election dates, the Women's March also strongly advocates for getting more involved in your community as a way to help others make their voices heard. The organization suggests actively engaging with those around you, including family members, friends, and neighbors, to see if they are registered to vote and to ensure they have access to all of the information needed to vote in their next local elections.
Furthermore, the organization also proposes engaging with or starting a "huddle" — a local community activist group that the Women's March encouraged people to create as one of its other actions in the "10 Actions in 100 Days" campaign — in order to strategize how to encourage even more community members to vote. Finally, the Women's March suggests hosting voter registration drives or canvassing door-to-door, either on your own or along with your "community huddle," in order to register as many people to vote as possible.
Beyond its suggestions for increasing voter registration and turnout in your local community, the Women's March organization also provides a helpful list of resources on its website, which you can use to read more about the issue of voter suppression and help work to educate others on the problem. Additionally, the organization also offers a link to a list of recently-proposed legislation that could restrict voting rights, which you can again use for advocacy and awareness purposes.
Overall, if you are passionate about the Women's March mission and wish to continue the activism it inspired, I strongly suggest following their action plan for the "Hear Our Vote" initiative in order to make sure your voice (and others' voices) are heard in the myriad of upcoming elections across the country. You can also continue to be involved with the movement long-term by signing up to receive an immediate notification when the March's next action is announced.