An English Bulldog Named Zsa Zsa Won The World's Ugliest Dog Contest & She Is A True Icon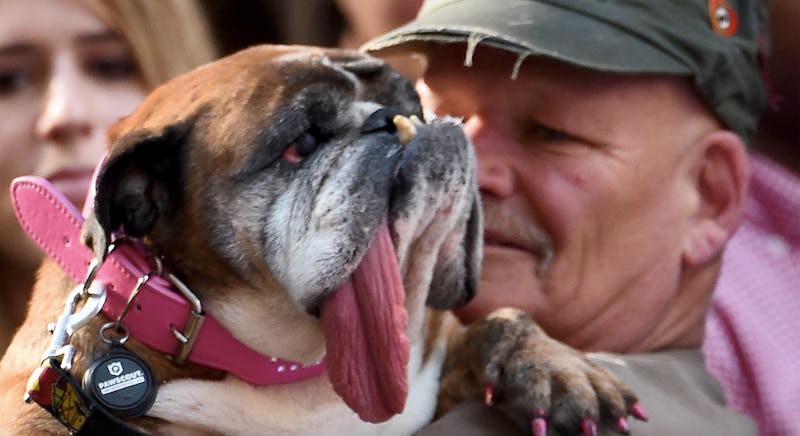 Michael Loccisano/Getty Images Entertainment/Getty Images
It is said beauty lies in the eyes of the beholder, but in rare cases the beholder is just misunderstood. Case-in-point: the World's Ugliest Dog contest. Each year owners and pups flock to the Sonoma-Marin Fair in Petaluma, California in hopes of claiming the title of most unsightly pooch.
Yes, really. The stakes are high, and the bragging rights are legendary.
While the competition was stiff, only one mutt was able to walk away knowing she was the ugliest. Bearing little resemblance to her glamorous movie star namesake, Zsa Zsa, an English bulldog, won the World's Ugliest Dog contest on Saturday.
"Nine years young with a swaggering tongue, Zsa Zsa delivered a shower of slobber as she claimed this year's title," said a news release to announce the win, CNN reported.
Zsa Zsa is a senior English Bulldog from Anoka, Minnesota, according to CNN. Her muzzle is grey, her eyes are clouded with cataracts, her legs are bowed, and her enormous tongue (too big to fit comfortably in her mouth) hangs to the side like a piece of soft, pink statement jewelry. She also has a underbite, appearing more defined by the pup's set of yellowing, crooked teeth.
Okay, so she may not be ~conventionally~ beautiful. Even with candy pink nails painted for the competition, she is indeed quite ugly. But, just as pretty comes with a price, ugly comes with a paycheck. In addition to the title of being THE World's Ugliest Dog, Zsa Zsa's unbearable visage earned her mama Megan Brainard a $1,500 check. She'll also receive a large trophy, naturally.
When you see a photo of the pup, the first thing that sticks out is Zsa Zsa's mammoth tongue. In an email to CNN, Brainard explained its prominence is due in large part to the pup's practically horizontal upper teeth, and pronounced underbite. Together the two make it nearly impossible to keep the pink, fleshy mass contained in her mouth.
"We keep it moist since it's dry all the time, and use dog ChapStick for her lips," Brainard told CNN. "Her favorite thing is to play with you and put that tongue on your face. It feels so weird."
While Brianard did not specify how Zsa Zsa plans to celebrate her title, it is safe to assume Slim Jim's and Chipotle will be involved — they are the pup's favorite snacks.
Second place went to Scamp, a small, raggedy, possible terrier-steel wool hybrid. Third place belongs to Josie, a scraggly Chinese crested from Tucson, Arizona. The Chinese crested breed is hardly a household name even for the most devoted of dog lovers, but they are frequent fliers in the ugly dog pageant world. In fact, the same Chinese crested claimed the title of World's Ugliest Dog between 2003-2005. Four other, different Chinese cresteds won the title in 2005, 2007, 2008, and 2012.
If you feel guilty gawking at unfortunate-looking pooches, bare in mind the contest, in fact, has a pretty good message at the end of the day.
The real intent of the competition is to show potential adopters the perfect dog need not look like it is destined for Dog Show greatness. The World's Ugliest Dog page on the Sonoma-Marin Fair's website states, "The pedigree does not define the pet," and in raising public awareness about the importance of adoption, "the contest speaks to the importance of advocating for the adoration of all animals."
Nobody understands this better than Queen Zsa Zsa, who, per CNN, spent five years at a puppy mill in Missouri before being purchased by the nonprofit Underdog Rescue. Brainard recalled to CNN, "From the moment we saw her beautiful face, we knew we would be her forever home... She deserves this."
Zsa Zsa made her television debut this morning, appearing on NBC's Today Show. You can watch the video of her first guest spot on her rise to fame here.