The Young Kevins On 'This Is Us' Have Already Filmed A Scene From The Series Finale & OMG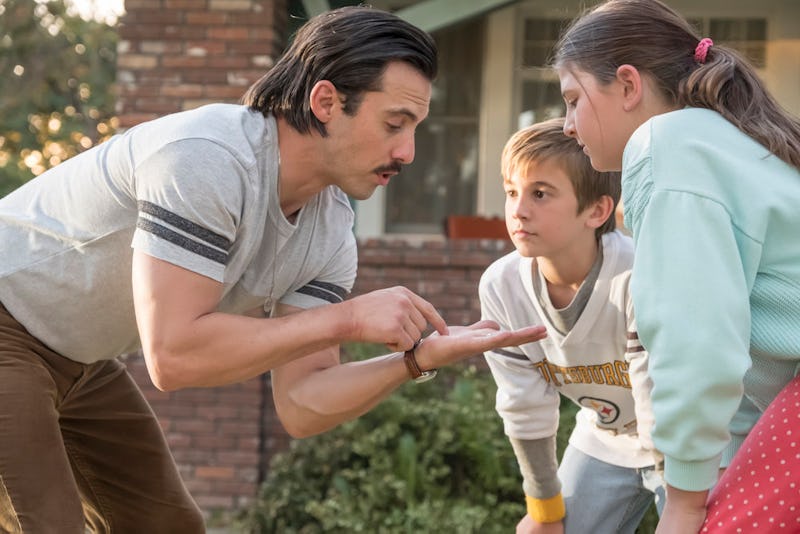 Ron Batzdorff/NBC
NBC's hit drama This Is Us is one of those shows that just hooks you. It's pretty wholesome, features a normal, charming family dealing with a lot of problems, and when it rains, it pours. Going on its third season, it's hard to think of an end in sight, but the Young Kevins have filmed the series finale for This Is Us already and what they have to say could be a little frightening for fans of the show.
Last season, which aired its finale back in March, saw a lot of new developments and added to the list of heartbreaking episodes. The biggest episode to date happened after the Super Bowl this past year — which was appropriately titled "Super Bowl Sunday" — and amassed almost 27 million viewers, a series record. It also was the most-watched entertainment telecast since 2012 and most-watched drama since 2008, according to USA Today. It's a no-brainer why it was such a hit: the episode came after one of the most watched televised event in America and it featured Jack's death, something that fans had known was coming, but had yet to see.
While the current, main cast, is filming Season 3, ET reported that the young actors who portray the child and adolescent version of Kevin (played by Justin Hartley as an adult) have already filmed the series finale. Yep, that's right, not the end of season 3, but the end of the whole show. So while only this next season has been confirmed, there's already a set-in-stone plan for the entire show. Creator Dan Fogelman already admitted at much, telling Glamour, "We always know where we're going. With a show like this, you have to." and this plan includes the series finale.
Logan Shroyer, who plays the teenage version of Kevin, was tight-lipped about his involvement in the This Is Us series finale, but did admit that his part was filmed. "Which is a little scary," he told ET at the Teen Choice Awards on Sunday. "Like, how are we going to go from here to here?" Assuming that there wasn't a ton of filming done for whatever seasons are in between now and the very end, his confusion makes sense. Shroyer fast-forwarded to the resolution of This Is Us without getting any of the context in the middle.
Parker Bates, who plays Kevin at the age of 10, echoed Shroyer. "I was really surprised and I didn't really know what was going on," Bates told ET. "So I was like, 'What are we doing? I'm confused'… I was really surprised about how the scene was set up and all that. I cannot say anything of that because I'm sworn to secrecy."
It makes sense for the young cast of This Is Us to film their parts now. After all, in a year's time, both will likely have grown so much that it might make it difficult for them to play the same ages again. But considering the show is such a hit, odds are audiences won't even see the end of This Is Us for years to come. This has added a little more pressure for Shroyer. "It was weird because you would think that you would do it at the end and you would be like, 'This is it,'" he said. "But I was also like, 'This better be some good acting' because I'm going to have to look at this in however long."
In true This Is Us fashion, the actor did reveal that the ending would be killer. "I was really shocked," Shroyer said. "I was really shocked. I can say that." Grab those tissues, although fans don't have to be reminded at this point.