Alexandria Ocasio-Cortez Is Now The YOUNGEST Woman Ever Elected To Congress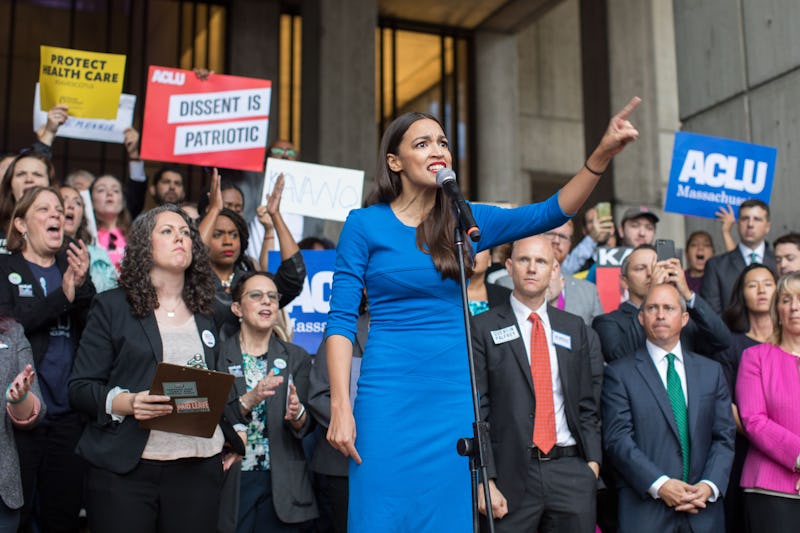 Scott Eisen/Getty Images News/Getty Images
On Tuesday evening, Democratic Socialist candidate Alexandria Ocasio-Cortez became the youngest woman ever elected to Congress at 29 years old. Ocasio-Cortez will represent the New York's 14th district in the U.S. House of Representatives when she is sworn in in January.
Ocasio-Cortez easily secured victory on Tuesday, with the Associated Press indicating that, so far, she has received around 79 percent of the vote, with 84 percent of precincts reporting. She defeated Republican candidate Anthony Pappas in the race. As Vox reported, Ocasio-Cortez has attracted national attention since winning her district's Democratic primary in June, unseating 10-term United States Congressman Joe Crowley.
The 29-year-old Ocasio-Cortez will take the distinction of youngest woman ever elected to Congress from Representative Elise Stefanik, the Congresswoman from New York's 21st congressional district who was first elected at age 30. As CNBC noted, while she was heavily favored to win the race against Pappas, Ocasio-Cortez campaigned intensively through Election Day. As the polls closed on Tuesday, she tweeted:
I am so thankful for every single person who contributed, amplified, and worked to establish this movement. Never forget the hard work it took to get us here. No matter what happens, this is what it takes.
Ocasio-Cortez ran on a progressive platform that prioritized a host of key issues, including guaranteeing Medicare for all, abolishing the U.S. Immigration and Customs Enforcement (ICE) agency, and establishing housing as a human right, among other initiatives. As Vox described, she ran a grassroots campaign focused on garnering support and turnout among young people and people of color.
The newly-elected representative also indicated that she ran on behalf of working class people, though noted that she had initially worried that the U.S. political system would not allow for the election of a candidate running on such a platform. As Ocasio-Cortez told Rolling Stone back in October:
I wasn't sure if our democracy and its electoral politics were really salvageable in the interests of working class people. ... I had always thought in order to run for office you had to take big money.
During an interview with HOT 97 radio in New York on Nov. 5, Ocasio-Cortez further discussed her commitment to a working class platform and previewed what her job as a Congresswoman might entail.
As the Congresswoman for New York's 14th District, my job would be to basically commute between The Bronx and Queens and Washington D.C. to really write and pass the laws that would really govern this land. ... We're really fighting for a working class agenda. We're fighting for universal health care. We're fighting for tuition-free colleges and universities. A 100 percent renewable energy, this is what — not just what our district needs — but what the city needs and what the country needs.
Overall, Ocasio-Cortez certainly made history on Tuesday when she was elected to Congress. You can be sure that her constituents, and many other Americans, will be watching closely to see how she implements her progressive platform as a newly-minted Congresswoman.