The Jacket Melania Wore To Her Border Visit Had An Incredibly Unsubtle Message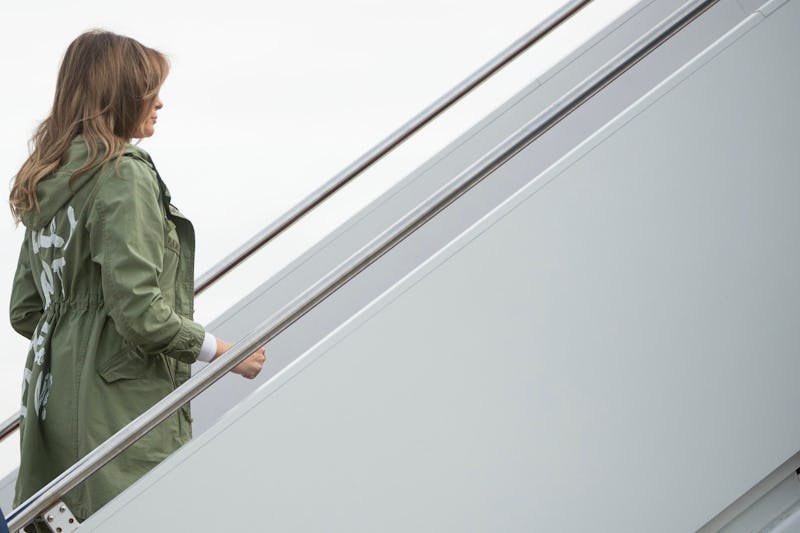 Andrew Harnik/AP/REX/Shutterstock
It's a curious sartorial decision to make for such a sensitive event. On Thursday, The Daily Mail reported that first lady Melania Trump wore a Zara jacket to a detention center in McAllen, Texas. On its back, the olive green jacket states, "I Really Don't Care, Do U?" The $39 Zara jacket made ripples on social media where Twitter users were left stunned by the first lady's decision to wear such an article of clothing.
In a statement to Bustle, Trump's spokesperson Stephanie A. Grisham confirms the first lady's jacket choice, but pushed back against there being a "message" to it. "It's a jacket. There was no hidden message," Grisham says. "After today's important visit to Texas, I hope the media isn't going to choose to focus on her wardrobe. (Much like her high heels last year.)"
Online, however, Grisham's justification for the first lady's peculiar jacket may not stand the test of public opinion. Almost instantly after The Daily Mail's report was published, people slammed Trump for her jacket, calling her decision tone deaf, unkind, and deliberate. In one instance, this Twitter user reacted to the report by saying, "[The Trump family] are all tone-deaf and incompetent, and really don't care. Just in it for the money and power."
CNN contributor Chris Cilliza tweeted, "Here's the thing: SOMEONE in that operation should have seen the jacket and though 'Hmmm, maybe this is't the best idea.'"
The jacket, on its own, seems like nothing to write home about. But combined with its timing and the purpose of her visit, Trump stunned her observers who wanted to know why the first lady would don such clothing on her visit to the Upbring New Hope Children's Shelter. The center is a Texas detention facility with young immigrant boys and girls in its center, some torn from their families under the current administration's "zero tolerance" immigration policy.
The first lady's visit comes after her husband, President Donald Trump, signed an executive order on Wednesday. Under his new order, Trump reversed the very own policy his presidency pursued: separating children from their mothers and fathers who had crossed the border illegally. Under his new order, the administration would put an end to breaking families apart and will now incarcerate them together. For many, the president's supposed solution further complicates the situation.
Some may wonder why the first lady's jacket is eliciting such a reaction, but Vox explains it in pithy and concise terms. There's weight to the explanation, too, as it adds an economic factor into the mix. Vox's Rebecca Jennings wrote, "The jacket isn't only notable for its seemingly offensive phrase — it's notable because the first lady has a tendency to wear exclusively high-end designers like Dolce & Gabbana and Valentino when she appears in public."
As mentioned before in this report, Trump's statement jacket costs $39, which isn't a big deal for the first lady. Because of the price of the jacket, which is remarkably cheap by affluent FLOTUS standards, people on Twitter have also suggested that the choice wasn't a mistake on the go. It was, according to the public roving eye, a purposeful move on Trump's part.
In spite of the criticism, Trump's spokesperson Grisham has continued to support the first lady. Shortly after giving a statement to Bustle, Grisham tweeted a similar message on her Twitter account, as shown above.
It may just be a jacket. But context is key here. Trump's decision to wear this statement jacket arrives after particularly jarring administration developments. The first lady's sartorial decision took place in a country where recently thousands of immigrant children have been torn away from their families, kept in detention centers where there has allegedly been abuse, and where immigrant children, as young as 6, have been found wailing for their parents. For these reasons and perhaps more, the public didn't view Trump's jacket as an unfortunate sartorial pick but more like a callous message sent across the nation.