This Database Helps Connect Latinx People With Culturally Competent Therapists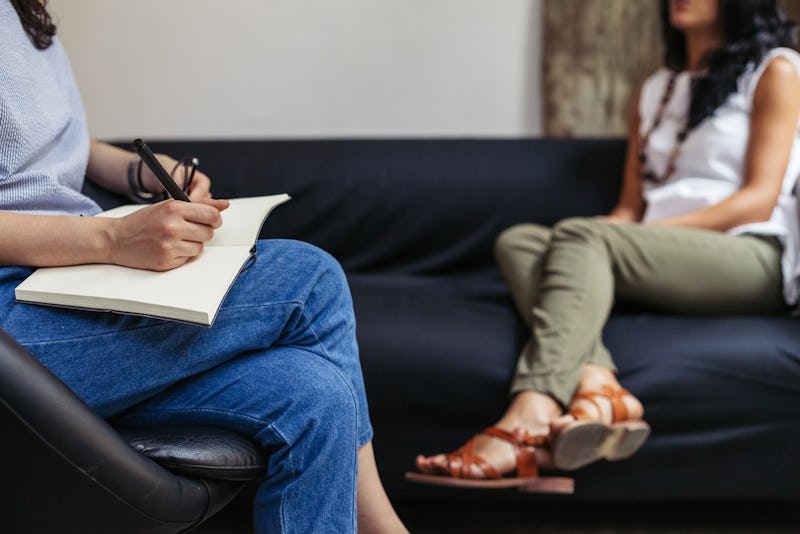 loreanto/Fotolia
Though it's not discussed nearly as often as it can be, mental health issues affect many Latinx individuals, families, and communities. Mental Health America (MHA) estimates that there are 8.9 million Latinx people in the U.S. that live with a diagnosable mental illness, but according to the Alliance on Mental Illness (NAMI), only 10 percent of Latinx people with a mental health disorder actually seek specialized mental health treatment. The reason for this disparity? A lack of culturally competent therapists — therapists who've been trained to be respectful and understanding of diverse patients' cultures — is often cited as one of the main reasons Latinx people forego mental health counseling For this reason, Brandie Carlos, a web designer and social media manager, was moved to create Therapy For Latinx, a new online database that makes it easy for Latinx people to find mental health professionals in their own communities.
Carlos tells Bustle she was moved to create the resource this past May after one of her best friends died by suicide last February, and she struggled to find a culturally competent therapist who could help her process her grief. "I tried to find a Latina therapist through my insurance, [but] it was a frustrating process," Carlos says. "I thought to myself, If I can't find [a Latina therapist], how can someone who is Spanish-speaking only, or undocumented, or in another marginalized group find a therapist that speaks their language and is culturally competent? I saw a need for Latinx people to have access to user-friendly mental health resources."
As Carlos explains, Latinx therapists are somewhat a scarce in the U.S.: A 2015 study published by the American Psychological Association's Center for Workforce Studies revealed that while the profession of psychology became more racially diverse between 2005 and 2013, only 16.4 percent of active psychologists in the U.S. are considered members of minority communities. Specifically, the research found a mere 5 percent of active psychologists in the U.S. identified as Hispanic — a census term that denotes a person is Spanish-speaking, while Latinx denotes a person of Latin American descent — as of 2013.
However, having a therapist who is also part of the Latinx community can make a huge difference in whether the person seeking help feels heard and understood — which can in turn impact how successful the therapy practice will be. "There are already so many taboos and stigmas in our own community — fears about being labeled 'loca/o' [crazy], 'lazy' when depression is involved, and even 'difficult' if we express boundaries or a need to prioritize self-care," says Carlos. "Culturally, we don't ask for help, and often times, language, legal status, and accessibility can have additional barriers for our community to get the support they need. My hope is that Therapy for Latinx can aid our community in realizing that we can't have a thriving life without mental health."
Navigating Therapy For Latinx is easy to use for both mental health professionals and people seeking mental health treatment. If you are looking for the therapist, you can search the database via state, or add keywords if you are searching for a special focus. For Latinx therapists who want to be included in the database, the listing form is simple and straightforward. The resource is also available in both English and Spanish, and, what's more, Therapy For Latinx offers free online mental health screenings in partnership with Mental Health America.
Though Therapy For Latinx has just over fifty therapists in the database, with the majority located in California, Carlos hopes to see it become a nationwide resource — complete with in-person events, and multimedia that encourages Latinx families to have honest conversations surrounding mental health. Currently, Carlos is especially looking to include more accessible resources and therapists for multiply-marginalized Latinx communities — such as Afro-Latinx people, Latinx people with disabilities, undocumented folks, LGBTQ Latinx people, and people living on a small budget.
Furthermore, Therapy For Latinx is aiming to serve as a way for Latinx mental health professionals, and Latinx psychology students, to gain more professional development. "We have hopes of creating a mentorship program to encourage more Latinx people to be a part of this industry," Carlos says. "The Latinx population is growing, and if we don't get more of us in this industry, we are going to be severely under-served in the upcoming years."
We still have a ways to go until the percentage of Latinx mental health professionals is proportionate to the general U.S. population. Luckily, resources like Therapy For Latinx are helping bridge this gap, and dispel the stigma of seeking help in the Latinx community. Most importantly, the database is making it simpler for Latinx people to connect with culturally-affirming therapists, and to feel they're supported in ways they may never have before.