There's Another Michigan Water Contamination Crisis — And This Time It's Not Lead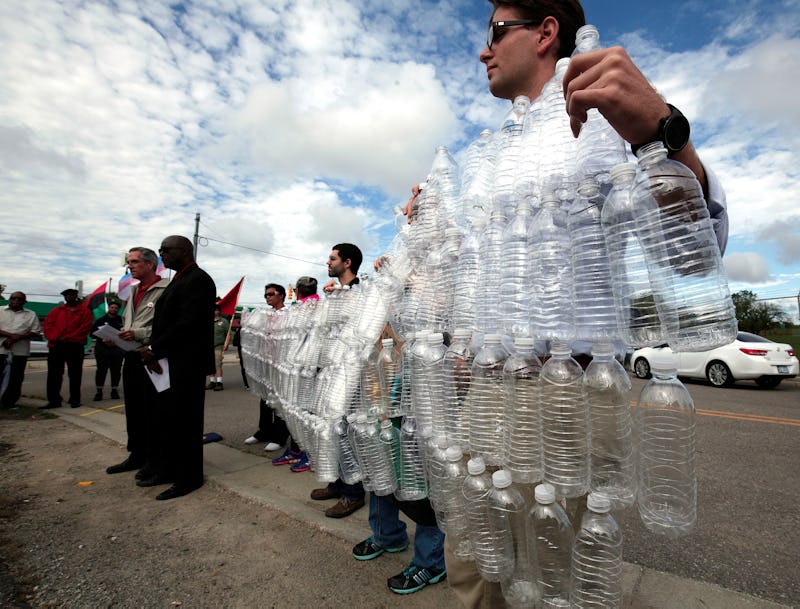 Bill Pugliano/Getty Images News/Getty Images
On Sunday, the governor's office in Michigan declared a state of emergency for water contamination. This time, though, the state of emergency had nothing to do with lead or the now-infamous Flint water crisis. According to MLive.com, Sunday's announcement came after officials discovered per- and polyfluoroalkyl, or PFAS, compounds in the water near Kalamazoo, Michigan.
The Michigan Department of Environmental Quality found extremely high levels of PFAS in the water systems used by city of Parchment and part of Cooper Township in Kalamazoo County. When it announced the water contamination, the Parchment government reported that the level of PFAS in the water system was 1,410 parts-per-trillion (or ppt); MLive.com reported that the limit recommended by the U.S. Environmental Protection Agency (EPA) is only 70 ppt.
PFAS has been used in a variety of applications, from non-stick pans to firefighting and stain resistance, according to The New Republic. PFAS also has been found to cause liver and kidney damage, increased cholesterol, asthma, cancer, risk of thyroid disease, and risk of fertility decrease, among other ailments, according to National Ground Water Association.
Michigan Radio reported about 3,000 people were ordered not to drink or cook with the contaminated water, while "thousands of cases of bottled water" had been given out because even boiling the contaminated water wouldn't make it safe.
Kalamazoo County had declared a state of emergency locally on Friday, and asked for a state-level declaration on Saturday, according to the governor's office. MLive.com reported that more water level tests were expected on Monday.
"This declaration will allow the state to supply additional resources to help with response efforts and ensure the health and safety of residents in Parchment and Cooper Township," Michigan Lt. Gov. Brian Calley said in announcing the state of emergency. "State and local officials and members of the community have been working in full partnership to ensure people in the area have safe water in the short, medium and long term."
The next step for Kalamazoo is to drain the water supply lines serving Parchment, MLive.com reported. Those residents will then be connected to Kalamazoo's water system to "begin flushing" the Parchment water system, which will continue until the PFAS levels are safe again.
The source of the contamination hasn't yet been determined, according to multiple reports.
Michigan's water supply has been at the center of conversations about water contamination since the Flint water crisis began in 2014. Lead leached into the drinking water after an effort to save money in the cash-strapped state led to switching Flint's water source from Detroit to the Flint River, according to NPR. After millions of dollars were spent to fix this man-made disaster, at least 15 officials (state and local) are facing criminal charges from their actions, according to Michigan Radio.
Politifact found that the solution to the contaminated water in Flint — switching out the contaminated old pipes — is still ongoing, with 6,264 pipes replaced as of April. However, a Flint city government spokeswoman estimated that 12,000 residences still have lines in need of replacing.
"The pipe replacement work is expected to be completed by 2020. However, the mayor is hopeful that the project can be completed even sooner," Flint city government spokeswoman Kristin Moore told Politifact.
While the state has taken more immediate actions with this smaller crisis in Kalamazoo County, it remains to be seen what the long-term effects of PFAS contamination will be on the state of Michigan.