The EU Has Approved Theresa May's Brexit Deal — Here's What Could Happen Next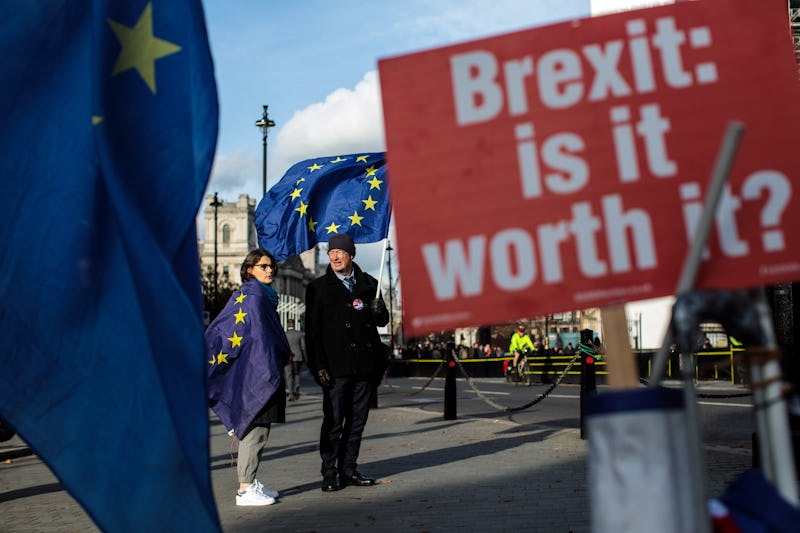 Jack Taylor/Getty Images News/Getty Images
After more than a year of debate and negotiation, the European Union approved Theresa May's Brexit deal Sunday, giving the United Kingdom a green light to separate from the soon-to-be 27-member bloc. While the EU's approval is a vital step in the Brexit process, May's deal must still be formally approved by U.K. Parliament, a task that may prove more difficult.
"It's not a moment for jubilation nor celebration," Jean-Claude Juncker, president of the European Commission — which operates as the EU's executive arm — told reporters Sunday after the bloc approved the deal, according to a video from the BBC. "It's a sad and tragic moment," he said.
Other European leaders also expressed feelings of sadness over the deal. "My feelings are very divided," The Washington Post reported German Chancellor Angela Merkel said Sunday. "I feel very sad, but at the same time I feel a sense of relief."
May's deal reportedly attempts to walk something of a middle line. According to The Washington Post, it gives Britain the ability to control immigration across its borders and negotiate its own trade deals as Brexit supporters demanded while still keeping the U.K. bound by some EU laws and regulations. The U.K. will also have to pay the remainder of its financial commitments as part of exit deal, a bill The Post reported totals $50 billion.
A vote on May's Brexit deal is expected to come before the U.K. Parliament Dec. 12 and is likely to face significant opposition. According to the BBC, parliamentary members from the Labour Party, the Liberal Democrats, the Scottish National Party, the Democratic Unionist Party, and even May's own Conservative Party are expected to vote against it.
On Sunday, Labour Party leader Jeremy Corbyn called May's plan a "bad deal for the country" in a statement shared on Twitter. "It is the result of a miserable failure of negotiations that leaves us with the worst of all worlds," he said. "It gives us less say over our future, and puts jobs and living standards at risk." Corbyn went on to say that his party would not only oppose the deal, but work with others to block it.
But Juncker has warned that EU leaders will not renew negotiations with Britain should U.K. Parliament fail to approve May's current Brexit deal. "This is the deal," The New York Times reported Juncker said. "It's the best deal possible. The European Union will not change its fundamental position."
In a letter to U.K. residents, May touted her Brexit deal as being "a deal for a brighter future" and something "that works for our whole country and all of our people, whether you voted 'Leave' or 'Remain.'" She noted that U.K. Parliament had "a meaningful vote" ahead of it and vowed to campaign on her deal's behalf. "I will be campaigning with my heart and soul to win that vote and to deliver this Brexit deal, for the good of our United Kingdom and all of our people," she wrote.
Currently, Britain is set to exit from the EU on March 29, deal or no deal.