These Pro-Choice Acts Of Resistance Are A Taste Of What's To Come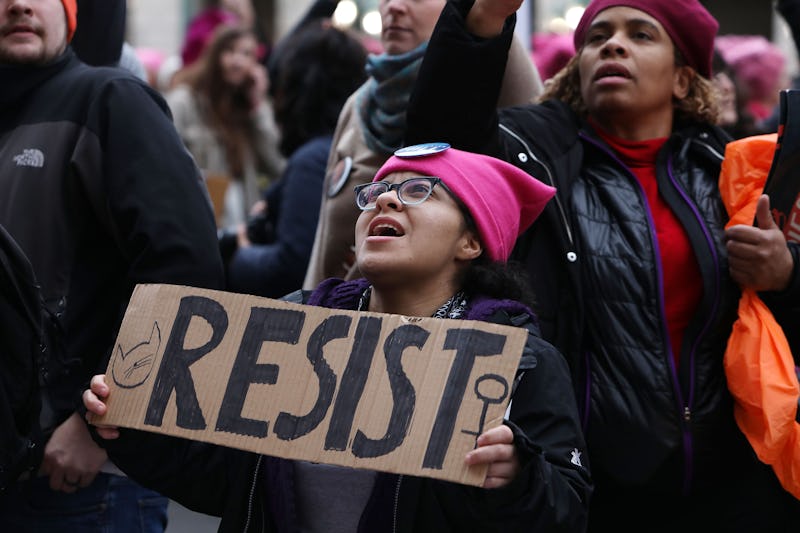 Amy Sussman/REX/Shutterstock
It's hard to believe it's been 100 days since Trump became president. It's been a rollercoaster, and many people — myself included — remain deeply concerned and even afraid about Trump's ongoing attacks on women's health and rights. But despair can't win out over resistance, and now is a great time to celebrate what Americans have done so far to protect abortion access and coverage and ensure health, dignity, and respect for themselves and their communities.
As the co-director of All* Above All, I believe in a future where every person — not just some — is able to make important decisions about their families and their health without politicians standing in the way. With Trump in the White House, that future is under threat. But I bet he didn't count on such a vibrant and vital resistance.
There have been 100 acts of resistance (well, with a little creative addition) in Trump's first 100 days. Take, for example, the three California students who are transforming access to abortion on college campuses. My former home state is advancing a groundbreaking bill to ensure that medication abortion is available on campus and covered by health insurance — and students are leading the effort. These young people are an inspiring reminder that people don't have to stop fighting for their vision for justice, even when the going gets rough.
That's just a taste of what Trump can expect over the remaining three years and nine months. Hopefully these actions serve as a reminder that when people raise their voices — united — they can win. When people are bold, they can demand that their message be heard. And when people speak out and show up, they can make a difference.
1 Anti-Trump Mobile Billboard
The abortion coverage movement led by All* Above All welcomed Trump to Washington, D.C. with a six-figure ad campaign exposing the Trump-Pence agenda to shame, bully, and punish women for abortion. The campaign included a mobile billboard putting Trump and Pence on blast for their anti-choice views.
4 Million People
Four million people across the country marched for women's health and rights. I was so proud to bear witness to the incredible Women's Marches the day after the inauguration. What an incredible show of support for women … and it's just the beginning.
56 Proactive Bills
Despite the hostile environment in many states, in just the first few months of 2017, legislators introduced 405 proactive measures seeking to expand access to sexual and reproductive health services, including 56 proactive bills to advance abortion access and coverage in 22 states.
1 Nomination Thwarted
Women's and labor groups played a huge role in stopping Labor Secretary nominee Andy Puzder, who opposed fair wages and objectified women in his company's commercials. We can at least count this one time Trump didn't get his way on an extreme and unqualified nominee.
1 Bill To End The Hyde Amendment
Defying the Trump-Pence agenda to bully, shame, and punish women for abortion, Congresswoman Barbara Lee re-introduced the EACH Woman Act to lift the bans that deny insurance coverage of abortion and to put an end to the pain and punishment of the Hyde Amendment. This visionary bill already has 115 co-sponsors.
24 Million People
The defeat of Trump's attempt to dismantle the Affordable Care Act helped 24 million people save their health coverage. Women's health advocates were instrumental in defeating the ACA repeal that would have decimated Medicaid, defunded Planned Parenthood, and banned public and private insurance coverage for abortion. If you made calls or sent an email — thank you for being bold.
12 Activists Dressed As Handmaids
Activists dressed as handmaids interrupted the Texas legislature's attempts to restrict women's reproductive autonomy. Texas sometimes feels like the epicenter of anti-choice shenanigans, but it's also a key site of the reproductive justice resistance.
The activists disrupted proceedings dressed as handmaids from Margaret Atwood's The Handmaid's Tale and dropped a banner in the chamber proclaiming support for abortion coverage.
1 "Abortion Positive" Tour
All* Above All and Unite for Reproductive and Gender Equity (URGE) teamed up for the 2nd Abortion Positive Tour, visiting 11 campuses in five states to bring a bold message to de-stigmatize abortion. There is perhaps no better antidote to Trump-induced malaise than seeing a group of smiling young people proclaim: "Abortion! You do you."
Americans won't be punished by politicians who want to take away their health coverage or push abortion out of reach, and they won't let Donald Trump bully them into defeat.
One-hundred days later — the struggle for justice has just begun.