These Female Republican Senators Are Standing Up For Planned Parenthood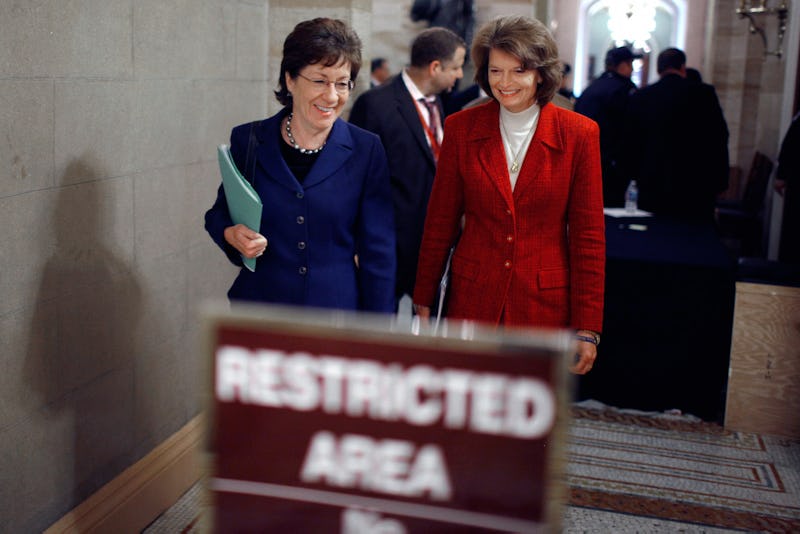 Chip Somodevilla/Getty Images News/Getty Images
The proposed GOP health care bill was written entirely by men, so it's almost no surprise that two female Republican senators are taking a stand against one of the more controversial provisions of the bill that would, at least for one year, defund Planned Parenthood. Sens. Susan Collins and Lisa Murkowski are introducing an amendment to drop the provision from the revised Better Care Reconciliation Act, the Alaska Dispatch News reported on Wednesday. If they're successful, the move could significantly impact support for the bill.
Both moderate Republicans, Collins and Murkowski have expressed support for the women's health organization in the past, and have been pretty vocal about their party's efforts to defund it. In a May interview on ABC's This Week, shortly after the release of the House bill, Collins called the inclusion of a Planned Parenthood defunding provision in any ultimate Congressional health care bill "a mistake."
That is an important issue to me because I don't think that low-income women should be denied their choice of health care providers for family planning, cancer screenings, some well-women care. ... I certainly think it's not fair and it is a mistake to defund Planned Parenthood.
The proposed health care bill can only afford to lose two Republican votes in order to pass the Senate. So far, at least four GOP Senators, including Collins, have confirmed that they will not vote for the bill in its current state.
The current version of the BCRA would bar Planned Parenthood from receiving Medicaid reimbursements from the federal government for one full year. As a result, many low-income women would be unable to access health services like cancer screenings and STD testing. And according to the Congressional Budget Office's report on the bill, it would actually result in more unplanned pregnancies, since many women would be unable to access to birth control.
Of course, unplanned pregnancy is connected to the reason the Planned Parenthood provision is being proposed in the first place. Conservative Republicans who morally oppose abortion argue that an organization that provides abortion services shouldn't receive federal funding. President Trump even proposed to Planned Parenthood in March that he would continue funding the organization only if it agreed to stop performing abortions — a proposition that was quickly shut down.
Current U.S. law already prohibits federal funds from being used for abortion services. Instead, the Medicaid reimbursements that Planned Parenthood receives — which makes up 75 percent of the organization's funding, according to NPR — are used for other health services, predominantly STD testing and contraceptives.
The BCRA, which was originally scheduled for a vote prior to June 30, is currently being revised to gain enough Republican support to pass the Senate. A new draft could be unveiled as early as this Friday. Whether or not it will include the provision to defund Planned Parenthood remains to be seen.