These Stories Refute The Idea People Don't Die From A Lack Of Health Care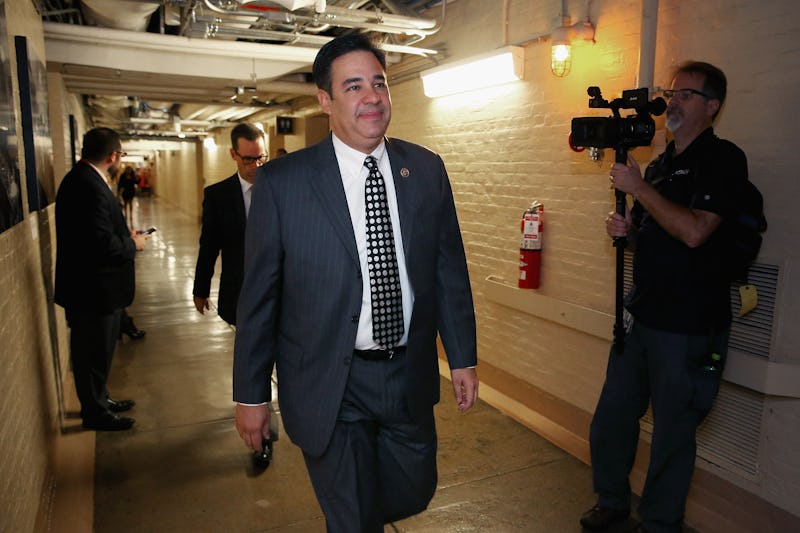 Chip Somodevilla/Getty Images News/Getty Images
During a town hall in Lewiston, Idaho, one of the state's Republican representatives claimed that "nobody dies because they don't have access to health care" in comments that have garnered significant criticism from people around the country. While Idaho Rep. Raúl Labrador was heavily booed Friday for his comments by his constituents, social media users around the country have since been responding to Labrador with their own personal stories of loss in an effort to educate the legislature on the importance of having access to affordable health care.
"No one wants anyone to die," Rep. Labrador told a woman who had interrupted him during a town hall at Lewis–Clark State College in Lewiston. The woman accused Labrador of "mandating people on Medicaid to accept dying" by supporting legislation that significantly slashes Medicaid funding. "That line is so indefensible," Rep. Labrador continued. "Nobody dies because they don't have access to health care."
However, a 2009 study conducted by doctors at Harvard Medical School and published in the American Journal of Public Health concluded that a lack of health insurance led to nearly 45,000 deaths a year.
Rep. Labrador later attempted to walk back his comment, acknowledging in a statement posted to his official Facebook page that his response hadn't been "very elegant."
"I was responding to a false notion that the Republican health care plan will cause people to die in the streets, which I completely reject," he wrote, adding that Republican's American Health Care Act does not change the fact that "all hospitals are required by law to treat patients in need of emergency care regardless of their ability to pay." Labrador did not address the potential personal debt and bankruptcies that medical services can often lead to for those without insurance.
Here's how 20 people have responded to Rep. Labrador's claim that "nobody dies because they don't have access to health care."
1. Stepfather Died In Agony
"My stepfather died in agony in Idaho due to lack of access to health care," Twitter user @Queenmeeny wrote. "I wish you could feel his unmedicated pain for an hour."
2. Cancer Survivor Unable To Afford Follow-Up Screenings
"My mother is dead because she couldn't afford the cancer screening she was told to get every year," Twitter user @Dennywhere wrote in a series of tweets detailing his personal story to Rep. Labrador.
She beat cancer once, only to have it come back years later. She was a full-time nurse, her husband was disabled, she had two teen sons.
She had to choose between screenings and taking care of us. She chose us. Can't have been money for both. We lost our home in 2008/9.
She collapsed at Thanksgiving. Went back to Texas, and died January 10, 2010. ... I didn't get to say goodbye.
She was 46 years old. Her sons were 18 & 16. She died of poverty in the wealthiest nation on Earth.
My story isn't even unique. It happens to countless people every yr and will continue at an increasing pace unless something drastic changes.
Her name was June Bradford Dowty. She was my mother. I miss her every day. So my children never have to feel like this - #MedicareForAll.
3. This Is Erika
Elizabeth Blumberg shared a photograph of a woman she identified as Erika, writing that "Erika died [from] being poor, uninsured, & having Lupus."
4. A Mother With Pancreatic Cancer
"From personal experience, I watched my beautiful mother die a painful death from pancreatic cancer at the age of 55 because of no access to health care back in 2008," Twitter user @michele0921 said in a series of tweets to Rep. Labrador. "So for you to insult the American public by saying such an outright lie is not only pathetic on your part, but it diminishes the real problem overall."
5. Diabetic Complications But No Health Insurance
"My grandmother died from diabetic complications because she had no health care insurance," Twitter user @Dracobushcraft tweeted.
6. Easily Treatable Cancer But No Insurance To Cover Cost
Twitter user @beyondabyssal refuted Rep. Labrador's claim by citing the death of their mother "from easily treatable cancer" as evidence that people have in fact passed away from not having access to health care.
7. Unable To Afford The Medication & Care Needed To Survive
"She could not afford medications or medical care she deserved," Twitter user CommonComments wrote in a series of two tweets. "How dare YOU make an arrogant & unfeeling statement. Her early DEATH was entirely bc she didn't get care she needed."
8. From A Heart Attack To Lung Cancer
Twitter user @GaylaTanner argued that her mother might not have died from end-stage non-small cell adenocarcinoma had she had access to affordable health care that would have enabled her to receive a diagnosis before it was too late.
9. Meet My Son
Sherry Wilder shared a photo of her late son Darian with Rep. Labrador. According to Wilder, Darian died of a stroke in 2012 at the age of 34 because he was unable to obtain affordable health insurance that would have enabled him to treat his high blood pressure.
10. Her Name Was Anita
In a tweet to Rep. Labrador, Leslie Draper said her mother-in-law Anita had died as a result of being uninsured and unable to get the care she needed.
11. Uninsured & Dead At Age 32
Shirley C told Rep. Labrador that prior to the passage of Obamacare their uninsured friend had died at the age of 32 after having a minor stroke and being sent home from the emergency room.
12. Yes, People Do Die Due To Lack Of Health Care Access
Bruce Mirken cited his late friend Larry Day as an example of someone who died as a result of not having access to health insurance.
13. Without Insurance, Brother Would Have Died A Year Ago
Jodi Jacobson told Rep. Labrador that without health insurance to help cover the cost of intensive therapy, her brother would have died from lymphoma a year ago.
14. A Lack Of Insurance Meant Pneumonia Went Untreated
Jessica Daniels said her aunt Carolyn had died after being unable to afford health insurance that would have enabled her to seek treatment for pneumonia before it was too late.
15. Dead At Age 47
Sheena said her brother died at age 47 from inflammation of the pancreas because he couldn't afford the out-of-pocket price of the medications he needed and had no insurance to help cover the cost.
16. Without Insurance, Dad Couldn't Get A Diagnosis Or Treatment
Portia told Rep. Labrador her disabled father was an example of someone who died because they did not have access to affordable health insurance. Portia said her dad died at the age of 58 because without insurance he was unable to get diagnosed or treated for heart disease.
17. Found A Lump But Had To Wait For Medicare
Robbin Runtas shared a story of her grandmother, whom she said found a lump but was forced to wait until she could get Medicare before she could seek treatment. By that time, it was reportedly too late.
18. Died Of A Treatable Disease Due To Lack Of Insurance
Physician Susan Hingle noted that she'd had an uninsured patient die from a treatable hereditary liver disease because they had not been screened for the disease.
19. Without Access To Insurance, He'll Lose His Medication
Twitter user @rowast said that without the access to health care that his insurance provides, his uncle, who had a heart transplant 15 years ago, would die as a result of being unable to afford his immunosuppressive medication.
20. Two Uninsured Family Members
Twitter user Beck Berry shared the stories of how her mother and brother died as evidence that a lack of access to insurance can kill. According to Berry, her mother was initially hesitant to go to the emergency room for treatment because she feared the cost of care without insurance would bankrupt the family. "Yes, she FINALLY agreed to go to ER," Berry wrote in a series of tweets. "She died the next day. In 1988, my father was charged $10,000... She had no insurance. He was a small appliance repairman."
Years later, the same enzyme deficiency that led to the death of Berry's mother began to affect her brother's liver. "He died in 2012, just before ACA," Berry tweeted. "Didn't have insurance, made too much, BARELY, for Medicaid. Need I continue? Lack of coverage kills!!"