Why The 2017 Election Was A Huge Win For Reproductive Rights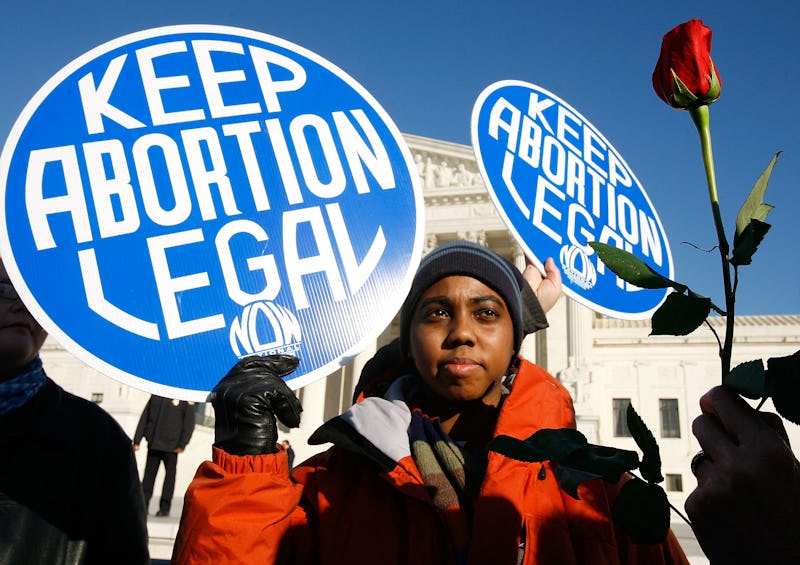 Alex Wong/Getty Images News/Getty Images
Voters in support of women's health care woke up much more optimistic after the 2017 election than last year. From gubernatorial races to mayoral races to state assembly races, reproductive rights advocates won big in the 2017 election. And considering access to abortion, birth control, and basic health care have all been under attack in recent months, a lot was at stake.
"Attacks are coming from every angle, and what you're seeing as a result is women getting involved," says Erica Sackin, Planned Parenthood's director of political communications. "Voters spoke really loud and clear that they want to see women's rights protected."
Let's start in Virginia, where politicians in support of women's access to health care won on every level. Democrat Ralph Northam, a champion for abortion rights endorsed by NARAL Pro-Choice America, beat out Republican candidate Ed Gillespie, who has said he "would like to see abortion be banned." Justin Fairfax, a Democratic reproductive rights advocate, also won the lieutenant governor's seat running against a Republican who previously sponsored a bill that would have required women to get a vaginal ultrasound before obtaining an abortion.
And in the Virginia House of Delegates, Democrats regained control by turning over 14 seats. Of those 14, a majority were flipped by female candidates.
The other contentious gubernatorial election this year was in New Jersey, where Democrat Phil Murphy trounced Republican Lt. Gov. Kim Guadagno. Current New Jersey Governor Chris Christie struck family planning services from the state budget, while the new governor-elect promised to stand with Planned Parenthood and other providers. Guadagno, on the other hand, has said she wouldn't restore family planning funds if elected.
On the other side of the country in Washington state, a similar story unfolded. Manka Dhingra ran and won a campaign focused on reproductive health care, giving Democrats control of the state Senate. In an October debate, Dhingra was asked about a bill blocked by state Republicans that would have required insurance plans to cover birth control. "A woman's business," she said. "Women need to be able to make their own health care choices and part of that means ensuring access to affordable, reliable contraception, and equal access to all reproductive options."
The number of Democrats who won running, at least in part, on reproductive rights platforms comes a few months after Democratic Party leaders said the party wouldn't have a "litmus test" on abortion in 2018. Pro-choice advocates heavily criticized the political move at the time, and now have Tuesday's victories as proof that people will vote for candidates who champion abortion access.
"It would be a mistake for candidates to hide away from this issue given the time that we're living in and also the strong support that Americans have for reproductive freedom," says Kaylie Hanson Long, NARAL Pro-Choice America's national communications director.
Democratic women also reigned victorious in multiple mayoral elections Tuesday. Vi Lyles won in Charlotte, North Carolina, becoming the city's first Black woman to hold the position; Jenny Durkan won in Seattle, becoming the first female mayor in 91 years; and Flint, Michigan Mayor Karen Weaver survived a recall vote.
While none of these women explicitly ran on reproductive rights platforms (and most abortion legislation happens on the state level), more Democratic women in office typically means more people publicly advocating for women's rights. According to a 2014 NARAL Pro-Choice America poll, 84 percent of Democrats oppose anti-choice legislation, and the organization says that opposition is even stronger among female Democrats.
"Representation is important," says Maya Rupert, the Center for Reproductive Right's senior director of policy. "And the fact that multiple cities have elected female leaders represents a huge opportunity to center the issue of reproductive rights at the local level."
The 2017 elections were inevitably seen as a precursor to the 2018 midterms, and reproductive rights advocates think Tuesday's victories are a good sign for what's to come.
Long explains that President Trump and Republicans in Congress haven't signaled that they're slowing down attacks on women's health care any time soon. So voters fighting for access to abortion, birth control, and women's health care aren't going to slow down, either.
"The more they continue to attack women's health care [and] the more they continue to attack birth control," she says, "the more angry Americans will become."