These Photos Of The Newly-Elected House Members Are Literally Class Picture Goals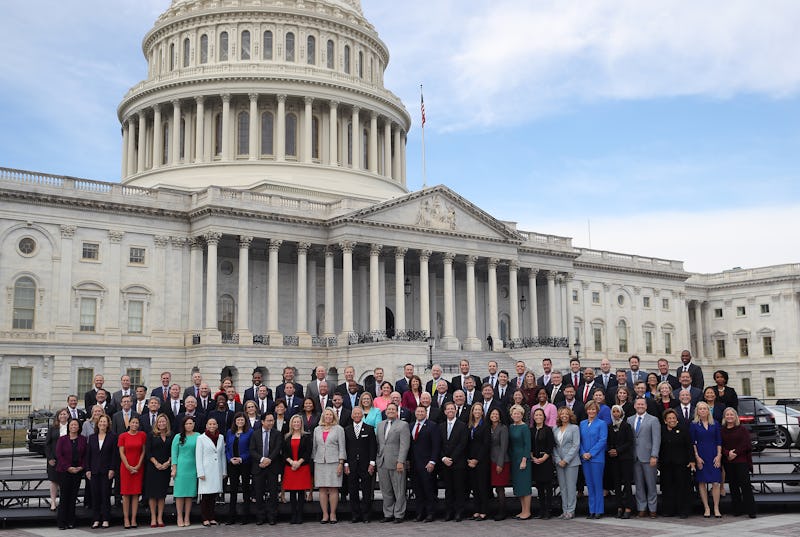 Win McNamee/Getty Images News/Getty Images
A week after the midterm elections, newly elected lawmakers took their 2019 congressional freshman class photo in front of the U.S. Capitol. In addition to the fact that the incoming representatives all look very happy, images from the photo shoot also illustrate just how much more diverse this Congress will be from previous ones.
Although there are still some races that have yet to be called, Democrats are on track to win 38 seats in the House of Representatives, giving them control of the chamber for the first time since 2010, while losing at least one seat in the Senate. Democrats' projected gain in the House is their biggest since 2006, according to FiveThirtyEight, when they won 32 seats.
The midterms were historic for several reasons. For one, turnout was higher than in any midterm election in more than 100 years: According to a preliminary analysis by the United States Election Project, 49.2 percent of eligible voters cast a ballot in 2018. The previous high was 1966, when 48.7 percent of eligible Americans voted, and midterm elections generally average around 40 percent turnout.
In addition, the midterms produced what will be the most diverse Congress in American history, with a record number of women and people of color winning their elections.
The new Congress will feature more female legislators than ever before, according to NPR. At least 121 women will be serving in the House or Senate once the new Congress is sworn in, meaning that 23 percent of federal lawmakers will be women.
In addition, Congress will continue to get more racially diverse, with more legislators of color in the 116th Congress than at any other point in U.S. history. According to The Conversation, 26.7 of the new Congress will be non-white; as a share of the legislature, there will be more Black and Latinx lawmakers in Washington than ever before, while the number of Asian-Americans in Congress will hold steady.
Several individual candidates set records in the midterms as well. Ilhan Omar and Rashida Tlaib will be the first Muslim women to serve in Congress; additionally, Omar is the first Somali-American and Tlaib the first Palestinian-American woman to win seats. Meanwhile, Sharice Davids and Deb Haaland became the first Native American women elected to Congress.
Finally, the midterms will result in a much younger Congress than the one that currently serves: Thanks to successful millennial candidates such as Abby Finkenauer, Xochitl Torres Small, and Alexandria Ocasio-Cortez — the youngest woman ever elected to Congress — the age of the average federal lawmaker will drop by 10 years once the new Congress is sworn in.
The changes in Congress's diversity are due almost entirely to Democratic candidates. While the majority of newly elected Democrats are women, all but one of the newly elected Republicans are men, according to the Washington Post. In fact, House Republicans will have seven fewer women in their ranks in 2019 than they do now, according to PBS, and three fewer people of color. Elections analyst Dave Wasserman reports that the percentage of House Republicans who are white men is set to rise from 86 percent to 90 percent once the new members are sworn in.