The Songs 2020 Democratic Candidates Walk Out On Stage To Reveal So Much About Them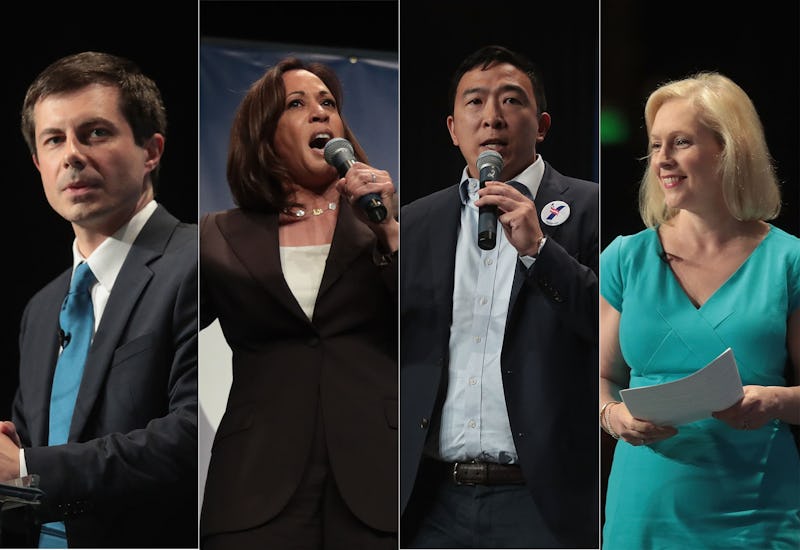 Scott Olson/Getty Images News/Getty Images
More than half of the Democratic Party's crowded roster of 2020 presidential candidates descended on Cedar Rapids, Iowa, over the weekend to appeal to voters as part of the Iowa Democratic Party's 2019 Hall of Fame event. But while the White House hopefuls sought to woo voters with campaign messaging, it was the 2020 Democratic candidates' song choices that really captured folks' attention.
According to CBS News, 19 of the current Democratic presidential hopefuls showed up in Iowa over the weekend to speak at the Iowa Democratic Party Hall of Fame event. However, along with speeches about policy and American values, each candidate brought with them one piece of music to be played as they walked out to address voters. These so-called "walkout songs" gave those in attendance a glimpse into candidates' attitudes, lives, priorities, and campaign messaging.
Time magazine reporter Lissandra Villa shared the candidates' song choices on Twitter, noting that it was the candidates, and not the Iowa Democratic Party, who chose the music. "Here is the walk-out song playlist for the candidates at the Iowa Democrats Hall of Fame campaign yesterday," Villa tweeted. "The songs were chosen by the campaigns."
From optimistic feel-good tunes to political anthems, and from rappers to British punk rockers, it was a mix of melodies in Iowa. Here's what song each 2020 Democratic candidate walked out to: