These 4 Style Swaps Are Designed To Help The Environment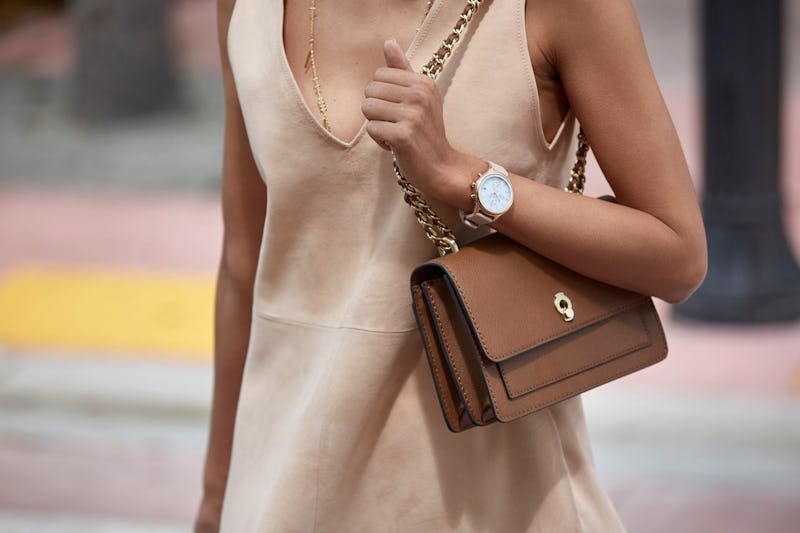 These days, it's more important than ever to do your part in being environmentally conscious. Even the smallest changes — from bringing your own reusable glass water bottle to the gym to always separating paper and plastic from the rest of your trash — can add up and become major steps toward an eco-conscious lifestyle. If you're looking for easy ways to begin making more sustainable choices, why not start in your closet?
In partnership with Citizen, the creators of the light-powered Eco-Drive watch, we set out to prove that going green really can be just a few wardrobe swaps away. By thinking about how materials and fabrics are sourced, what resources go into making your favorite pair of shoes, and even how your tech accessories are powered, you can easily start doing your part for the environment — without ever having to sacrifice style.
Swap An Old-School Timepiece For A Watch That's Powered By Any Light
Watch; Dress; Sweater; Earrings; Vegan Shoes; Bag
A classic watch is a must-have accessory. Unfortunately, most watches run on non-recyclable batteries that end up in landfills once all their juice is gone. The one in the Eco-Drive watch is powered by light — yes, any light source — so it never needs replacing. And since this white-and-rose-gold style pairs easily with any outfit, you'll be able to wear it for years like the new classic that it is.
Swap Your Worn-In Kicks For Comfy Sneakers Made From Recycled Plastic
Watch; Top; Skirt; Shoes; Purse; Glasses
Everyone loves a comfy pair of kicks, and the less waste that pair of shoes produces, the better. These sneakers, made from recycled plastic and sustainable tree fiber, use 95 percent less water than ones made from more common materials like cotton. Opt for a bright pair that makes a statement with a classic denim skirt, beaded rainbow purse, and fun purple Eco-Drive watch.
Swap Your Everyday Crossbody For A Vegan Leather Carryall
Watch; Purse; Pants, Top; Earrings; Vegan Shoes
The best handbag can carry your whole life and then some, but an even better one can do that while being made of 100 percent animal-free vegan leather. You can feel good about stepping out with this tote, which comes from a line that focuses on conserving raw materials and depending minimally on natural resources. Wear it with comfy wide-leg pants, a walkable pair of vegan flats, and the Eco-Drive watch for a casual look that's as good for your wardrobe as it is for the planet.
Swap Your Denim Jacket For An Updated Version Made With 98% Recycled Water
Watch; Jacket; Jumpsuit; Vegan Shoes; Glasses; Vegan Bag
Surprisingly, the traditional way of making denim includes a lot of water waste. This version, however, gives you the same worn-in look and feel of a good vintage jacket while being made with 98 percent recycled water. Pair it with an easy jumpsuit, a polished Eco-Drive watch, and a vegan leather crossbody, and you've got an outfit that proves just how stylish eco-conscious can be.
In partnership with Citizen.