These '90s-Themed Donuts Are the Best Throwback Dessert Ever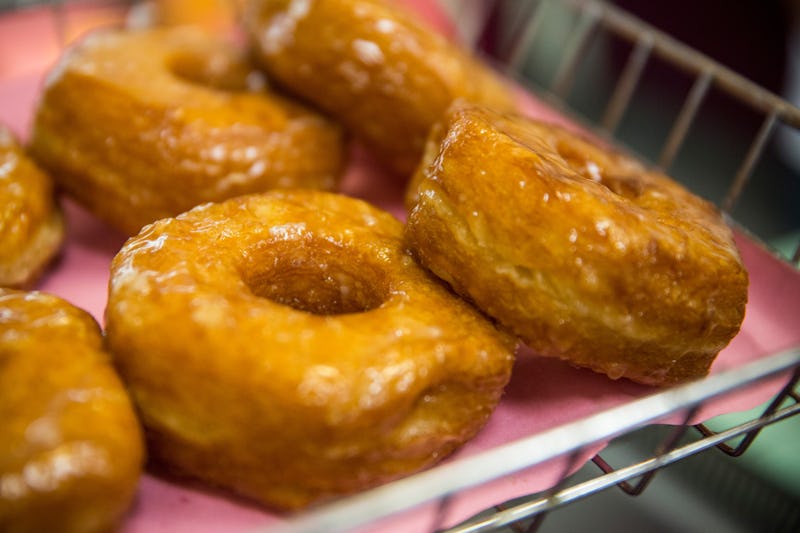 Andrew Burton/Getty Images News/Getty Images
What's the one thing that can make donuts even more delicious? Making them in the flavors of your favorite '90s snacks. This month, PV Donuts in Providence, Rhode Island is making all '90s kids' dessert dreams come true by combining regular donuts with awesome throwback treats, such as Pop Rocks and Rice Krispie Treats.
PV Donuts is reportedly already known for their yummy hand-made donuts, but now, they're kicking things up a notch. For the next month only, the shop is creating donuts inspired by the best '90s snacks. From Nutter Butter to Hershey's Chocolate Milk to, yes, even, Dunkaroos-style, the store is offering donuts in a wide range of nostalgic flavors that are not only delicious, but will also have you reminiscing about those old-school cafeteria days.
Unsurprisingly, Providence residents are already lining up around the block of the donut shop to try out these delicious treats. But while it may take a bit of waiting to actually get your hands on one, the donuts certainly look like they're worth the time. Need some proof? Go ahead and feast your eyes on the magical, drool-worthy creations below.
Seriously, how freakin' good do these look?
One word: yum. These treats are only available in the PV Donuts store for the next few weeks, so dessert lovers who live outside the local area may want to start planning a trip now. In the meantime, you can also learn more about how these amazing donuts are made by watching the video below: