FaceApp Isn't The Only Selfie-Altering App In Town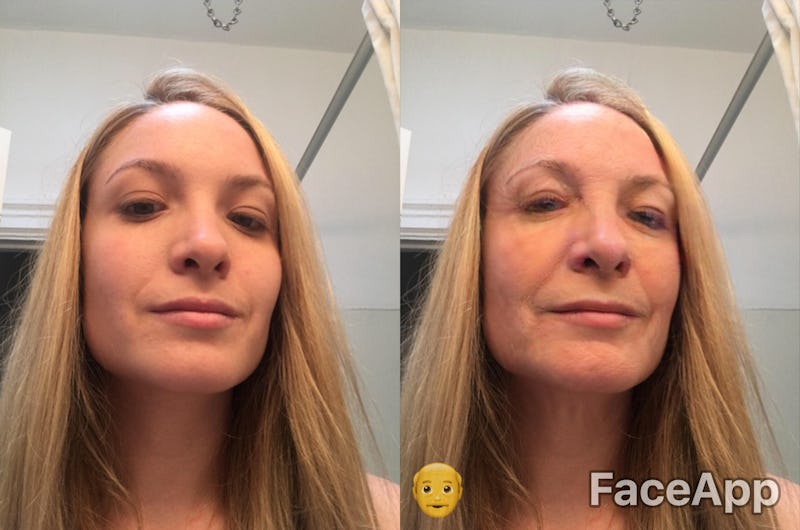 A new photo editing app has recently exploded in popularity, dominating social media with its semi-photo realistic transformations. If you've enjoyed playing around with FaceApp yourself, you may be looking for other apps like FaceApp to see how you can further alter your lovely mug. FaceApp uses neural networks to tweak reality and produce different versions of your face — ones of you at a different age, for example, or ones with slightly different facial expressions. The FaceApp transformations can range from realistic (it nailed the older version of me) to terrifying (the "smile" feature will give you unending nightmares) — and, of course, since many of us can't get enough of it, we're hot on the trail for other apps that might perform similar feats.
FaceApp, which is free to download on both iOS and Android devices, is incredibly simple to use; all it requires is that you snap a selfie with a neutral expression. From there, you can select one of the seven basic FaceApps filters, although more options are available with the paid "pro" version of the app. A built-in collage formatting tool even allows for easy comparisons between FaceApp's altered faces and your original photo.
FaceApp bears some similarity to Snapchat's lenses, but it differs in that it doesn't heighten the transformation to the point of slapping dog ears on your head. So, what other apps apply subtle filters that can show you your face in a whole new light? There are quite a few out there that offer different versions of FaceApp's popular filters or allow you to augment your face and body in a fun and (mostly) realistic way. Check out the list below to see what other FaceApp alternatives are out there and ready to become the next big thing.