Here Are All Of The Women Who Were Elected To Congress This Year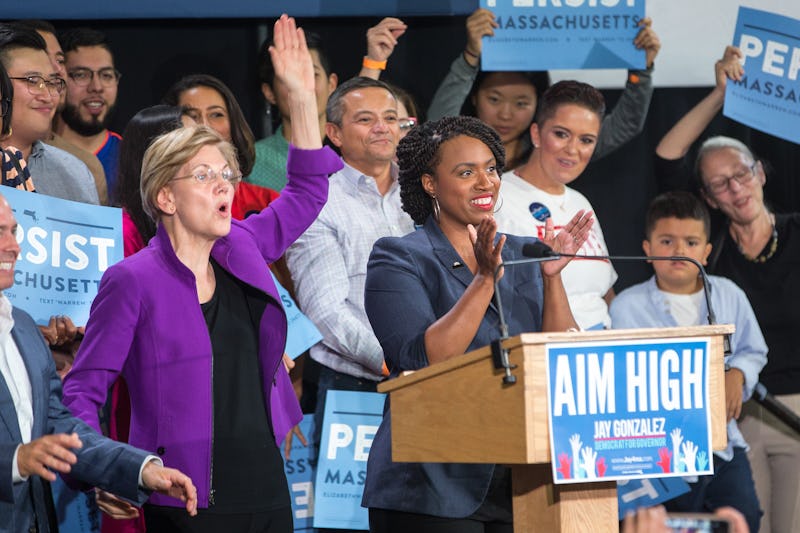 Scott Eisen/Getty Images News/Getty Images
The success of women candidates was closely tracked throughout the midterm elections as a record-breaking number battled for a seat at the table. Now that the results are in, all the women who were elected to Congress this year highlight how much progress was made, as well as how far the nation still has to go before reaching true gender parity in Washington D.C.
In 2018, 107 women served in Congress, making up 20 percent of the total 535 members. Representation in the Senate was slightly higher than the House; women comprised 23 percent of U.S. senators and just over 19 percent of all House members. Vermont became the only state that still hasn't sent a woman to Congress, largely because popular male incumbents just keep running.
This year's midterm elections presented an opportunity to drastically increase the number of women serving on Capitol Hill, as 260 women candidates advanced to the general election, by the Center for American Woman and Politics' count. (The majority of those candidates — 77 percent, to be exact — ran as Democrats.) A few women incumbents, including Rep. Barbara Comstock (R-Virginia) and Sen. Heidi Heitkamp (D-North Dakota), faced viable challengers attempting to unseat them, however.
Here are the women who were ultimately elected to Congress in 2018.
As of Wednesday morning, projections for how many women had won House and Senate seats varied, though it was certain that more than 100 women were elected to Congress on Tuesday night. Although there may not have been a "blue wave" in 2018, maybe the country got something a little better: a historic pink wave.
Lauren Holter contributed to this report.