These Are The Best Swimsuits For Small Boobs — And No, They're Not All Push Up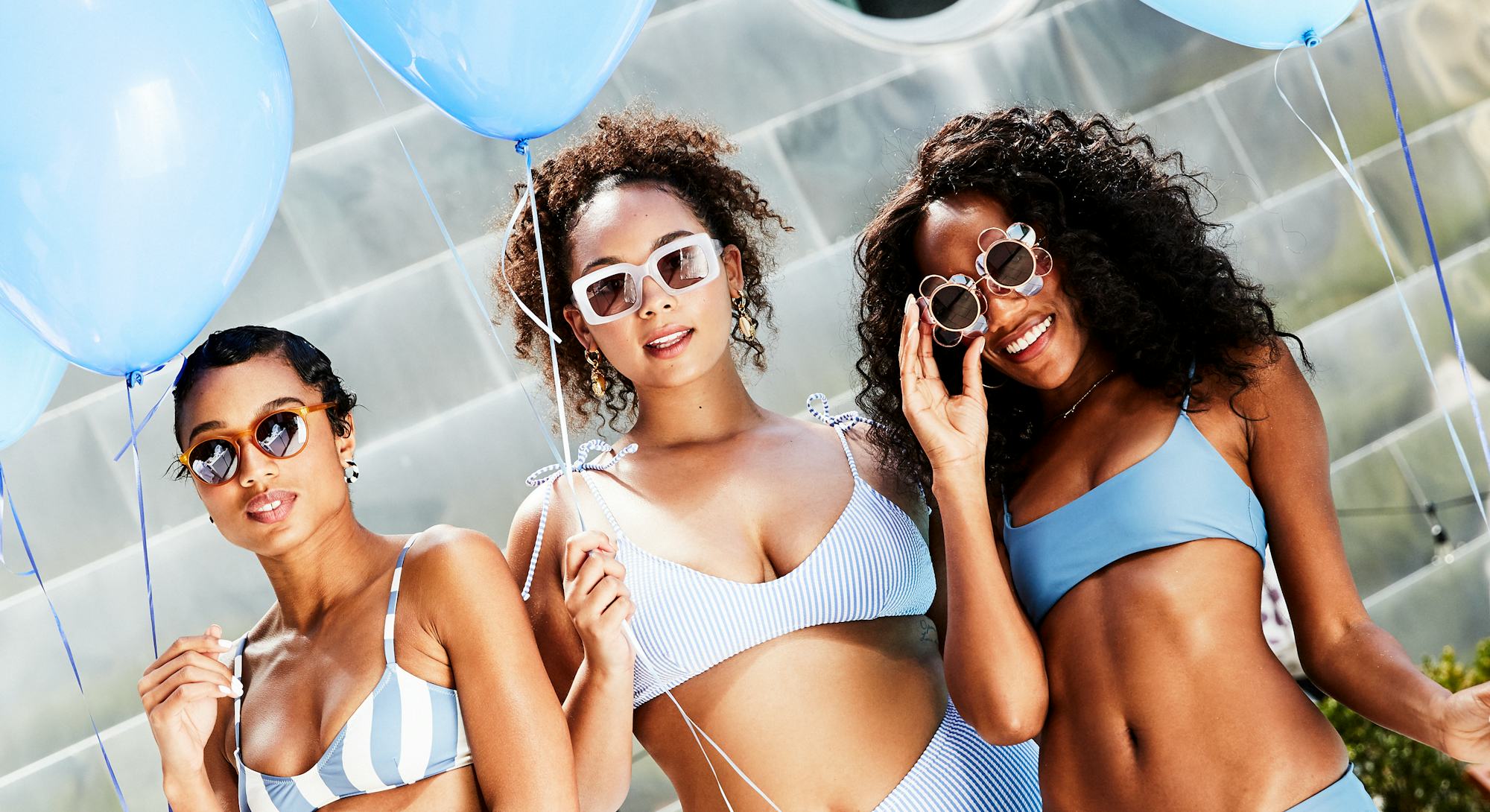 Photographer: Lauren Perlstein
For many women, the search for a swimsuits for small busts can feel like it's about one thing and one thing only: Making that small bust look bigger. In the past, brands marketed swimsuits as "creating the illusion" of a large bust, or "accentuating curves," or "adding a little oomph" to the bust area. While it's perfectly acceptable to want to do exactly that, not all women with small busts are created equal — and they certainly don't all want the same style of swimsuit. In fact, what many would argue makes a swimsuit "good" for small boobs — that is, the ability to enhance a bustline — is actually what makes the suit a poor fit.
"A lot of swim for girls with small busts wants to accentuate boobs," says Bustle's Senior Fashion Market Editor Gabrielle Prescod. "But if you're like me and you don't have any, there isn't necessarily anything to push up."
There's also the issue of reconciling a small bust with variations in body shape. While some might assume that every shopper with small boobs is thin and petite, that's simply not the case. Plus size shoppers often struggle to find swimsuits that come in their size without cups below a D or DD.
"The biggest issue is always the cup size," says Kayla Jones, the plus model featured in the image above. "They're always bigger, and there's not a good combination of band size and cup size for plus size girls with small boobs. Buying a set is also impossible — I have to be able to mix and match small on top and large or extra large on the bottom."
While many reading this story can likely relate to both. Prescod and Jones's sentiments about shopping for swimsuits for small busts, never fear: There are some excellent options out there on the market, in a variety of sizes.
Solid & Striped, a swimwear brand with sizes from XS to L (0 to 8, or 32A-36D, respectively) has a wide range of minimal, feminine styles that work for petite shoppers with small busts. While many of the swimsuit tops are bralette style, some of them actually do offer a bit of push-up for those who prefer it.
"I would recommend Solid & Striped to a woman with a small bust," says Ray Smith, the model featured in the image below. "I loved that the suit had an old school flair. It actually gave me more cleavage."
Jade Swim offers options for small busts in the same size range of Solid & Striped, but with a wide range of silhouettes and color options. Tops and bottoms are sold separately, so you can mix and match colors and styles.
"When I'm looking for suits for myself, I look for one that doesn't necessarily have any kind of pushup," Prescod says. "I look for something like a triangle bikini or a bralette." The swimsuit she's wearing in the photo below is from Jade Swim, and checked all of her boxes for the perfect swimsuit for small busts.
Other brands that made the cut for small busts include Frankies Bikinis, which offers both push-up and unpadded styles in sizes XS-L; TopShop, Lisa Marie Fernandez, and Mara Hoffman. Modcloth has a selection of vintage-inspired mix-and-match swimwear in sizes XS-4X. Other plus size options for those with small busts include ASOS and ASOS Curve (you can buy smaller size tops from the former and plus size bottoms from the latter) and J. Crew, which actually offers swim in sizes 0 to 24 — Jones is wearing J. Crew for this story. The triangle cut string bikini top that Jones wore offered enough support for a modest bust, and she didn't have to worry about oversized padded cups. Additionally, SwimsuitsForAll carries a huge selection of suits in sizes 4 to 34, many of which can be mixed and matched according to cup and dress size.
The takeaway? If you're a swimsuit shopper with small boobs, you don't have to settle for swimwear that is exclusively dedicated to making your small boobs look bigger, nor do you have to accept that your size will sabotage your swimsuit efforts. There are countless options for all body types with small busts, no matter what your summer aesthetic.
Hair: Jazmin Kelly using Phyto
Makeup: Viktorija Bowers for Fenty Beauty at Ray Brown Pro
Manicure: Rachel Shim using CHANEL Le Vernis
Styling: Senior Fashion Market Editor Gabrielle Prescod
Fashion & Beauty Features Editor: Amanda Richards
Creative Director: Adrian Moreno
Art Director: Becky Brown
Bookings Manager: Guillermo Perez
Photo Editor: Clare Thigpen