Melania Trump Named Her Organization "Be Best" & The Internet's Got Memes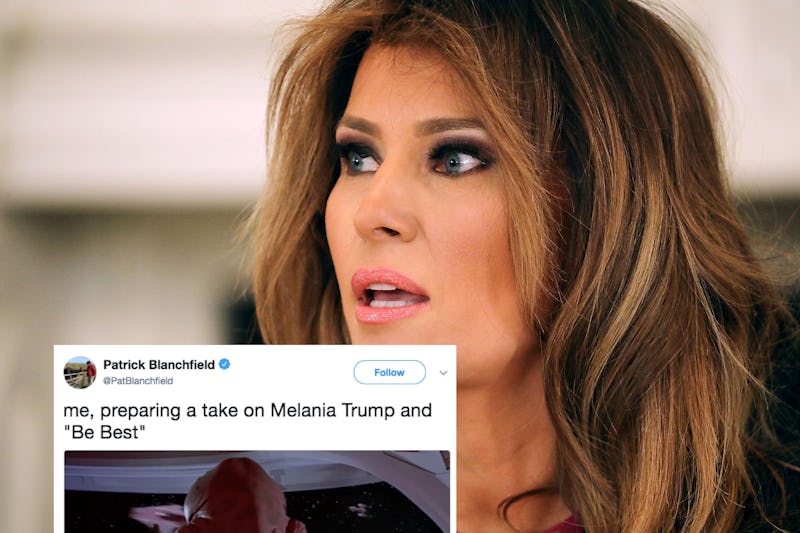 On Monday, the White House announced that First Lady Melania Trump released a campaign called "Be Best" for children. The White House statement said that the purpose of the first lady's campaign was to "encourage children to BE BEST in their individual paths in life, and teach them about the importance of social, emotional, and physical health." Yes, in all caps. But as soon as Twitter found out about the Trump's "Be Best" campaign, the memes came out in full force.
According to the White House, Trump's initiative will "champion" programs that are focused on helping children develop "emotional, social, and physical well-being." The three main objectives of "Be Best" will be centered on "well-being, social media use, and opioid abuse."
The statement briefly touched upon social media and opioid issues in the country by citing studies. In one of its excerpts, the White House cautioned, "A study by the Clinical Psychological Science shows that after 2010, children who spent more time on new media were more likely to report mental health issues than those who spent time on non-screen activities." (By the way, here's what the Be Best website looks like.)
But the phrasing of Trump's campaign caused some confusion on Twitter. New York Times reporter Glenn Thrush seemed to earnestly ask, "For non-English speakers, preferably those from Eastern Europe: Is 'Be Best' an idiom in your language?" Although most said no, one Twitter offered an explanation, "Most Slavic languages use articles much less frequently than English does, if at all. Consequently, 'Be the best' and 'Be best' would look the same."
While some folks tried to figure out the phrase, other Twitter users came out with some humorous jokes. Here are just a few.
1. A New Spin On The MTV Show
Good bye, Beavis.
2. There's This Version, Too
Fair enough.
3. A New Edition Of Best Buy
The right place to get your gadgets and repairs from.
4. From "Cheers" To "Best" To "Be Best" Now
It's got a nice ring to it.
5. A PSA
"Ungreat."
6. Is It Code For Something Else?
To quote Liz from Comedy Central's Kroll Show, "Who can never be sure?"
7. Theories On Theories On Theories
Who knows.
8. A Dramatic Novel
Imagine.
9. Grammar Lessons
Quite a few observers commented on the grammatical structure of "Be Best" and it seems like folks did not approve.
10. This Photoshopped Image
A public request on grammar, it seems.
11. This Imaginary Exchange
Don't worry. It never happened.
12. A Suggestion
One Twitter user suggested that the first lady should have picked "Be Kind" over "Be Best."
13. Oh Lord
Plausible?
14. Hold On
It looks like people were not fond of the slogan. At all.
15. "Are We Going To Pretend?"
For other people, it was too hard to look past the campaign's phrasing.
16. Where's An Editor When You Need One?
"[Be Best] doesn't mean anything," this Twitter user lamented.
17. Some Examples For The 'Be Best' Campaign
Several Twitter users promptly shared Trump's husband's tweets to presumably remind her where to begin her program.
18. This Version Of Be Best
Imagine this in Hulk's voice, please.
19. One Way To Put It
Some Twitter users placed "Be Best" in their own sentences and, well, the meaning of the campaign kind of changed.
20. Jim's Face, Ladies And Gentlemen
Sure, John Krasinski stunned viewers with the terrifying and tense film, A Quiet Place, but people remember him as the oft-bemused Jim from The Office. And of course, Jim appeared in Monday's array of jokes on Trump's "Be Best" campaign. It was only a matter of time, folks.
21. Wait, Wait, Wait
Surprise!
22. Sneaky
I see what you did there.
23. Oof
I repeat, oof.
24. The Birds Rights Activist Has Arrived
Let the bird speak.
25. Why Not?
Good idea.
These are just a few of the many reactions to the first lady's children wellness campaign. But there might be some bad news for people concerned with grammar (you know, like wanting to see "Be Your Best" and not "Be Best"); it looks like Trump is going to stick with her slogan. Maybe people can try to "Be Best" at accepting it.