Blizzard 2017 Predictions Show A Lot Of Snow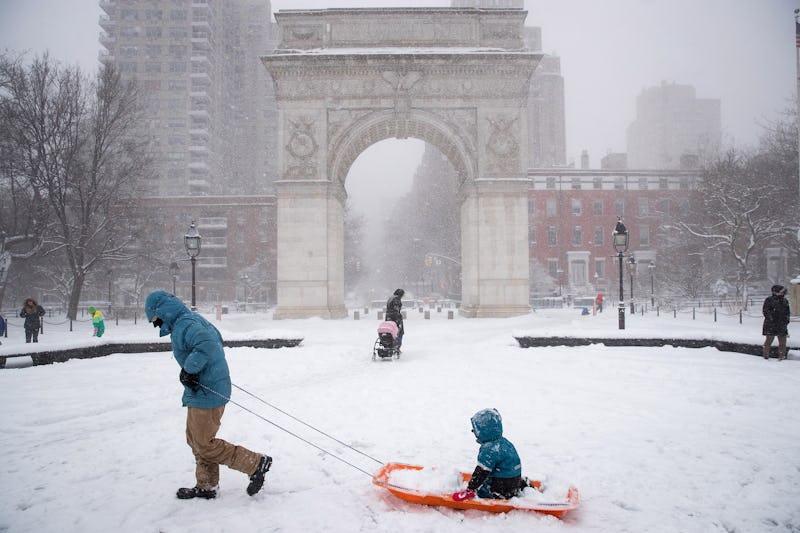 Drew Angerer/Getty Images News/Getty Images
The official first day of spring is just over a week away, and yet winter doesn't appear ready to release us from her icy cold grip quite yet. Winter Storm Stella is expected to bring heavy snowfall and blizzard conditions to parts of the Northeast and Midwest along with potential travel delays and power outages.
While residents in California and Arizona dig out their shorts and flip flops in preparation for temperatures ranging from the high 70s to the low 90s, the Northeast and areas of the Midwest are preparing for a potential onslaught of snow, rain, and high winds thanks to Winter Storm Stella.
In the Midwest, winter weather advisories and winter storm warnings (yes, there's a difference) have been issued for counties in an area that stretches from the Dakotas to Michigan. In the Northeast, where Stella is expected to have the biggest impact, the area from New York City and Long Island to southern Connecticut and Rhode Island, along with portions of southeastern Massachusetts, have been put under a blizzard watch warning for Monday night into Tuesday from the National Weather Service.
But what exactly is Winter Storm Stella predicted to bring? Here's how forecasters are anticipating things will play out over the next few days:
Sunday Night
In the Midwest, light to moderate snow is expected to fall in the Dakotas through the Great Lakes Region and into Ohio through midday Monday potentially impacting those on the road during the Monday morning commute. A snowfall of 3 inches or more has been forecasted for an area spanning from the Dakotas over to Michigan's Lower Peninsula.
Monday Night
Winter Storm Stella will roll into the Northeast sometime Monday night with forecasters predicting residents in an area stretching from New York City down to Roanoke, Virginia, and Lexington, Kentucky, and over as far as Chicago could see snow begin continue overnight at rates of 1-2 inches per hour. In Baltimore, Boston, New York City, and Philadelphia snowfall is expected to reach between 12 and 18 inches while Washington, D.C., could see anywhere from 8 to 12 inches.
Tuesday
Snow is expected to continue Tuesday in the Northeast, falling in areas from Maine down to West Virginia and parts of eastern Ohio and Kentucky with warnings that strong winds and snow accumulation could lead to fallen tree branches and, potentially, power outages. Blizzard and near blizzard conditions have been forecasted for the coastal areas of New York, Connecticut, Rhode Island, and Massachusetts.
Forecasters have also expressed concerns strong winds could contribute to coastal flooding from Long Island to Cape Cod. Those traveling should expect delays or interruptions to road and airport travel.
Tuesday Night Into Wednesday
In New England, snow is expected to continue to fall overnight Tuesday with snowfall becoming lighter as you move further south. Light snow could be seen Wednesday in areas across the Northeast as Stella moves on but forecasters say the worst of it will have passed.
Winter will have one last hurrah thanks to Winter Storm Stella. While snow in March is uncommon (and perhaps unwelcome) it's not exactly rare, meaning much of the Northeast region is familiar with last-minute snowfalls wreaking havoc on their spring preparations.