The 'Call Me By Your Name' Sequel Is Definitely Happening & Armie Hammer Has Ideas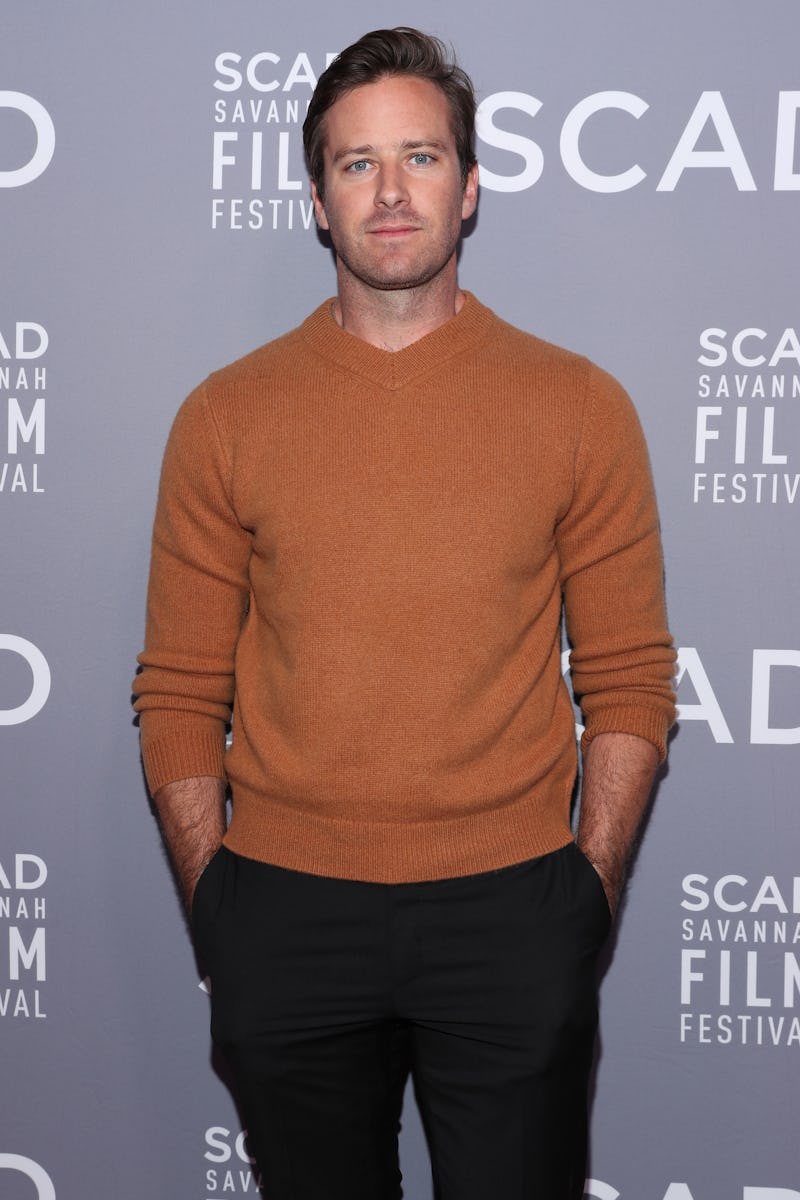 Cindy Ord/Getty Images Entertainment/Getty Images
If you've been holding onto the hope that the adventures of Oliver and Elio will continue on screen, there's good news coming out of the SCAD Savannah Film Festival. During an in-conversation panel on Monday, Oct. 29, Armie Hammer confirmed that the Call Me By Your Name sequel is still on, though it may take a few years to get made. The actor was reluctant to give too much away, but fans of the book know that André Aciman's novel does delve farther into the future of Hammer and Timothee Chalamet's characters than the film does. And on the red carpet before he was presented with the festival's Outstanding Achievement in Cinema Award, Hammer did reveal a few tidbits to help tide fans of the Oscar-winning romance over.
"In my opinion, Oliver didn't have the courage that Elio did to really embrace certain aspects of himself, and that's sad," Hammer tells reporters about his character. "That's a hard thing, and it had to do with the time. It had to do with the place. And there were a lot of extenuating circumstances that wouldn't allow him, in his opinion, to be himself."
The bittersweet ending of the 2017 film leaves the pair in different places in their lives, where any significant romantic reunion seems somewhat impossible. (If you didn't cry watching Elio weep into that fireplace, you have tear ducts of steel.) But Hammer is eager to see the story's continuation allow Oliver to grow in his acceptance of himself.
"Hopefully in the sequel, that all gets addressed," he adds.
Call Me By Your Name director Luca Guadagnino told The New Yorker that he wants to cast frequent collaborator Dakota Johnson (who stars in his Suspiria remake and also acted in A Bigger Splash) as Oliver's wife for the sequel. ("She has to be a New England kind of hoochie woman," he said, per the publication.) And though Hammer hedges that he doesn't "know if she is for sure confirmed for [our movie]," he'd be happy to welcome her into the CMBYN family.
"I just actually got done working with Dakota the beginning of this year on a film, and I think she's amazing," he says, presumably referring to filmmaker Babak Anvari's as-yet untitled project. "She's so much fun to work with, and she's such a great artist and actress."
It's bound to be a complex role, considering what Elio's reemergence in Oliver's life would mean for their family. (In the same New Yorker piece, Guadagnino posited that they'd have about five kids.) And seeing as Johnson is a favorite of the director's, you can imagine how meaty that part could potentially be.
Still, sequels to dramas are rare, and some moviegoers are skeptical of sequels in general. Hammer gets it, saying that they "have every right to be," since "it's very rare that you see a sequel that supersedes the first." But he thinks it's worth the risk, as the original proved to be as well.
"Just give it a shot," he insists. "People might not also have wanted to watch a movie where a guy had sex with a piece of fruit, and that kind of worked out."