Campus Sexual Assault Organizations To Support In Light Of DeVos' Title IX Proposal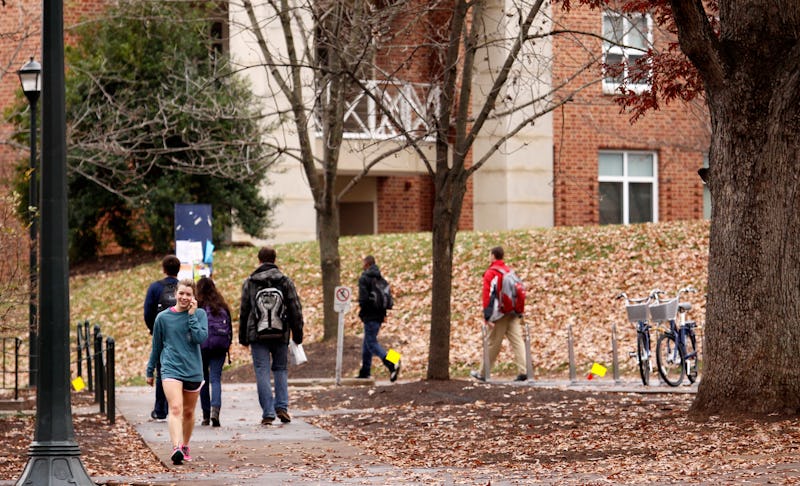 Jay Paul/Getty Images News/Getty Images
On Friday, Education Secretary Betsy DeVos unveiled a proposal to overhaul how schools handle allegations of sexual misconduct, which included policies aimed at narrowing the definition of sexual harassment, bolstering the rights of accused students, and limiting when schools must take action. But if the Department of Education's proposal has you wondering how you can better support survivors, these campus sexual assault organizations may be just what you're looking for.
Unfortunately, sexual assault, harassment, and violence are prevalent issues on college campuses across the United States. In fact, college-age women are considered to be at an elevated risk of experiencing sexual violence compared to women of all ages, according to the Rape, Abuse & Incest National Network (RAINN).
What's more, 20 to 25 percent of college women, 15 percent of college men, and 21 percent of transgender, genderqueer, and nonconforming students have reported experiencing some kind of forced sexual activity or sexual assault while at college, according to data provided by the National Sexual Violence Resource Center. Another 27 percent of college women have reported unwanted sexual contact, while nearly two-thirds of college students — male and female — have reported experiencing sexual harassment.
While it's unclear exactly what impact DeVos' proposed rules will have on campus sexual assault and misconduct if it goes into effect as currently written, a number of organizations dedicated to supporting survivors and ending campus assault have already spoken out against the proposed overhaul.
"The proposed rule changes to Title IX put forward today for public comment by the Department of Education once again demonstrate that Secretary DeVos and her team lack basic empathy for survivors and do not care about campus safety," It's On Us Executive Director Tracey Vitchers said Friday in a statement. "The results of these proposed rules would be devastating. Survivors would have fewer viable pathways to achieve justice, and all students would be less safe as they pursue their education."
If DeVos' proposal has you itching to support efforts to end campus sexual violence and better assist survivors, you might consider donating your time, talents, resources, or money to any of the groups detailed below: