These Petitions Fight For Justice For Charleena Lyles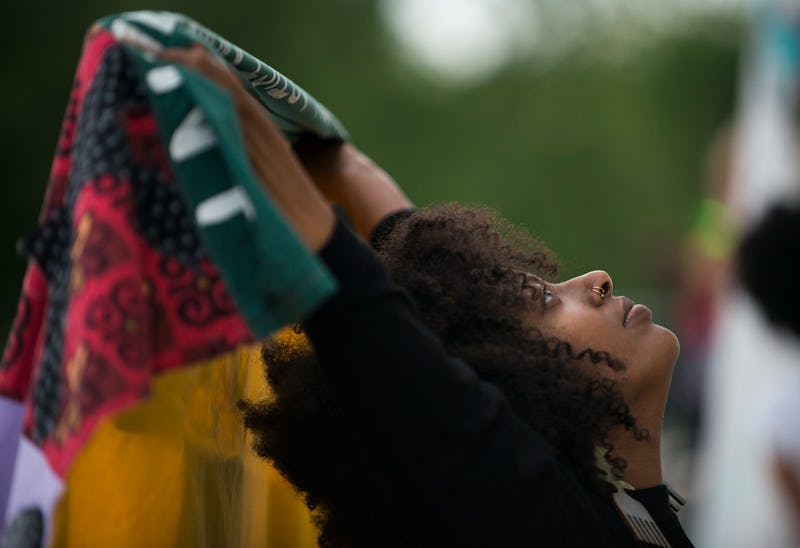 Stephen Maturen/Getty Images News/Getty Images
On Sunday afternoon, Charleena Lyles, a 30-year-old African American woman, was shot and killed in her Seattle apartment after she called 911 for help following an alleged attempted robbery. Many people have been outraged after the incident and have begun signing petitions to oppose Lyles' shooting death and the behavior of the police officers involved.
Lyles reportedly called Seattle police to her apartment on June 18 to report a burglary. According to police, though the standard protocol is to dispatch one officer, two officers were dispatched to her home since there was supposedly "information pertaining to this address that presented an increased risk to officers."
Police dash cam footage indicates that officers shot Lyles shortly after they arrived at her apartment. The footage captures officers shouting "We need help" and "Get back! Get back!" before firing at Lyles. Police reports allege that Lyles had confronted them with a knife before she was shot.
Lyles was pronounced dead at the scene. Three children were in the apartment at the time of the shooting, but were unharmed. According to The Seattle Times, family members also reported Lyles had been pregnant at the time of the shooting and that she had a history of mental illness. Her family also expressed their utter shock and dismay at the officers' decision to use lethal force. Lyles was small in stature and not intimidating and her family believes that police could have used other, non-lethal methods, like a taser, to mitigate any potential threat from her. Lyles' family also expressed concern that her race was a factor in police deciding to use lethal force.
Like Lyles' family, many people are similarly outraged at her death. Individuals across the country and world have engaged in petition drives to oppose the shooting and call for justice for Lyles. If you wish to do so as well, you can also take part and sign several online petitions.
Color of Change, a website which seeks to end racial injustice and discrimination, has started a petition addressed to Seattle Mayor Ed Murray and Prosecuting Attorney Dan Satterberg requesting that the two policer officers be indicted for Lyles' death and that the city takes responsibility for improving its policing practices. You can sign this petition here.
The Petition Site also has a petition with nearly 6,000 signatures that is demanding justice for Lyles and asking that the officers involved in her death be criminally charged. Again, authorities claimed she was wielding a knife at the officers before they shot. You can sign this petition online as well.
In addition to signing petitions, if you are interested you can also help financially support Lyles' family, particularly the three children that she left behind. The fundraiser has received substantial attention and has, at time of writing, already raised nearly $54,000 in one day. If you wish to contribute as well, you can do so via the family's GoFundMe page.
Overall, there's more than one way to ensure that Lyles is not forgotten and that her death is thoroughly investigated and her family supported.