These Chubby Mermaid Makeup Brushes Are Too Cute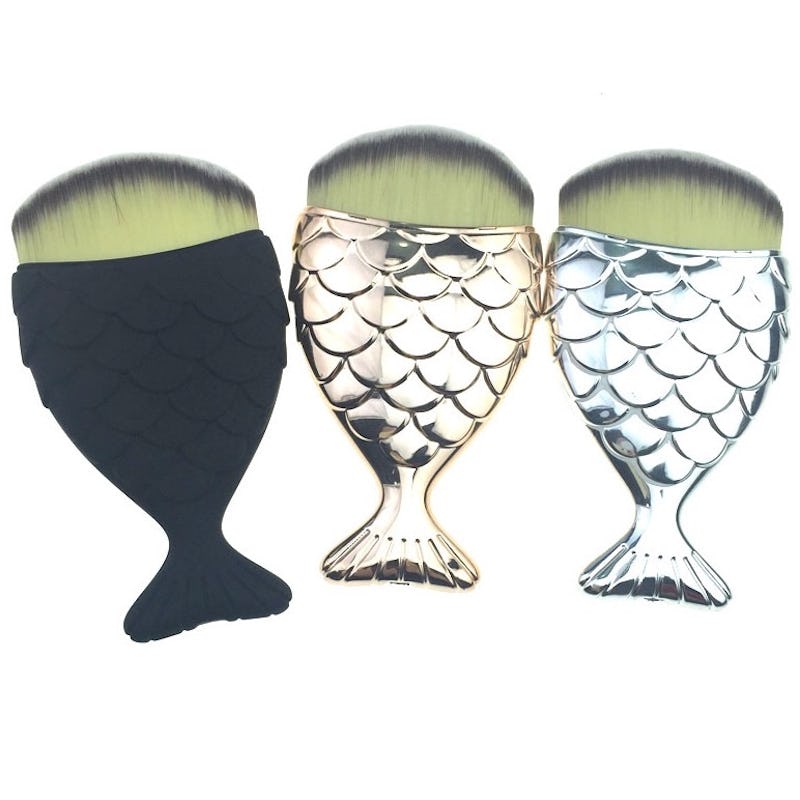 A little cuteness goes a long way. If it makes us say "aw," then chances are we'll want it, share it, or buy it. If that's the case for you, then break out your wallet because these chubby mermaid makeup brushes are simply the cutest thing you'll see all week.
No one can deny that mermaids are completely on trend — and why shouldn't they be? Who wouldn't prefer looking like a beautiful goddess with long flowing hair and swimming with dolphins in the beautiful shimmering ocean rather than living the monotonous life of a two-legged, hard-working human being? It's the dream TBH. Though there's unfortunately no Ursula looking to make us a reverse deal in exchange for our voice, we can embrace our aquatic affinities through our makeup application. And look pretty darn cute while we're at it.
Though mermaid brushes are not a novel concept, these are perhaps the most adorable iterations to be released. These Mermaid Salon Chubby Mermaid Curve and Contour Paddle Brushes are just so darn cute, you'll want to pinch them. And at $16 a brush, plus the inclusion of a free Velvet Matte Lipstick, it's certainly a great value. They come in three colors: silver, rose gold, and matte black. Finally, the gothic mermaid in all of us has found a perfection foundation application tool!
Don't you just wish they were in your hands too?
Look how short and chubby they are! Too cute for words!
These vegan brushes are perfect for applying powder foundation, blush, highlight, and contour. Talk about multipurpose! The shipping itself is about $15 to most countries, so if you and your friends are dying for these brushes, try to order them together.
The brushes are now available for preorder on Mermaid Salon's website, which you can reach by clicking here. The brushes are slated to hit their headquarters by the end of March 2017, so be sure to submit your order before!
Unfortunately, we can't all be mermaids. But, we certainly can pretend we are. These brushes make getting glammed up more magical (and adorable) than ever before. Flippin' your fins may not get you too far, but these brushes truly will.