The Civil Rights Act Trended On Twitter & People Were Freaking Out For A Sec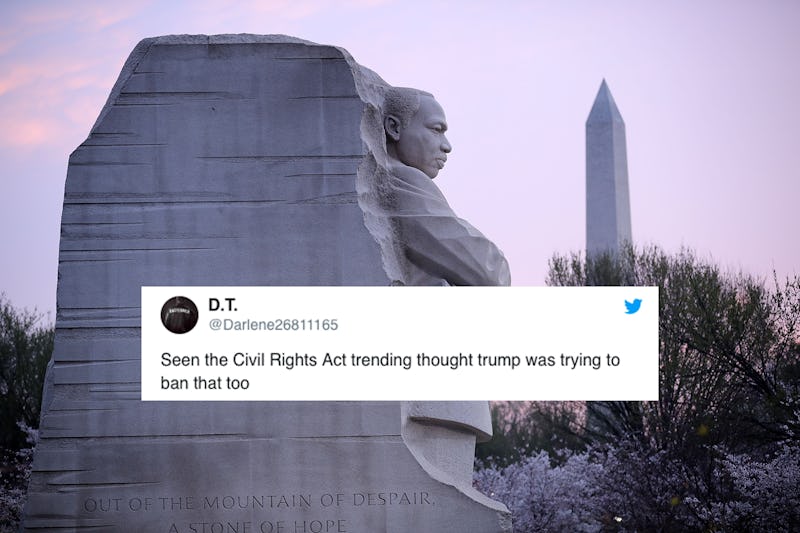 Chip Somodevilla/Getty Images News/Getty Images
Twitter's trending topics has had its fair share of political content since the 2016 election — Trump's morning posts becoming a near daily occurrence is just one example. So when users across the country opened their timeline Monday, one trending topic had them worried. Users saw "Civil Rights Act" trend on Twitter and were immediately worried President Trump might be "trying to ban that too." In reality, the Twitterverse was recognizing its passage on this day in 1964.
But that fear was all too real for some users. "Who else had a mild heart attack seeing the Civil Rights Act trending and thought 45 was going to get rid of it?" wrote user @JackieGotSober.
Others started to debate how the politics of racism has developed in the years since the bill's passage. It was signed into law by President Lyndon B. Johnson on July 2, but was proposed by President John F. Kennedy, who was assassinated the prior November.
A few Twitter users posted how the bill has affected their lives. "Today the Civil Rights Act was signed banning racial discrimination," wrote user @AIL24. "As a millennial, I am the first to be born with all of their rights. The CRA came after my parents were born."
The bill outlaws discrimination in public accommodation on the basis of race and other protected classes. It's one of the hallmarks of the country's civil rights legislation, and no one is talking about getting rid of it.