You Need These Rainbow Classic Books For Your Next Shelfie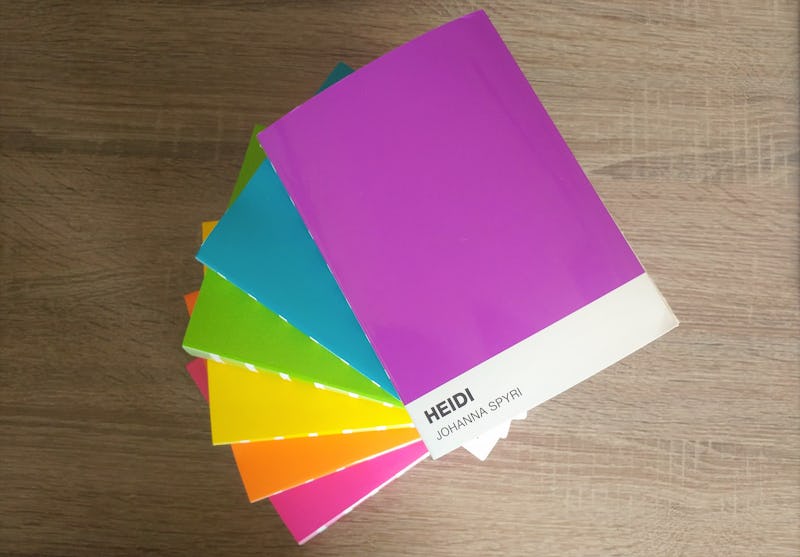 Photo by E. Ce Miller
If you love to snap a good shelfie as much as I do, then you will totally book nerd-out over the latest editions of some of your favorite classic novels. A brilliantly-colored partnership between Puffin Books and Pantone Lifestyle, the Puffin + Pantone® series features six repackaged classic novels — in rainbow hues perfect for your next shelfie. Have you ever wondered about the exact color of Dorothy's yellow brick road, the green-shingled gables of Anne Shirley's Prince Edward Island home, or the rosy pink blooms of Mary Lennox's secret garden? Then you'll definitely want to check these out.
Offering readers modern updates of the middle-grade editions of The Secret Garden, Treasure Island, The Wizard of Oz, Anne of Green Gables, The Adventures of Tom Sawyer, and Heidi, the Puffin + Pantone® series features square, glossy, bold book covers modeled after a one-of-a-kind Pantone color swatch, with spines designed to look like a color tint spectrum (think: your favorite aisle in Home Depot.) These six original volumes — in pink, orange, yellow, green, blue, and purple (aka: Pantone Rhod. Red, Pantone 1585, Pantone Yellow 012, Pantone 376, Pantone 632, and Pantone 2602, respectively) will later be joined by Alice's Adventures in Wonderland and Through the Looking Glass, A Christmas Carol, The Adventures of Huckleberry Finn, and Black Beauty.
Puffin + Pantone® says:
Each cover is made to resemble the globally recognized color chip that's defined Pantone as the standard in color communication all over the world. Puffin + Pantone® is a collection of literature as diverse and boundless as the color spectrum itself. With these six bold editions, and more to come, readers and designers can mix-and-match their favorite stories and colors to create an individualized eye-catching library.
Plus, with descriptions like: "Sail into the tropical orange sunset aboard the infamous 'Hispaniola'…" and "Join Tom Sawyer on his adventures along the blue Mississippi River with his best pal Huck Finn!" you won't be able to resist these colorfully classic reads.
The original six Puffin + Pantone® series books will go on sale June 6, with later editions becoming available October 3 — so be sure to collect them all!