People Are Using This Hashtag To Share How Government Programs Got Them Through Tough Times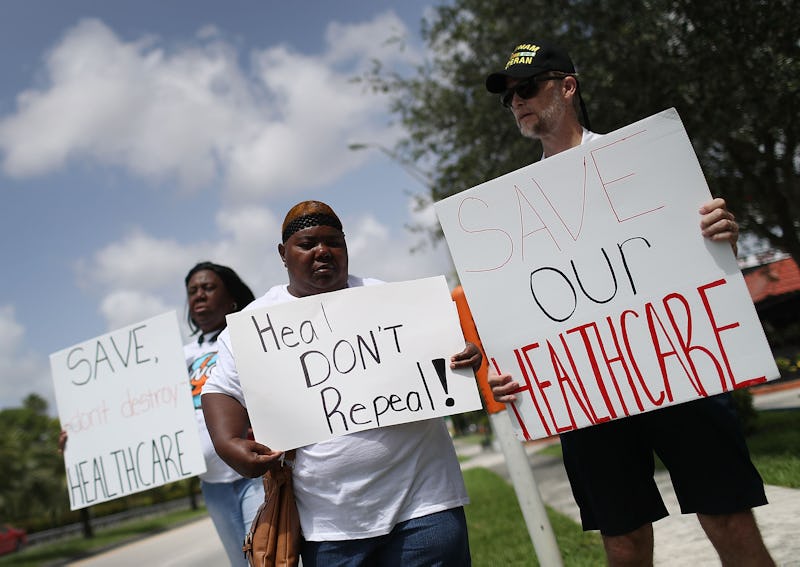 Joe Raedle/Getty Images News/Getty Images
Call-to-action social media hashtags have become a staple in activism, from #BlackLivesMatter and #NoDAPL to #MeToo. Now #TheseCutsHurt is circulating on Twitter, and Witnesses to Hunger, the organization that created it, is using the hashtag to draw attention to how the federal government's proposed 2018 budget cuts will sap funding from hunger, housing, and healthcare programs that are vital to millions of people.
Witnesses to Hunger put together the #TheseCutsHurt Day of Action, which kicked off on the morning of Oct. 30 and featured a full day of Facebook events highlighting potential consequences for Donald Trump's proposed 2018 budget, which The Washington Post said is "the first of what is expected to be many deep cuts to programs aimed at reducing poverty." The budget would cut funding for vital programs, including Temporary Assistance for Needy Families (TANF), Supplemental Nutrition Assistance Program (SNAP), Medicaid, Children's Health Insurance Program (CHIP), and Social Security Disability Insurance.
While Witnesses to Hunger kick-started the hashtag, it was embraced by Twitter at large, with folks sharing stories about how programs like Medicaid and SNAP kept them alive and helped keep them and their children fed. Some tweeted about the slimness of even their current benefits, like user @PedanticBohemia, who tweeted, "I'm 100% disabled & very poor. Still, they cut my food stamps to $15 a month because my pension went up $2."
Other users took the opportunity to dispell the often baseless, long-running myths associated with people who need government programs' aid to stay afloat. For example, the myth that people on welfare just want handouts or a free ride and don't want to work. Since the White House's summary for the proposed 2018 budget said it "strives to replace dependency with the dignity of work through welfare reform efforts," and since this is the "post-fact world," aggressively replacing myths with legitimate information is especially necessary.
"This notion that SNAP is how folks are feeding their entire family is a MYTH meant to position recipients as lazy," user @LeslieMac tweeted. In another tweet, she added, "[My mother] had THREE JOBS and still needed food stamps to keep us afloat. This is the situation with MANY SNAP recipients."
@LeslieMac's claim is backed up by undeniable facts. According to the Center on Budget and Policy Priorities (CBPP), "[a]mong SNAP households with at least one working-age, non-disabled adult, more than half work while receiving SNAP." And on top of that, "more than 80 percent work in the year before or after receiving SNAP." CBPP added that employment rates are even higher for families with children.
Under Trump's proposed budget, SNAP would be cut by more than $193 billion over the next 10 years. Because the budget proposal shifts 25 percent of SNAP's cost to the states, the amount of money recipients would get would be driven by states' abilities to pay into SNAP, putting recipients in danger of no longer being able to afford a basic diet, according to CBPP.
Another hugely cut program would be CHIP, which provides healthcare for 6 million low-income children. Proposed cuts would carve $3.2 billion from the program's 2018 budget.
Hunger and healthcare programs will be the most affected should Trump's 2018 budget be approved, but Witnesses to Hunger designed #TheseCutsHurt to embrace housing policy as well. Not surprising, since hunger, housing, and healthcare issues are often intertwined, and when banded together can create significant, nearly insurmountable challenges for low-income people and households.
"Obamacare kept us alive until Medicare," tweeted user @KimAmsden. "#TheseCutsHurt Two sick old ladies one small 401-k away from poverty: Now, in subsidized housing."
User @FeministaJones tweeted, "I would not be here were it not for food stamps, WIC, and Section 8. #TheseCutsHurt Americans just trying to feed/house their families."
Whether Trump's proposed budget will pass remains to be seen. The takeaway from the varied and raw contributions to #TheseCutsHurt should not only be that things can get worse, but that things are already bad. The folks tweeting using #TheseCutsHurt are showing how hard it is to get by even when employed, and even with currently available assistance. The #TheseCutsHurt Day of Action may be over, but the spirit of its activism should live on. If you have a story about how an assistance program helped you, tell your local representatives.