Your Favorite 'Dawson's Creek' Characters Were Almost Played By Entirely Different Actors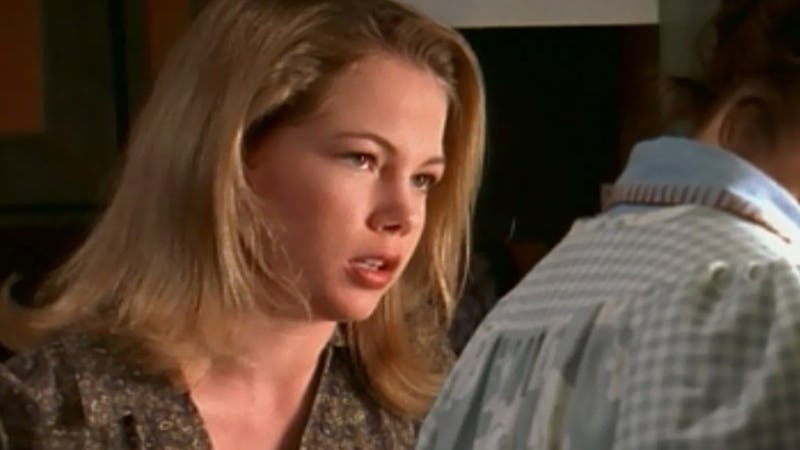 Sony Pictures Television
Twenty years later, it's hard to imagine anyone but Michelle Williams playing Jen Lindley. But during an interview with Entertainment Weekly celebrating the 20th anniversary reunion of Dawson's Creek, creator Kevin Williamson revealed that a certain Grey's Anatomy actor was actually the first choice for the part, and it might surprise you. Turns out, Katherine Heigl almost played Jen on Dawson's Creek. And there are a few other casting details that will throw longtime fans for a loop.
According to the show's creator, it seemed like Heigl was a shoo-in for the role. She had starred in the 1994 movie My Father the Hero, directed by Steve Miner, who also directed the Dawson's pilot. He brought her in to read for the role of Jen and Williamson was impressed. "She looked slightly older at that time," he said. "Even though she was younger, I just think she was more mature. She gave a great audition, I remember we were all sort of like, 'Wow, she's good.'"
But as good as she was, no one's audition was better than Williams', in which she acted out a mostly silent scene depicting Jen with her dying grandfather. It also didn't hurt that Williamson was a fan of Williams' prior work. "I'm a horror movie guy, so I recognized Michelle from Species," Williamson told EW, mentioning the 1995 sci-fi thriller starring Natasha Henstridge as a woman-alien hybrid. "She was the baby Species monster," Williamson explained of Williams' role. "But she walked in and she came across as an angel."
In a recent interview with The Hollywood Reporter celebrating the anniversary, Williamson expanded on why he cast Williams as Jen, saying, "She played it as if she were really broken. I saw Jen as this fallen angel, a broken bird, and Michelle tapped into that. She transformed herself into this broken child who just needed to be fixed. I knew I'd found Jen Lindley."
Williams wasn't the only actors who almost didn't get her Dawson's Creek star-making turn. Selma Blair almost played Joey Potter instead of Katie Holmes. In fact, Blair was Williamson's first choice for the role. "I really loved Selma until, of course, I got the infamous videotape from the basement of the Holmes family in Toledo, Ohio," Williamson said about Holmes' audition tape. "And when that video showed up, it changed my whole life."
It also changed Holmes', who had only one professional acting credit to her name, her part in Ang Lee's The Ice Storm, when she auditioned for the WB show. "I was still a teenager, and it was nice to read a script that felt like it expressed things that I was still trying to understand for myself," she told EW. "The experience was very overwhelming because I was brand new. It was my second job, and I didn't even know really, like, where to look."
A lot of the time she was looking at James Van Der Beek, but he almost didn't play the title role. Originally, Williamson wanted Joshua Jackson to play Dawson. The creator told THR that "there was a whole conversation about Josh Jackson being Dawson. When you go back and look at the script, Dawson was the underdog, the nerd, the video geek. In what high school do you see the video geek being the hot guy?" Yes, Jackson was just too good-looking to play Dawson.
But Williamson wanted to make sure he made it onto the show because he "fell in love" with his range. "He could read any role, Dawson or Pacey. But something wasn't complete and that's when the network said they didn't see Josh as Dawson, and rightfully so," Williamson said. "So, I went, 'Okay, he's Pacey,' because I knew I wanted him in the show no matter what."
The thought of Williams or Holmes not being a part of the show, or Van Der Beek not being its star might leave you ugly-crying like Dawson. But, to see these guys together again reminiscing makes you not want to wait another moment before starting a Dawson's Creek rewatch.