26 "Defend DACA" Tweets That Pledge To Stand Up For Dreamers No Matter What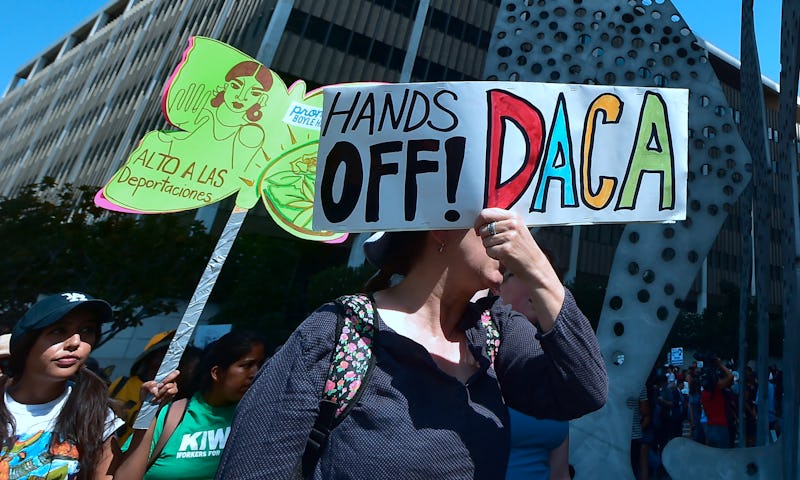 FREDERIC J. BROWN/AFP/Getty Images
A report published by Politico on Sunday highlighted the possibility of Donald Trump announcing his intention to terminate the Deferred Action for Childhood Arrivals immigration program, more commonly known as DACA. The potential termination of DACA could devastate hundreds of thousands of undocumented youths who came to the United States as children. In the potential case that DACA is ended, these youths — colloquially known as "dreamers" — could be arrested and deported from the country. To make their position abundantly clear and show their support, internet users stormed social media with "defend DACA" tweets in the wake of the report.
Trump's decision could unfold in different ways. According to Vox's Dara Lind, one way of terminating DACA would involve revoking two-year work permits for Dreamers while also immediately deporting them. Another scenario would involve removing the opportunity to renew work permits but still giving undocumented youths the time to prepare themselves for departing from the United States. In either situation, displacement and the miseries attached to such uprooting are inevitable and spirit-crushing.
Now users on Twitter have decided to make their stance clear. From demanding members of Congress to defend DACA to mobilizing local action against Trump's potential announcement, people are using their voice in favor of the marginalized and vulnerable.
1. Congress Members, Show Up
Some users noted that this is the most apt moment for Congress members to speak up.
2. The Democrats Speak Up
The official Twitter account for The Democratic Party shared its thoughts.
3. Fight Tooth & Nail
Nancy Pelosi's political team tweeted its thoughts out.
4. Defend The Children
Many users noted the draconian nature of the possible decision and how it could hurt children the most.
5. Unsurprised
Others noted that it was unlikely for Trump's administration to have ever expressed sympathy with undocumented immigrants.
6. Resilience
Those with personal relations with undocumented immigrants spoke up, too.
7. Pick A Side
Republicans, some users noted, need to speak up and stand on the right side of history.
8. Fabric of Our Communities
From schools to churches, Dreamers are part of American society just like anyone else.
9. Dreamers Deserve Better
Terminating DACA is the opposite of what Dreamers deserve.
10. Corporate America Protests
Corporations in the United States have decided to take a stand as well.
11. Call Your Attorneys General
One user shared the contact details of prominent Attorneys General so locals may voice their concerns against terminating DACA.
12. Dreamers Are Humans
"No human being is illegal."
13. They're Friends
Some brought up their own friends to #DefendDACA.
14. They're Just Like Us
From students to doctors and everyone in between, Dreamers work just like other Americans.
15. Exposing Dreamers To Danger
By potentially forcing Dreamers to go back to foreign countries they barely know, the termination of DACA can endanger their lives.
16. This Is About Race
Some users noted that terminating DACA absolutely had, on some level, something to do with race.
17. Let's Get To Work
Others noted that while this is an uphill battle, Americans have what it takes to stop Trump from ending DACA's program.
18. ACLU Speaks Up
The American Civil Liberties Union joined in on the #DefendDACA tweet-storm.
19. No Giving Up
"Who will be left when they come for you?"
20. Heartbreaking
Some users couldn't help but notice how heartbreaking this could be for Dreamers.
21. Families Could Be Torn Apart
If Trump comes through with the decision to end DACA, millions of families could be ripped apart.
22. Keep Fighting
"This fight isn't over."
23. This Emotional Tweet
"My dreams do not have borders."
24. Ending DACA Is Wrong
It's "ugly, cruel, and [it] hurts us all."
25. How Does It Help Anyone?
Good question.
26. Spread The Love
At this moment, DACA remains in effect. And with the kind of resistance obvious in the "defend DACA" tweets, it seems like America has no plans to give it up so soon.