Here's How Detroit Found 817 Serial Rapists In Just One County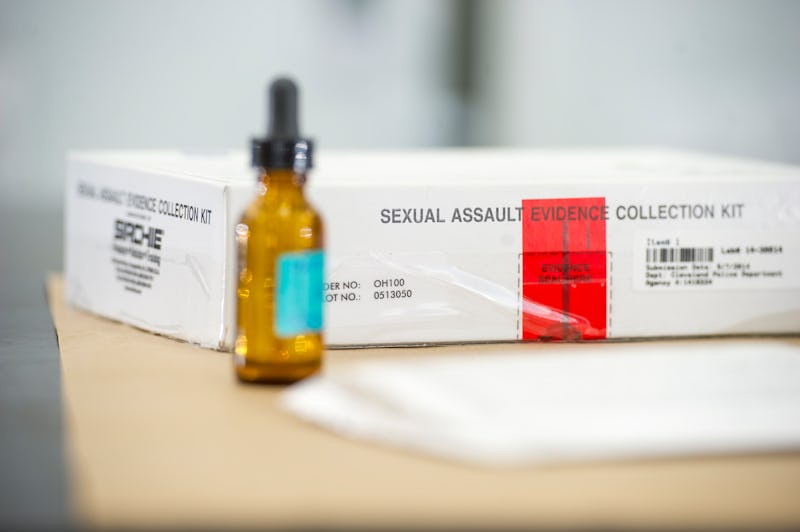 Christian Science Monitor/Christian Science Monitor/Getty Images
The testing on 11,341 untested rape kits that were found in a Detroit police warehouse eight years ago isn't even complete, and yet it's already led to some startling findings. In fact, the project — spearheaded by Wayne County, Michigan prosecutor Kym Worthy — has so far identified more than 800 serial rapists in Detroit. Testing the rape kits has also led to the investigation of 1,947 rape cases and 127 convictions.
The unopened, untested rape kits represented thousands of sexual assaults that had gone un-prosecuted and, startlingly, it also represented thousands of sex offenders that had never seen justice and could be continuing to commit crimes. But the economic constraints in Detroit, a city still grappling with the fallout of a 2013 bankruptcy, meant that testing them would be a challenge.
Those constraints led Worthy and others to launch Enough SAID, (Enough Sexual Assault in Detroit), a collaboration between the Michigan Women's Foundation, the Wayne County Prosecutor's Office, and the Detroit Crime Commission. So far, the group has raised enough money to test 10,000 of the kits, and is currently seeking donations "to test the remaining kits, investigate and prosecute the cases."
In an interview with the Detroit Free Press, Worthy spoke of the most startling findings, including the 817 serial rapists identified — in one county alone. While Worthy notes that the average rapist rapes "on average seven to 11 times before they're caught," more than 50 of those identified by the project were found to have committed a rape 10 to 15 times each. Considering that there are potentially around 400,000 untested rape kits in the United States, Newsweek notes, the startling numbers out of Detroit indicate that there could be as many as 29,000 serial rapists unidentified due to backlogged or lost rape kits across America.
Enough SAID's efforts aren't only about testing abandoned rape kits, but to also ensure future kits don't get lost in the same way. Through a pilot program with UPS, Detroit officials use the same technology as UPS package tracking — so it's easy to determine where sexual assault evidence is at any point in an investigation, or after.
Policy has played a role, as well. In 2014, Michigan Gov. Rick Snyder signed a piece of legislation that laid out standards governing the schedule of rape kit testing, enforcing a timeline of 14 days to take a kit to a lab and 90 days to turn it around. The day the bill was signed, Michigan Attorney General Bill Schuette said the bill would enact safeguards to ensure that evidence from assault crimes never gets lost again:
This legislation will strengthen victims' rights, improve our criminal justice system, and help take dangerous serial rapists off the streets.
The unsettling truth of testing old rape kits is that they often turn up serial offenders. In Ohio, a pilot project found that 51 percent of abandoned sexual assault kits in Cuyahoga County were connected to serial offenders. The problem is likely much larger than we even know, with hundreds of thousands of rape kits going untested across the country. A 2011 report by the National Institute of Justice found that 18 percent of unsolved rape cases from 2002 to 2007 had evidence (including rape kits) that had never even been processed.
While rape or sexual assault are incredibly traumatizing for survivors, many modern insurance providers add insult to injury, forcing rape survivors to pay to get medical treatment. Not only does the financial burden add to the victim's recovery, critics worry it can lead to victims opting not to undergo a forensic exam at all, for fear that it will be too costly.
Among the victims that Worthy's team has fought for in Detroit, at least one trend has already been noted: 86 percent of the untested kits came from people of color. In addition to focusing on the sexual assault kits themselves, Enough SAID is also working to educate police officers on training, so that assault survivors can be treated well, across the board.