These Fake Lincoln Quotes May Help The GOP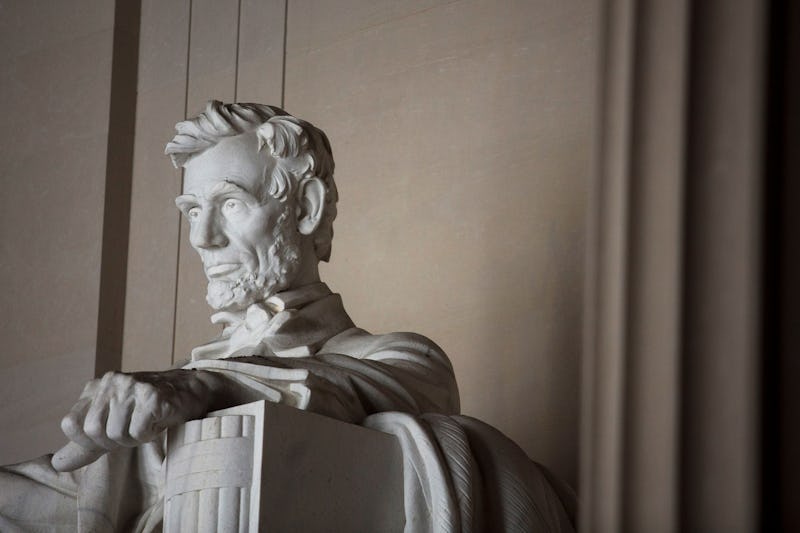 Drew Angerer/Getty Images News/Getty Images
It's nice to be remembered on your birthday. Unless, of course, you're being wildly misrepresented in an attempt to promote a political agenda. Case in point, the Republican National Committee sought to celebrate what would have been Abraham Lincoln's 208th birthday Sunday with a tweet referencing the former president's inspiring words. The problem? There's no evidence Lincoln ever said what the GOP attributed to him. Yikes. Never ones to miss such a meme-worthy opportunity, Twitter users responded to the GOP's gaffe by rolling out dozens of fake Lincoln quotes.
In a tweet published Sunday, the Republican National Committee attributed the following quote to President Lincoln: "And in the end, it's not the years in your life that count. It's the life in your years." The quote was superimposed over an image of the Lincoln Memorial at the National Mall in Washington, D.C., and posted along with the message, "His leadership brought us together; his legacy inspires us still. Happy Birthday, President Lincoln!"
However, Quote Investigator, a website dedicated to investigating the historical truth of famous quotations, there is "no substantive evidence that Lincoln used the expression." In fact, according to Quote Investigator, the earliest use of the quote occurred in the Chicago Tribune in 1947, some 82 years after Lincoln's death. Research into the quote's history credits it tentatively to Edward J. Steiglitz, as it was used in an advertisement for a book he authored.
Thankfully, Twitter was more than willing to help the GOP source more fake Lincoln quotes should they need additional birthday tributes.
A Wizard Is Never Late
Who said it? Gandalf? Peter Jackson? J. R. R. Tolkien? Or Abraham Lincoln?
First Things First
Iggy Azalea forgot to credit President Lincoln in her track liner notes.
Cash Me Ousside
Before Lincoln found a political solution to ending slavery, he'd tried a more hands on approach.
Dance Like No One Is Watching
More inspiring life quotes from Lincoln.
If You Come At The King
Surely the GOP has someone who could have fact checked that tweet before it went live?
Never Gonna Give You Up
Were these Lincoln's last words? Probably not, but does that even really matter?
When You're A Star
It might not have been Lincoln who said these famous words, but it was a U.S. president.
Don't Believe Everything You See On The Internet
The GOP might consider letting this fake Lincoln quote inspire their next course of action.