These Are The Hashtags To Use If You Want To Protest Trump's Immigrant Family Policies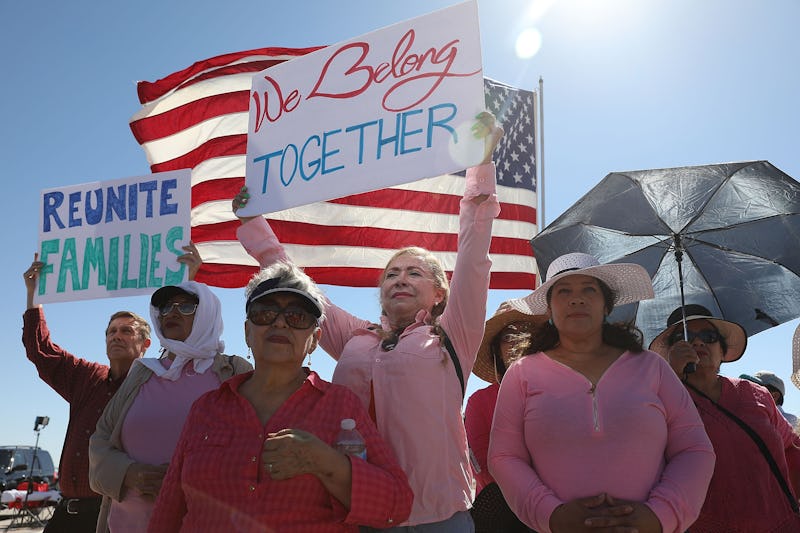 Joe Raedle/Getty Images News/Getty Images
On Saturday, people around the United States will gather to protest the treatment of migrants at the U.S.-Mexico border. There are many protests happening around the country, but if you want to spread your enthusiasm online, too, there are many ways to show your support. One way is through social media, and if that sounds like the direction you're heading in, you'll be wondering what the Families Belong Together Protest Hashtags are.
The hashtags will be used as a rallying cry that participants and allies can gather around all across social media. One that is certain to be used abundantly is the hashtag named after the protest, itself: #FamiliesBelongTogether. This hashtag popped up early in June, as tensions around the Trump administration's zero-tolerance immigration policy began to heighten.
It has been used by politicians, activists, and just the general public, too. It's also the hashtag used most frequently by protest organizers, so it's definitely a must-post.
Beyond #FamiliesBelongTogether, there are several other options which look to send a message, as well as unite folks around a common cause. Another option is the hashtag #familiasunidas, a Spanish alternative quite similar to its English-language counterpart. Many of the families who were torn apart at the border come from Spanish-speaking countries, which is why the social media protest is multilingual.
Other hashtags often pop up spontaneously, but #FamiliesBelongTogether and #FamiliasUnidas are guaranteed to be used. Make sure to take note of them for future use.
There are some hashtags floating around that specifically hone in on immigration-related organizations. The hashtag #StopICE has been used several times over by activists who wish to directly target the government agency tasked with seizing undocumented immigrants.
Another hashtag that will and has been used is more of a command than a statement. That would be #StopSeparatingFamilies. While the Trump administration has formally halted its en masse separation of families at the border, it's one of the key events that led up to the Families Belong Together in the first place. Participants eager to highlight the reason for the demonstrations may find themselves leaning more toward hashtags like those.
Another major Families Belong Together hashtag is #EndChildDetention. It refers to the facilities that undocumented immigrant children have been held in after being separated from their families, and before they were either reunited or sent to some type of foster care-like living situation. Like #StopSeparatingFamilies, it's a command-focused hashtag that looks to get something done.
If hashtags that demand action are your kind of thing, there's one other option that you might consider using. That would be #ReuniteFamilies, which, like it is written, insists that the Trump administration work diligently to reunite those families who have already been separated. While that is now formally the Trump administration's goal, their plans for doing so have been a little less clear, and it's important to stay focused on what matters — the people being directly impacted.
The Families Belong Together protests are taking place all over the United States this weekend. In order to find a protest close to you, it's important to check the protest's website, which functions as a central hub for all the associated events.
The website also features a handy FAQ page, which has answers to everything from what time you should show up (it depends), to whom and what you should bring with you. (That's a bit more specialized, depending on which location you're attending, but the general rule is that the protests will be family-friendly.)
Whether or not you can make an event in person, social media is a sure-fire way to unite over a common cause with people around the country and the world. Hashtags just make it easier.