You Can Make Your Holidays Way More Feminist With These Festive Tree Toppers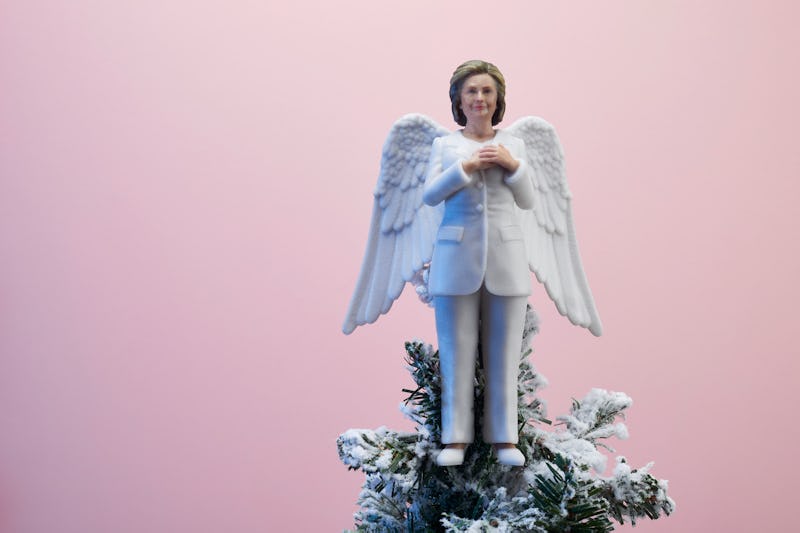 Women To Look Up To
This time last year, Hillary Clinton was spending her days in the woods. Now she's on the top of pine trees. As part of a campaign to promote female role models, the UK-based feminist collective Women To Look Up To (WTLUT) has created a series of feminist Christmas tree angels, including one that depicts Clinton with bright white wings and a matching pantsuit.
The idea behind this "Christmas campaign," as it's labeled, is to replace the vague figures represented by traditional angel tree toppers with real, inspirational women to quite literally "look up" to.
Savannah Power, one of the WTLUT founders, said in an episode of the "Women Uncensored" podcast that she got the idea for this project from feeling disenchanted with her family's own angel tree topper. "We just felt uninspired by her, like she was a bit of a forgotten figure," she said. "We didn't really understand why it was such a tradition in the first place to have this outdated representation of a woman on top of your tree."
According to WTLUT, celebrating the accomplishments of successful women is an important — and often overlooked — step in the fight for gender equality. "There are so many feminist outlets ... that are helping young girls get to where they need/want to go," Power said, "but we should remember, too, that we already have lots of female CEO's. We should celebrate the female achievement, celebrate those who have succeeded."
WTLUT describes itself as a "not-for-profit organisation with any profits reinvested in projects to further female equality." These projects include a journal of feminist content and a 2018 program called "Leading Ladies," which is meant to help ambitious young people connect with women who are leaders in artistic industries. The proceeds from these ornaments, however, will go to the United Nations Entity for Gender Equality and the Empowerment of Women, or "UN Women."
All of WTLUT's angels were made with 3D printers and have wire ties for attaching them to trees. For its first two angels, the organization picked Beyoncé and Serena Williams (because who else?), and then opened up its next choice for a vote: The results were overwhelmingly in favor of Clinton, and this time, the popular vote prevailed.
Power said she loves Clinton "more than life" and worked on her campaign. "I saw how much she did for those young girls and how much they were truly inspired by her. She handled her loss so gracefully and with such dignity," she said. "I think she's a great representative for getting back on the horse — falling down and getting back up, and all the trials and tribulations that come with losing."
The project has received some criticism for choosing to elevate only famous women. WTLUT acknowledges this, but believes that its chosen figures are role models from whom everyday women can find inspiration. "We totally agree, celebrities don't represent all women at all," Power said, "but we specifically chose those who we feel represent something positive and have worked enormously hard to get where they are now."
They certainly chose three powerhouses to start out with. Serena Williams has won 316 Grand Slam matches over her lifetime, which is greater than any other tennis player. Beyoncé became the wealthiest woman in music this year after releasing the already-legendary Lemonade in 2016. Hillary Clinton was the first female presidential nominee of a major U.S. political party.
"Everyone needs a role model or a guide," said Power. "Someone to show them how it can be done or what not to do, and that's really what we are trying to do. We are trying to build a sisterhood a group of women, an initiative, a support system."
WTLUT is holding yet another vote now for its next angel: Options include Michelle Obama, J.K. Rowling, and Malala Yousafzai. If you'd like to purchase an angel of Clinton, Beyoncé, or Williams, you can do so here.