Here's What You Need To Know About The Florida Yoga Studio Shooting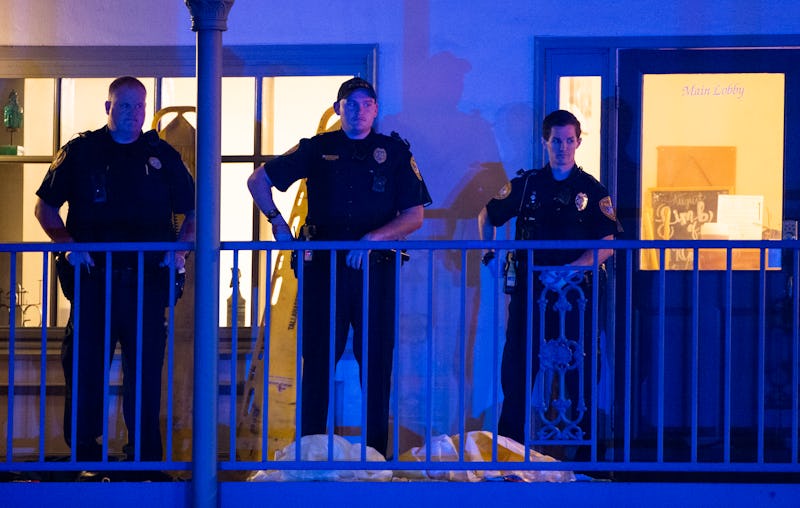 Mark Wallheiser/Getty Images News/Getty Images
Last Friday, a gunman killed two people and wounded five others in a shooting at a yoga studio in Tallahassee, Florida. All of the victims were women except for one injured man, who was reportedly pistol-whipped, according to NBC News.
Police received a call about the shooting at 5:37, according to multiple reports. Though they arrived on the scene three minutes later, according to New York magazine the shooting had already ended.
The two women killed in the attack were 61-year-old Dr. Nancy Van Vessem and 21-year-old Maura Binkley, according to the Tallahassee Democrat. Van Vessem was a faculty member at Florida State University, where Binkley was also a student, according to a statement the school provided to local news outlets.
Tallahassee mayor Andrew Gillum, the state's Democratic gubernatorial nominee, responded to the shooting on Twitter almost immediately. "I'm deeply appreciative of law enforcement's quick response to the shooting at the yoga facility in Tallahassee today. No act of gun violence is acceptable," he wrote, adding that he would be returning from the campaign trail that night.
Other Tallahassee officials also spoke up.
"In my public service career, I have had to be on some bad scenes. This is the worst. Please pray," Tallahassee City Commissioner Scott Maddox wrote on his Facebook page. In a follow-up post, he continued, "Have no words to express the sadness I feel. How do you make sense of a senseless act of evil? We must continue to talk to our children. Be kind to one another."
The gunman, identified by Tallahassee police as Scott Beierle, had a reputation for sharing racist and misogynistic views on the internet, according to The New York Times, and had been arrested for battery charges against women while he was a university student. He also reportedly sympathized with the so-called "incel" movement, an abbreviation for those who are "involuntarily celibate." He was reportedly dead by the time police arrived to the scene.
On Sunday, hundreds of people gathered for a vigil at Florida State, according to the Democrat. "It's hard to understand why such caring, kind and compassionate people would be taken from us," University President John Thrasher reportedly told those present. "Maura and Nancy were shining lights to all who knew them."
Police say that at least one person in the yoga studio attempted to stop the shooter after he arrived. Tallahassee Police Chief Michael DeLeo told reporters that this effort was reflective of Tallahassee's "spirit," according to New York.
"The fact that we had people fight this attacker to help save other people and prevent him from doing further harm, really I think speaks to the true spirit of Tallahassee and what this community's about," DeLeo said.
Aside from providing regular updates about the investigation, the Tallahassee Police Department also wrote on its Facebook page on Saturday that they were working to provide answers and closure. The department added that it believed the community remained united in the wake of the tragedy.
"We are heartbroken but we are strong," an unnamed police department spokesperson wrote. "We are a community united against violence. Our thoughts and prayers stay with the victims of the tragic act of violence at Hot Yoga. Our hearts go out to everyone affected by the shooting. We continue to work around the clock to provide answers & closure... We are here for you."