These GIANT Uggs Actually Exist & Honestly They Look Cozy AF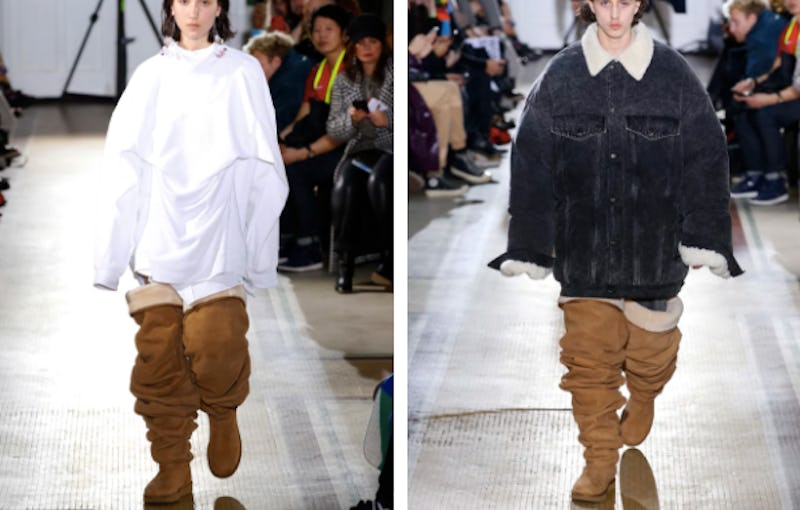 Estrop/Getty Images
Few classic items in fashion are quite as divisive as the fur-lined slipper-shoe of our youth that is the UGG. Even though the shoes are warm, long-lasting, and (this is the key point) literally as comfortable as wearing a down comforter on your feet, some people still associate them with their teenage years and, therefore, are hesitant to jump back on the comforter-shoe train. Me? I love a good pair of UGGs. Sure, the pastel and silk-bow-enhanced varieties are not really my thing, but in terms of comfortable shoes for cold weather, UGGs are as good as it gets in my book.
In case you haven't checked lately, UGG now has a variety of modern styles beyond just their classic silhouettes. Most recently, the Australian-born brand collaborated with French fashion label Y/PROJECT to create the thigh-high, extra large UGGs of my dreams (and also, weirdly, my nightmares — it's a lot of material, just imagine the leg sweat). Needless to say, though, as an UGG fan myself, I heard the news and was excited.
I often have worn UGGs and thought, "If only these went up the rest of my leg... and then my whole body, too? Wait, an UGG onesie? An UGG sleeping bag? An UGG home?" So, no, these supersized boots aren't the answer to all of my UGG-themed requests, but they are one step closer. The collaboration, which showed at both men and women's fashion week in Paris, features knee-high, high-high slouchy UGG varieties that range from "€250 and €1200," according to a press release announcing the collab. A few fur-lined slides also made the collection, for when your legs need to cool off a bit.
The price tag is pretty steep price to pay for boots, yes. But the question we need to be asking ourselves is can you really put a price on being able to put each leg in a giant fur-lined blanket burrito each day? I think not.
Glenn Martens, the designer behind Y/PROJECT and the driving force behind the unique partnership, noted the recognizability of the UGG when talking about the inspiration behind the collaboration.
"The UGG Classic boot is one of the most recognizable shoes in history. It's timeless and challenging design made it a worldwide statement. Y/Project is about challenges," Martens said in a press release. "Since launch we've been twisting grounded codes, we challenged acceptable and triggered people by putting focus on the unexpected."
If you just so happen to be looking for a timeless, easily recognizable shoe that makes you feel challenged and unexpected yet is still able to be worn as both pants and extreme winter weather gear, the Y/Project UGGs are your shoe. And even if you're not so much into the idea of your legs being, well, extremely toasty, you have to admit that the collaboration is something unique. Taking a classic style and making it into something new is not easy, and this partnership manages to create something fun and new in a way that makes sense.
Estrop/Getty Images Entertainment/Getty Images
Estrop/Getty Images Entertainment/Getty Images
While the Y/PROJECT UGGs won't be available for purchase until fall 2018 (just in time for cool weather to pop up again), you can still dream about them in the meantime. And if you're not quite sold on the over-the-top styles yet, then you can always learn to re-appreciate your old UGGs in the meantime. Either way, it's time to forget everything you thought you knew about footwear and just how warm your legs/feet can be, because autumn will be here before you know it. And UGGs will be ready for it.