These Photos From The Climate Strike Capture The Historic Protests Around The World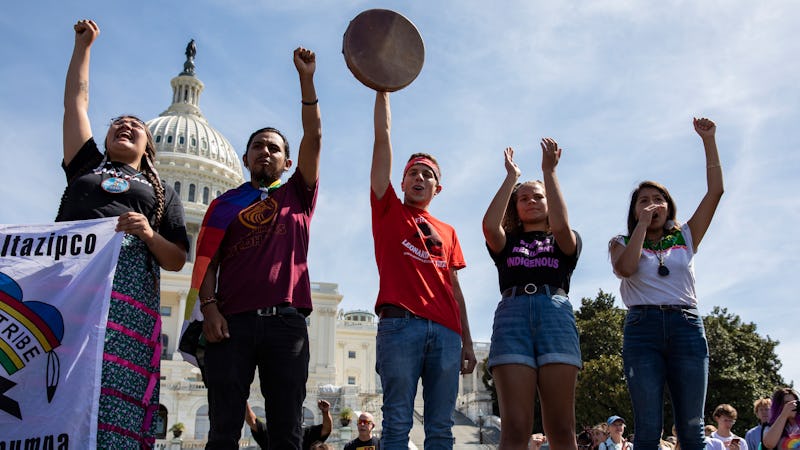 Samuel Corum/Getty Images News/Getty Images
As millions of young activists across the globe staged walkouts and strikes on Friday, photos from the Global Climate Strike have poured in from all corners of the world. The youth-led strike, meant to raise awareness and demand institutional action to battle climate change, comes the day before the United Nations' first Youth Climate Summit on Saturday.
Activists in more than 150 countries pledged to participate in the week's events, according to the Global Climate Strike website, which is managed by the environmental organization 350. #FridayForFuture, the organization helmed by 16-year-old climate activist Greta Thunberg, says there were over 5,500 events planned in over 2,600 cities worldwide. Thunberg's organization has led weekly Friday school strikes around the world, but this week marks its largest action yet.
Thunberg, who is from Sweden, arrived in the United States on Aug. 28 after a two-week journey by sailboat across the Atlantic. Since docking in New York, Thunberg has met with former President Obama, appeared on The Daily Show with Trevor Noah and called out U.S. lawmakers for not doing enough to protect the environment. Thunberg has been instrumental in raising awareness on climate change, particularly among Gen Z. On Wednesday, she appeared before the U.S. House of Representatives Climate Crisis Committee and a House Foreign Affairs subcommittee for a joint hearing, along with 17-year-old activist Jamie Margolin, 20-year-old Vic Barrett, and other young activists.
"We are already seeing the unacceptable consequences of this today, and it will only get worse the longer we delay action," Thunberg told members of Congress, "unless we start to act now."
With Thunberg leading the pack in New York City ahead of the UN's global Climate Action Summit, which will be will be attended by government officials and international leaders, Friday's strike kicked off a week of fighting climate change around the world.