These Google Walkout Photos Show Employees Protesting How Sexual Harassment Is Handled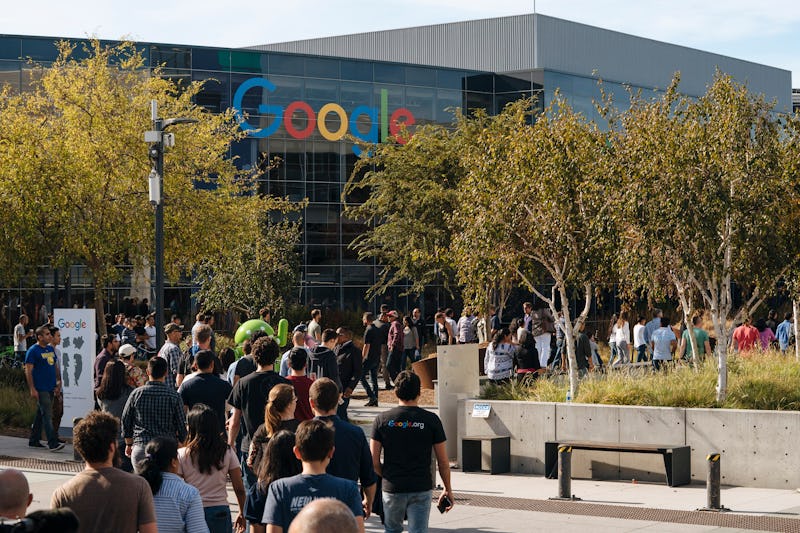 Mason Trinca/Getty Images News/Getty Images
Google employees from around the world walked out of work on Thursday to demand that the company change how it handles allegations of sexual misconduct. According to CNN, employees joined the global protest to condemn Google's "destructive culture," and to call for greater transparency and equity. Photos from the Google Walkout, as it has been dubbed, illustrate that protests took place in Dublin, London, Tokyo, Berlin, and numerous other cities.
The walkouts followed a New York Times investigation last week that uncovered severance packages for Google executives accused of sexual misconduct. The investigation specifically found that Google kept quiet for years about sexual misconduct allegations against Android creator Andy Rubin and two other executives. Rubin denied the accusation made against him and Google ultimately paid Rubin $90 million when he left the company, according to The Times.
According to The Verge, Google CEO Sundar Pichai sent an email to employees earlier this week, in which he pledged his support for the walkout and apologized for the company's past actions. He also wrote that Google had fired 48 employees for sexual harassment over the course of the past two years without giving any of them severance packages.
As photos from Thursday's protests indicate, Google employees walked out on multiple continents, including at the company's headquarters in Mountain View, California.