These Harry Potter Pumpkins Are The Cutest DIY Halloween Accessories You'll See All Year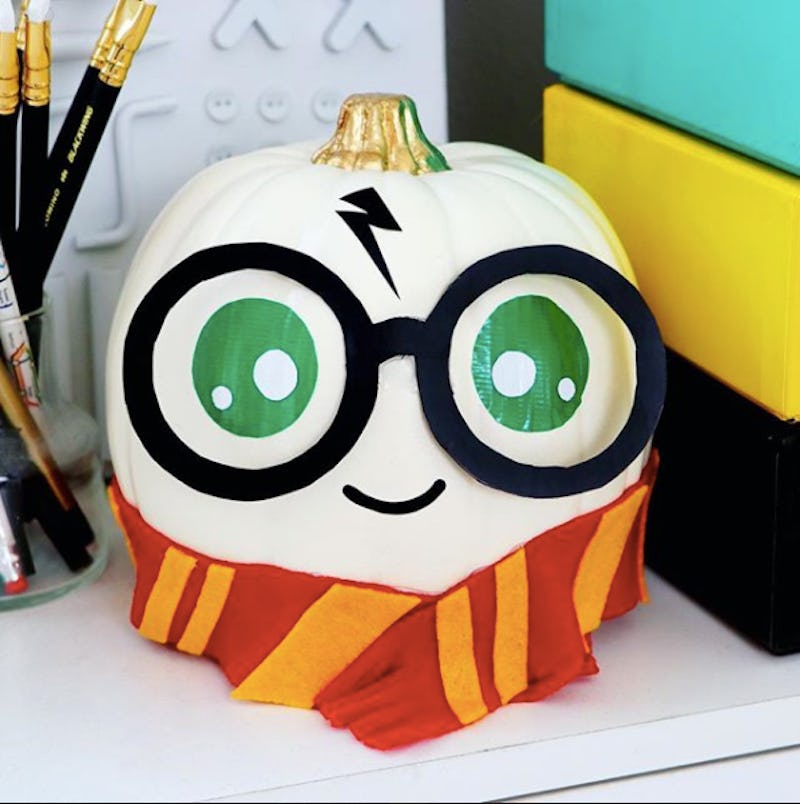 Karen Kavett
Break out your wands — erm, I mean, hot glue guns — because you're going to want to recreate these Harry Potter pumpkins as soon as you watch the video below. Trust me when I say these are the cutest DIY Halloween decorations you'll see all season.
Created by Karen Kavett of Karen Kavett DIY, the three pumpkins (and one Golden Snitch project) featured in the video all have a different HP theme: the first is inspired by an infamous quote from the Marauder's Map; the second is a subtle homage to the four Hogwarts Houses; and the third is a too-cute-for-words cartoon representation of The Boy Who Lived; and the fourth is a glow-in-the-dark mini Golden Snitch. All four are spectacularly adorable and easy enough to make at home with just a few supplies, like paint, duct tape, and felt.
A diehard Harry Potter fan, Kavett tells Bustle she originally began making videos because the HP fandom was such a huge part of her life. "My high school graduation gift was literally a trip to a Harry Potter conference, and the reason I started making YouTube videos in the first place was because a lot of my Harry Potter fandom friends were doing it," she says. "So I'd say I'm a pretty big fan! I just love bringing my nerdy interests into my DIY decorations, especially around Halloween and Christmas."
Kavett first got into DIY in high school, and she began making YouTube videos to show off her talents about 10 years ago. She now has over 170,000 followers on YouTube, as well as a dedicated fanbase who follow her blog and her Facebook page. For the past four years, she's also made DIY videos with the team at HGTV.
Although the Facebook video only gives you a basic overview of the process of making the pumpkins, the YouTube video provides detailed step-by-step instructions, so you can recreate these cuties in your own home. So far, Kavett says, the reaction to these pumpkins has been pretty magical. "When a video really resonates with people outside of my community, it just makes me inspired to keep creating," she tells Bustle.
As it so happens, she does plan to feature more Harry Potter-inspired DIY projects in the future. In fact, she already has some ideas in mind for upcoming holidays. "I'm definitely doing to be making some Harry Potter Christmas decorations soon," she says. "Over the summer I made some Perler Bead Harry Potter DIYs and last year I made DIY Harry Potter Christmas Ornaments, so I'll be brainstorming what other inspiration I can pull from the books. I've also been thinking about other fandoms I'm obsessed with right now - maybe some Hamilton Christmas decorations?"
BRB, apparating to the nearest craft store right now.