Democrats Are Holding The Senate Floor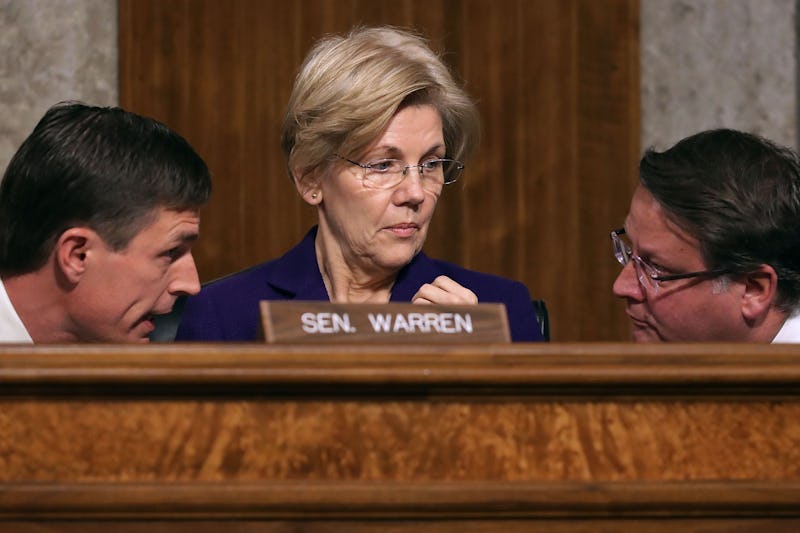 Chip Somodevilla/Getty Images News/Getty Images
Between his cabinet appointments and controversial executive orders, President Donald Trump has drawn action from every corner of the country. Despite a post-election avowal to resist Trump's agenda, however, many are dissatisfied with the Democrats' in-fighting over who will chair their party rather than showing a united front against Trump and the newly-emboldened Republican Congress. As these photos and videos show, the "hold the floor" protest on the Senate chamber floor proves that the Democrats are truly ready to get down and dirty in resisting Trump. Their first order: doing everything in their power to block billionaire Betsy DeVos from becoming our next education secretary.
On the eve of the Senate confirmation vote for DeVos, Democratic senators held an all-night debate session in hopes of flipping one or two Republican senators away from confirming DeVos. Rather than constituting a filibuster, which is meant to block a vote indefinitely, this all-night debate tactic will specifically target Republicans that Democratic senators believe may change their minds and vote against party lines. As Senate Democratic leader Chuck Schumer said in an interview:
I understand the pull of party loyalty. I understand the deference to a new president. But from what we have seen in the first two weeks of this administration, party loyalty is demanding too much of my Republican colleagues.
Elizabeth Warren Does What She Does Best
Sen. Warren, a one-time campaigner for Hillary Clinton and popular speaker among progressives, outlines exactly why DeVos cannot be allowed to lead the country's education system.
Freshman Senator Kamala Harris Is So Ready
Although she's only been in office since last month, California Sen. Kamala Harris has already become well known for attending protests against Trump's so-called "Muslim ban" and her lively Twitter presence.
Her Entire Speech Is Worth Watching
Clocking in at just over 15 minutes, Harris' first speech of her senate career is as moving as her speech at the women's march.
Sen. Patty Murray Lays Out The Simple Reason Democrats Will #HoldTheFloor
In another impassioned speech on the Senate floor, Sen. Patty Murray of Washington gave the very simple reason behind this latest Democratic protest:
Democrats will hold the floor for the next 24 hours until the final vote to do everything we can to persuade just one more Republican to join us.
WV Sen. Joe Manchin Explains How DeVos's Voucher System Would Impact Rural Students
Sen. Joe Manchin of West Virginia explained in plain terms that DeVos' support of the controversial "voucher" system would be devastating to rural students and other low-income children who lack transportation to get to the charter schools DeVos would support.
Senate Dems Step Up To The Plate
Tons of senators are speaking to their Republican colleagues in hopes that just one of them will vote their conscience.
A Pennsylvania Sen. Explains Why The Ed Secretary Debate Is Bipartisan
PA Sen. Bob Casey got to the heart of the matter when he expressed his sincere hope that Democrats and Republicans alike want an education secretary that is their "champion". That person, according to Casey and his Democratic colleagues, is not DeVos.
Sen. Hassan Holds It Down For New Hampshire
It's clear that NH Sen. Maggie Hassan is voting and speaking in favor of her constituents during the #HoldTheFloor protest.
Senators Can Be GIFs, Too
This GIF of the "likes" and "love" reactions floating across the face of a senator participating in #HoldTheFloor prove just how much voter participation takes place in this digital age.
With DeVos' confirmation looming ever closer, these Senate Democrats are taking a bold and bipartisan stand against her confirmation as education secretary. She won't be confirmed without a fight.