This Generation Of Wedding Planners Is Just As Tired Of "Tradition" As You Are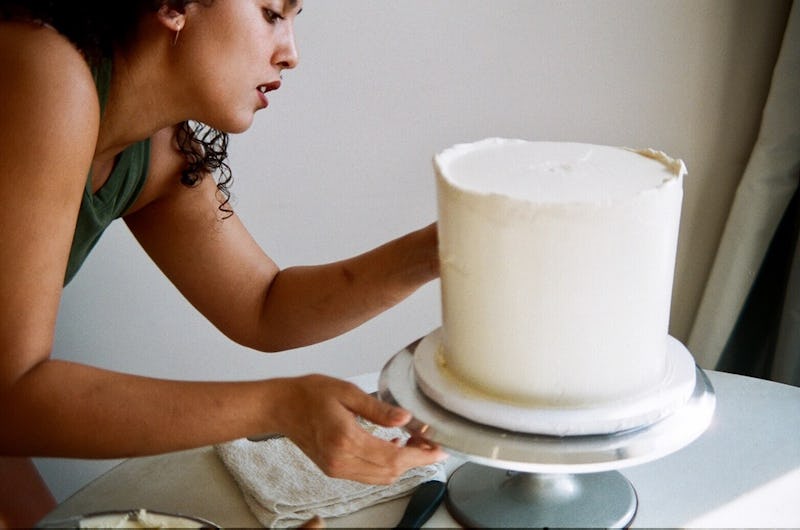 Photo credit: Kara Michelle Perry
Say what you will about millennials — they're entitled at work, they think life should imitate Instagram, they demand wacky things, like paid maternity leave and less racism and more human kindness — but one thing they have going for them is that they are cautious with their cash. Given all the struggling and economy and the realities of student loan debt, adults born in the 1980s and '90s have much less to spend on the traditional markers of adulthood, like getting married and buying a house, and they know it. Combine that with a willingness to rethink most social conventions, and the concept of a wedding is changing, thanks in large part to the next generation of wedding vendors — millennials themselves — who are listening, adapting, and developing a new manual for what matters — and what doesn't — when you're getting hitched.
To start, today's couples and their vendors are similarly allergic to hoopla. "With millennials, I see people who are scared of the wedding industry and they don't want to do the big, traditional wedding," says Justina Michaels, the founder of Fitting Fêtes, a planning and event design studio based in New York City. In creating her studio, she wanted to provide a respite from all the drama associated with weddings. "I had been to plenty of weddings before I started my business and was always amazed at how stressed-out and uptight so many planners were. I knew from the beginning that I was going to approach things differently."
Across the country, Seattle-based planner Rebecca Iverson dubbed her planning business Sane Weddings. She's pulled in nontraditional clients at trade shows by wearing a blue beehive wig and putting out a placard that reads: Everyone chill the f-ck out. We've got this.
"I stumbled upon that marketing," Iverson says. When people see that motto, which is also emblazoned on her website, they know they're not getting a stuffy planner in a suit dress. "The people who would laugh and call their friends over to see it, I'd be like: Clearly, you're my people," says Iverson, who declares herself from house Slytherin on her site, but is clearly a team player at heart. "We live in Seattle, so there's a lot of nerdy people in the area, and they're just more fun to be around. They tend to be less stressed on the details and are more about just having a good time and getting married."
"I get emails all the time like, Hey, I've been planning this 200-person wedding, [and] I'm over it. You've made me feel confident that I don't have to do this."
Iverson specializes in smaller weddings, because that's what the majority of her clients are looking for. "They don't want a big, 200-person wedding. They just want the people they actually know right now," she says. "The weddings tend to hover around 100-person mark, or less. I think that it's more intimate and fun for the couples."
Some celebrations are shrinking even smaller than that, and many skew closer to an elopement than a wedding, such that certain vendors now specialize in oversized elopements. Founded by Victoria Hogan and based in Las Vegas, Flora Pop is a traveling pop-up wedding company that offers couples elopement packages in a variety of places, including the awe-inspiring vistas of the Mojave Desert.
"It's a mixture of the need for intimacy and not wanting to please a room full of people that they barely know."
Hogan was working as a florist, occasionally with bridal clients, when the light bulb for her business appeared. "A lot of the venues I was going to were these really tired golf courses or ballrooms," she says. "One of the main reasons why I live in Las Vegas is there are so many beautiful landscapes that are easy to get to, and that not a lot of tourists really get the opportunity to see. So I was just wondering, why aren't people utilizing the desert as a backdrop?"
The millennial couples who are drawn to Flora Pop for, say, an elopement with champagne and donuts (as Hogan typically serves) aren't eloping because they have no money. "I tend to draw a more creative crowd that's actually pretty established in their careers," she says of her clients. As for the size of the celebration, "It's a mixture of the need for intimacy and not wanting to please a room full of people that they barely know," she continues. "I get emails all the time like, 'Hey, I've been planning this 200-person wedding, I'm over it, and your company is a breath of fresh air. You've made me feel confident that I don't have to do this.'"
The concept is a smash hit: Hogan has since opened branches of Flora Pop in North Carolina, Georgia, Colorado, and Utah, though her team can travel anywhere with their clown car of bridal supplies. Progressive or hippie-happy locales with Instagram appeal, like "Joshua Tree, Palm Springs and San Francisco are very popular," Hogan says.
While she is mostly a one-stop shop, Hogan can make recommendations to her clients if they are looking for additional vendors — like a classic-car dealer for their drive out to the desert or an Instagram-savvy photographer to capture it all. Her go-to recommendation for the latter is Amy Lee Hybarger of Aimlee Photography, who specializes in elopements and tiny weddings. The two met when Hogan officiated Hybarger's own tiny wedding.
"My husband and I had been together for seven years and we didn't want anything fancy, but something a little more than a courthouse wedding," Hybarger says now. "Victoria [and I] ended up becoming friends, and after some time I started photographing elopements with her and the rest is kind of history. We have traveled all over together and get the opportunity to make magic together often. We truly have the best jobs!"
"I tend to put a lot of emphasis on my clients enjoying themselves, versus making sure we get perfectly posed images."
As for her own business, Hybarger keeps her millennial clients happy by creating images they can share on #TBTs for years to come. "Photography has always been important, but I do think that the pressure to have those perfect pictures for social media is definitely there," she says. And the vibe of those photos has changed — no ultra-posed, formal portraits with a long line of stiff bridesmaids. "I tend to put a lot of emphasis on my clients enjoying themselves, versus making sure we get perfectly posed images," she says. "I have always encouraged my couples to ignore me and to just enjoy their time together, which gives me a chance to document them as they are."
Photography is one priority point for millennials, but so is looking good in the photos. Millennial brides may be nervous to drop four or even five figures on a dress they'll wear once, which is why designers are stepping up in new ways to make sure their brides feel special and cared for — and like they're not buying some cookie-cutter gown.
Heather Green and Sathya Balakumar were both working in the fashion industry when their friends started getting married — and then started complaining — about the dresses they were and weren't finding. Lakum, their bridal line, launched in 2014 out of their boutique in Brooklyn. "We have this idea of a modern, affluent woman and how she wants to show up on her wedding day. She really just wants to be herself," says Green "We're catering to that bride, who's utterly self-aware, so that when she walks down the aisle her friends and family go, 'That's so her. I couldn't see her in anything else.'"
The ladies at Lakum ask their brides to fill in a questionnaire upon arrival to home in on what vibe they're looking for. "A lot of them say 'nontraditional,' but then they'll also mark modern, simple, clean, elegant, outside of the box," Green continues. "We still sell gowns very well, but separates are a huge business for us."
LaTimberly Johnson is another bridal designer who launched a line with her BFF, Marteal Boniello, after fielding the complaints of their friends. Loulette Bride was born in 2016, also in Brooklyn. "They didn't like the normal wedding dress hunt. They couldn't find things they liked," Johnson says. "Thing were too overdone, or too boho hippie, or too plain. So we just wanted to create something that all of us loved."
Loulette aimed to revamp the shopping experience for their brides. "A lot of girls come in and say the experience at big bridal stores was overwhelming. They're throwing you all these things you don't want, and you're really rushed," Johnson says. "If you come into our studio, you can take as long as you want and pick the perfect dress for you. It's a more casual experience." And of course, for a millennial, the experience is everything.
So they want it to be small, personal, special. But millennials are also very socially conscious — and many wish to extend their political and environmental values to their wedding day. Brigitte Oger, the founder of Craft Cakes CLT, is based in Charlotte, North Carolina, and specializes in vegan cakes, which have certainly been on the rise in recent years.
"Visual appeal is everything on social media. It's what draws people in and gets them to pay attention."
This generation, she says, "cares about what's in our food. We see how people's diets and health have suffered after the last 30 years from what we were putting in our bodies growing up." Oger explains that millennials have a desire for information that even extends to how they consume desserts. "When presented with the opportunity to eat and learn about food grown in our region, without preservatives, without strange production, [millennials] are like 'heck yeah! I want to eat real food, not corn syrup.'" Oger sources apples, pears, carrots, and more ingredients from local farmers; that locavore belief system is a special bonus for the millennial buyer.
After working in bakeries for years, Oger spotted a hole in the market for those with dietary restrictions. "I noticed that when people would come in and ask for a vegan product or gluten-free product, there wasn't much to offer them. It was a burden on the kitchen and the customer. The client doesn't get the standard experience," she explains. "Wherever they go, they're having accommodations made for them. I thought, let's make it easier for them!"
Not for nothing, but Oger's cakes are also truly beautiful, with rough edges and abstract, paint-like splatters. "Ten years ago when I first stepped into a cake shop as an intern, I learned fondant cake decorating and practiced being very precise: replicating photos and objects that clients wanted in cake form," she says. The fact that her cakes look bomb on Instagram certainly isn't hurting her bottom line. "Visual appeal is everything on social media. It's what draws people in and gets them to pay attention. Then it's knowing what I put in my cakes and my process of cake-making that turns them into customers."
A common refrain with these vendors is that they fell into the business because they wanted to fill a need, and have a great time doing it. To that end, Hogan of Flora Pop has that most millennial of accessories — a part-time job as the officiant at the Taco Bell chapel in Vegas.
"They contacted me and said, 'Hey, we're really trying to partner with local businesses that we think have a great vibe to them. We see that you can officiate weddings, would you be interested in becoming the Taco Bell officiant partner?'" Hogan recalls. "I had always wanted a chapel of my own. I just didn't know it would come to me in the form of a Taco Bell."
"We have a lot of fun with the couples that we get to work with because they don't take themselves very seriously," says Hogan. "They get to have tacos with their friends, and the wedding script is full of Taco Bell puns. It's very, 'let's not take this too seriously, but we do want to get married and we do love Taco Bell.'"
Just like their clients, today's vendors are doing things their own way. Says Hogan, "It wasn't what I ever expected I'd be doing. But we have so much fun with it!"