Yvonne Orji Hints At Continued Struggles In 'Insecure' Season 2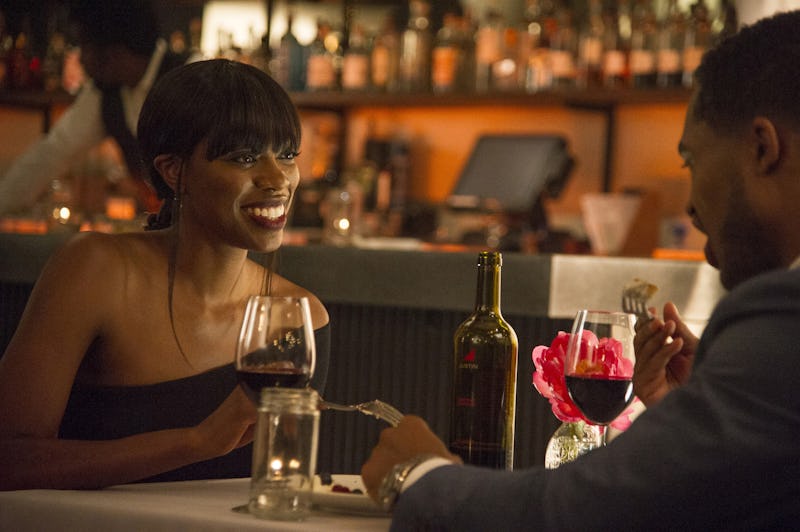 Anne Marie Fox/HBO
The first season of HBO's Insecure was either long overdue or a pleasant surprise, depending on whether or not you were familiar with creator and star Issa Rae's 2011-2013 webseries, The Misadventures of Awkward Black Girl. But after a debut season that combined the webseries' unique perspective with a new, expanded cast alongside Rae, the news that HBO renewed Insecure for a second season, which will premiere on July 23, was welcomed by all fans. In an interview with Bustle, Yvonne Orji, who plays Molly, gives some hints about Insecure Season 2 that promise that the show will pick up right where it left off. "Everybody is on a quest ... to find themselves," she teases.
Molly is Issa's best friend who works as a successful corporate lawyer, but can't manage to get in a lasting relationship off the ground. Since the second season just began filming, there aren't many hints she's allowed to share just yet. But she does reveal that all of the characters will still be reeling from the events of the finale. And if you need to catch up or remember what happened, all of Insecure Season 1 is currently available on DVD and Blu-Ray, and can also be streamed on HBO Go.
"Issa has to come to terms with the fact that she cheated, and Lawrence isn't in the apartment anymore. Lawrence has to come to terms with the fact of his relationship, and what happened, and what he did with Tasha," Orji says. "And everybody has to figure out who they are and what they want." Molly might still have her job and her nice apartment, but at the end of the season, "she's realizing 'I don't want to be the mess that you all think I am,'" Orji says.
As for whether or not Molly will wind up getting a shot at real love, Orji says, "everybody wants a win for Molly. Everyone's like 'please, somebody like her back so we don't have to watch her derail her life forever.'" Even she was excited at the possibility of finally getting the chance to play a real love story. "We'll see, hopefully they heard my cries from deep down under!" she jokes. But of course, things can't totally turn around come Season 2, since watching the characters self-destruct is half of what makes the show so addictive. "I believe people want to watch wins, but they also want to watch car derailments," Orji says.
While the actor does relate to her character — "the corporate aspect ... that's my life," she says, since, as she says, she worked in "corporate America" before becoming a stand-up comedian and actor — overall, she's a lot more mature. "Molly was an amalgamation of different people, for me, and it made it fun and relatable to tap into," Orji says. "I think Molly means well. I think when you have a character that means well, it's like, girl, you don't even know when you're messing up."
That's how Orji manages to keep Molly sympathetic, even when she exposes her blind spots, like when she derailed her connection with Jared in order to play Russian Roulette with an "elite" dating app, or when she balked at the idea of dating a man who'd had same-sex experiences in his past.
"In my mind I think Molly would be a really great girlfriend if she was given the opportunity, and I think she just needs that dude to not take her so literal and so serious," Orji says. "Molly is on this heightened quest for love and I think that's so real, that it's not a bad thing, because who doesn't want to be loved?" She continues, "we're all layered, we're all flawed, nobody's perfect. That's what keeps Molly kind of attainable, and relatable, and lovable all at the same time."
The person who keeps Molly grounded is, of course, her best friend, Issa. Orji credits the central friendship as Insecure's best invention, so there's no need to worry about it not remaining central to Season 2. "I think what at the crux of the show is this friendship; this very real authentic friendship. You know, this no holds barred … 'I'm still gonna call you on the carpet, but I love you,' that kind of relationship of I've got your back, you've got my back.," Orji says. "When life happens, who do you go to? You go to your best friend. And I think we've really showed that aspect of it, and because it was real and because it was really specific and really authentic, I think people saw themselves in it."