Kylie's BFFs Posted New Photos Of Her Pregnant & They're SO Precious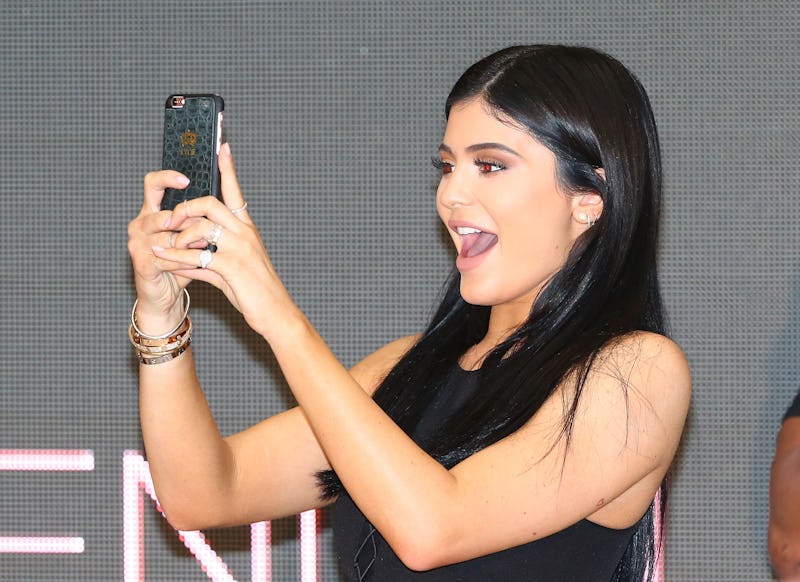 Scott Barbour/Getty Images Entertainment/Getty Images
On Sunday, the youngest Jenner daughter announced the birth of her daughter, her first child with Travis Scott. She had chosen to keep quiet about her pregnancy and, now that she has announced her daughter's birth, social media is absolutely abuzz with messages of congratulations and celebration for both her and Scott. Indeed, the Kylie Jenner pregnancy photos posted by her friends show the excitement that many of her BFFs shared with her throughout her pregnancy — and continue to share as she enters into motherhood.
Jenner revealed the Feb. 1 birth of her daughter in an Instagram post on Sunday. In sharing her news, Jenner explained her decision to keep her pregnancy quiet and also thanked her family and friends for helping her maintain that privacy. As Jenner put it:
I'm sorry for keeping you in the dark through all the assumptions. I understand you're used to me bringing you along on all my journeys. My pregnancy was one I chose not to do in front of the world. I knew for myself I needed to prepare for this role of a lifetime in the most positive, stress free, and healthy way I knew how ... Pregnancy has been the most beautiful, empowering, and life changing experience I've had in my entire life and I'm actually going to miss it. I appreciate my friends and especially my family for helping me make this special moment as private as we could ...
Social media posts demonstrate that Jenner's friends and family played a prominent role in documenting her pregnancy. Indeed, Jenner's friend Tyler Ross reportedly made the 11-minute long video shared by Jenner on Instagram right after she announced her daughter's birth. The video shows Jenner throughout her pregnancy and features candid snippets of Jenner and Scott's relationship.
Moreover, in addition to sharing photos documenting Jenner's pregnancy, her friends also offered words of support. In sharing a photograph of her posing along with a pregnant Jenner, designer Heather Sanders, who was expecting a child at the same time, wrote:
Congratulations To The sweetest,Loving, Most Caring person on earth! So happy we got to share this experience together! Sleep together,Eat together, Workout etc Love Having you as my pregnant sister for 9 Months! You are going to be such an amazing Mom, and your beautiful baby is the luckiest girl in the world to have you as her mother 💕 You Were Made For This! I Love You So Much! Can't wait for Your Snap Back We Not Even Ready, The Most 🔥 Mama Ever!!
Friend Anastasia Karanikolaou also paid tribute to the star in an Instagram post on Sunday, saying, "I can't even begin to describe how proud and happy i am for you. I love you both so much and I'm excited for this new chapter in life. I can't wait to spoil her and watch her grow ..."
In addition to her friends, Jenner's family was, of course, beyond excited to congratulate her on the birth of her daughter as well. One of Jenner's older sisters, Khole Kardashian, is also pregnant and posted an incredibly sweet tribute to her sister on Instagram. Kardashian shared a picture of her and Jenner posing together and commented:
Congratulations My Sweet Kylie! What a magical ride it's been! I'll miss you bumping along with me. Never in a million years did I think we would do this together but it's been that much more special because of it. God is so great!! He had His plan all along! I love you little mama 💕 love big mama.
It is quite clear that Jenner, Scott, and their daughter have a lot of loving people in their lives who are incredibly excited for them as they begin a new journey as a family — and that friends and family will always be by their side as they embark on this adventure.