Listen Up, 'Star Wars' Fans — You Have To See These Images From The Dark Side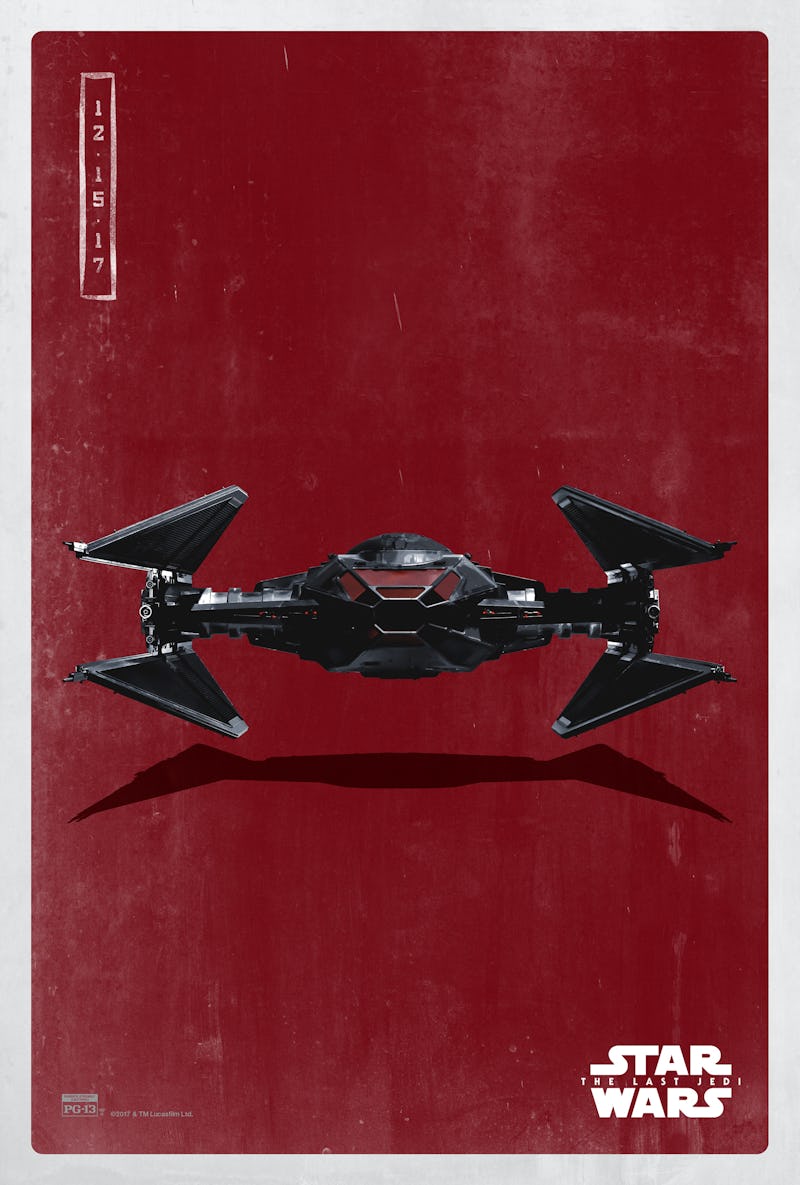 Disney
With the release of the latest Star Wars iteration on Dec. 15, fans are anxiously looking for clues as to what the installment might hold. Luckily, exclusive images from The Last Jedi are a telling first look into the world Rian Johnson has created in the beloved universe. These eight posters give fans a little more insight into what the Dark Side has in store in Chapter VIII.
From Kylo Ren's new lightsaber to updated vehicles of mass destruction, there's no shortage of images that suggest how far, how deadly, and how menacing the Dark Side will be in The Last Jedi.
And while much of the movie is a mystery in terms of plot or cameos, there are some things we know for certain about this installment. For example, we know fan-favorite characters will be back in a big way: Daisy Ridley plays Rey, Adam Driver will once again take on Kylo Ren, Mark Hamill will of course be Luke Skywalker, and even Carrie Fisher will be back to reprise her role as Princess Leia for a final time.
To help fill in the holes of what we don't know — which, honestly, is a lot — take a look at the images below for some additional insight.
1. The Red Helmets Worn By Supreme Leader Snoke's Guards
In The Last Jedi, Snoke's eight Praetorian guards will be on full display — even if their faces will be masked by these helmets. According to Slash Film, the guards, are "an elite force who act as Snoke's personal guard force" and are "fearsomely unpredictable in battle, capable of adjusting to any scenario instantly."
2. The Evil Droid Version Of BB-8
BB-9E might be as cute as BB-8, but it's certainly not as sweet. Your favorite droid's evil twin, BB-9E will make its debut in The Last Jedi, and according to Star Wars' official website, it will "keep their starships and machinery operational." According to Cinemablend, BB-8 and BB-9E will have a conflict of their own that Neal Scanlan, the visual effects artist in charge of the Star Wars creature shop, said will be a "parallel story of Vader and Luke."
3. First Order Stormtrooper Executioner Helmet
For those Stormtroopers that commit treason, they'll have a date with the executioner, which is easy to spot thanks to that black patch on its helmet. Finn might want to watch out, especially since, according to Slash Film, these First Order soldiers carry an electrified staff to take down traitors.
4. An Enhanced TIE Fighter
The most elite of the First Order's starfighter pilots have a new ride, which seats two. Oh, and it also has enhanced weapons and sensor systems to double its ability to take down the good guys. According to the official Star Wars website, this new and improved TIE fighter has "hyperdrives, deflector shields and high-yield cells that provide additional power to onboard systems." All of this is what makes the vehicle so versatile, basically, the First Order found a vehicle that can do both: reconnaissance and combat operations.
5. Dark Side Helmet
This slanted helmet belongs to the First Order Gunners. Without anything covering their face, they'll have an easier time hitting their target, which should make everyone very nervous.
6. The Dreadnought
The pizza-sliced shaped First Order warship might not look imposing, but according to the Star Wars official website, it will be. It's got "two enormous orbital autocannons for large-scale bombardments." It's also over 25,000 feet long, which means it's going to be hard to miss in the galaxy far, far away.
7. Kylo Ren's New Lightsaber
It looks similar to the saber audiences saw him use in The Force Awakens — with an upgraded twist. This lightsaber is much sleeker and a darker shade of black than his last, and, as CinemaBlend pointed out, it's a lot more "technologically advanced." Expect him to do a lot of damage with his new weapon.
8. The TIE Silencer
Kylo Ren is leading his own TIE squadron and to do that he's got a new ride that is as black as his soul. This one is called the TIE Silencer and, according to the official Star Wars website, the First Order has never created a vehicle quite like this. It is "an angular fighter equipped with laser cannons and missile launchers" that allows it to speed through space and is an "effective tool in Ren's mission to destroy the Resistance." Basically, be afraid. Be very afraid.
Well, there you have it — eight images that are surely clues into what fans can expect from the highly-anticipated next installment.