Even Chrissy Teigen Had To Get In On This Meme Of Melania Trump Gardening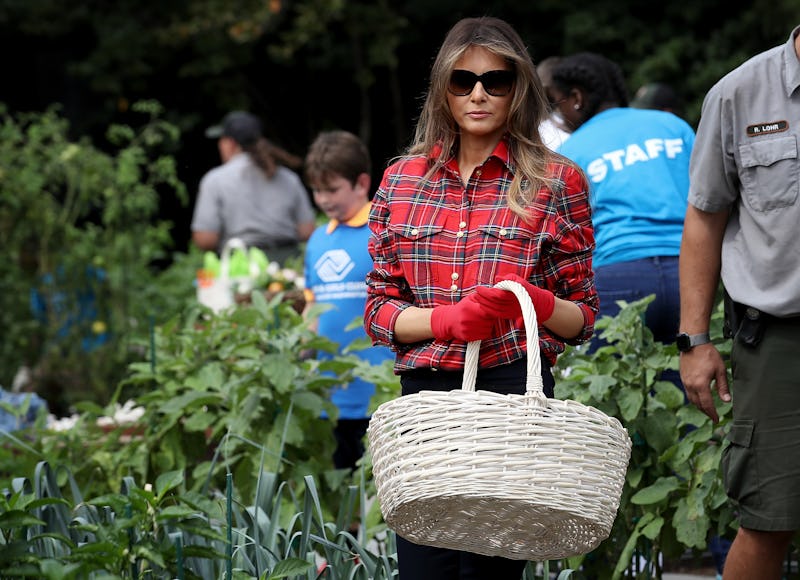 Win McNamee/Getty Images News/Getty Images
Another day, another viral joke about the Trump family. Early this week, an image from Melania Trump's day in the White House vegetable garden last September popped up again on social media. Making fun of how clean the first lady's shoes were, among other things, Twitter users flooded the platform with memes about Melania Trump gardening.
Melania has made it clear that she wants to keep up White House gardens — specifically, the First Lady's Kitchen Garden and the Rose Garden. Michelle Obama started the kitchen garden in 2009, per Vogue; it was one of her first projects as first lady.
"I take great pride in knowing that this little garden will live on as a symbol of the hopes and dreams we all hold of growing a healthier nation for our children," Obama said at the time.
Trump is continuing the vegetable garden and hosted a group of schoolchildren there last September. She and the kids worked in the dirt, harvesting and planting kale, lettuce, radishes, chard, mustard, and peas. Although she hasn't followed Obama's example of making nutrition a focus of her time in office, she did bring up the issue, telling the children, according to Politico, "I'm a big believer in healthy eating because it reflects on your mind and your body."
Ten months later, an image from that day has taken over the internet. Here are some of the best tweets circulating about the new Melania gardening meme.