These Minnesota Rape Statistics Reveal How Few Cases Actually See The Light Of Day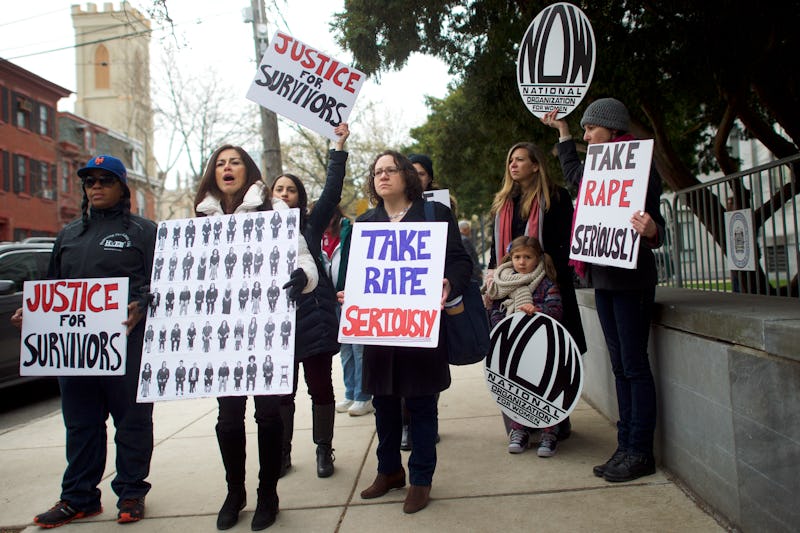 Mark Makela/Getty Images Entertainment/Getty Images
There's a troubling new report out on the efficacy of rape investigations by law enforcement — this time in Minnesota. In a troubling report published on Sunday, the Star Tribune reviewed more than 1,000 sexual assault cases over two years to investigate Minnesota rape statistics and found "chronic errors and investigative failings" by the state's law enforcement. The outlet requested records from 20 agencies in Minnesota that saw the highest number of sexual assaults claims in 2015 and 2016 while reporting this story.
According to the Star Tribune investigation, only 26 percent of more than 1,000 cases analyzed from the two-year period were forwarded to prosecutors. Of these reviewed cases, 12 percent led to a charge of sexual assault. An even smaller amount of these reports led to a conviction: seven percent.
Even more troubling, the newspaper found that in nearly a quarter of the cases analyzed, an investigator was never assigned to the case. The newspaper also discovered that in half of the cases, police didn't interview witnesses, and in one-third of these cases, the victim wasn't interviewed.
To illustrate the scope of people affected by these statistics, the newspaper reported that more than 2,000 woman in Minnesota disclose a rape or sexual assault every year.
Andy Skoogman, the executive director of the Minnesota Chiefs of Police Association, was troubled by the newspaper's findings. "I think there's no doubt that law enforcement and prosecution … need to look in the mirror and say, 'What can we do better collectively?'" Skoogman told the newspaper.
Nate Gove — who is the director of the Minnesota Board of Peace Officer Standards and Training, which licenses law enforcement officers — told the paper that rape investigations can be complex. Gove said some agencies don't have the resources to completely investigate every case, but that the latest statistics were concerning nonetheless. "Would I like to see every case fully investigated? Yes, of course. But we don't have the resources for that," Gove told the Tribune.
The Star Tribune's findings are in line with national analysis from advocacy organizations such as the Rape, Abuse & Incest National Network, or RAINN. The group found that "310 of every 1,000 sexual assaults are reported to police." RAINN compiles its statistics using the National Crime Victimization Survey, a report generated by the U.S. Department of Justice.
Even worse, in 2015 the National Intimate Partner and Sexual Violence Survey from the Centers for Disease Control and Prevention found that about 1 in 5 American women surveyed said they have experienced "completed or attempted rape" in their lifetimes.
Law enforcement agencies' ability to fully investigate rape and sexual assault cases has been questioned around the country. For example, investigators in Detroit announced in March that they were finally completing testing on the final 614 rape kits of more than 11,000 rape kits found abandoned in 2009.
In New York, a 163-page report by Department of Investigation found that the police department had only 67 detectives handling 5,661 sex assault cases in 2017. In comparison, the New York Post reported that there were 101 detectives to investigate 282 homicides in 2017. The NYPD report found that understaffing led to insufficient investigations into some sex crimes. However, last week, NYPD Commissioner James O'Neill announced he was assigning more investigators to the Special Victims Division.
The reporting into how Minnesota law enforcement handles investigations into rape and other sex crimes is just beginning. Sexual assault survivors talked to the newspaper about their experiences on video, too. The Star Tribune wrote that this piece was the first in a series, and more stories will be published as more information becomes available. The paper is also publishing a podcast exploring in-depth stories of individual survivors.