Missy Elliott's Top 5 Videos Show Just How Worthy She Is Of The VMA Vanguard Award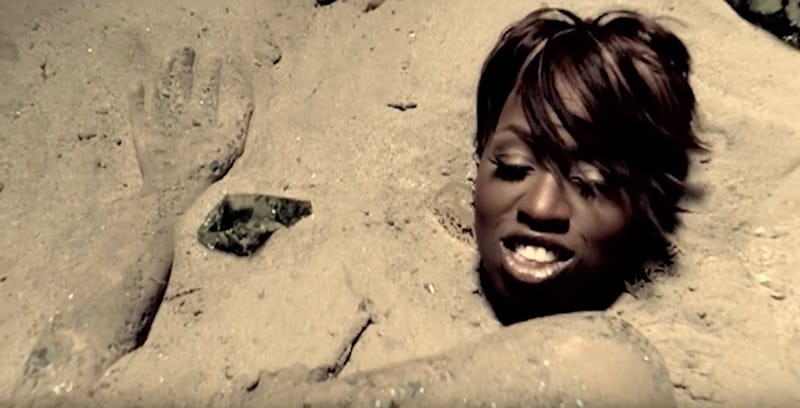 YouTube / Missy Elliott
On Monday, Aug. 26, at the 2019 MTV Video Music Awards, Missy Elliott will receive the Video Vanguard Award. And honestly, it's about damn time. While Missy is obviously best known for being a rap icon, she's also helped completely transform the art of the music video throughout her career with her relatively small but utterly enviable collection of game-changing, zeitgeist-grabbing clips. And these five Missy Elliott music videos show exactly why she's worthy of the VMA Vanguard Award.
For her debut music video, "The Rain (Supa Dupa Fly)," released in 1997, rather than conform to the industry's standards about how glamorous women — especially women of color — should look in a music video, Missy wore a garbage bag. Instead of attempting to mask her body, she exaggerated it to cartoonish levels for the world to see. It showed a willingness to bend pop culture to her will without compromising even a single aspect of who she is, a characteristic that would come to define Missy and her artful videos for years to come.
Over the years, as her repertoire of music videos grew, so did her knack for wacky art references, hypnotizing choreography, and eye-popping visuals. Missy helped turn the music video from a promotional tool into a cultural event, especially in the early 2000s. From the debut of future Disney stars to frequent cameos from Timbaland, Ludacris, and more hip-hop icons, the impact of her videos still hold no bounds, making her one of the most worthy winners of the Video Vanguard.
To celebrate her achievement, throw it back to five of Missy Elliott's best music videos that made true pop culture history.