Natalee Holloway's Dad Is "Hopeful" About A New Discovery In Her Case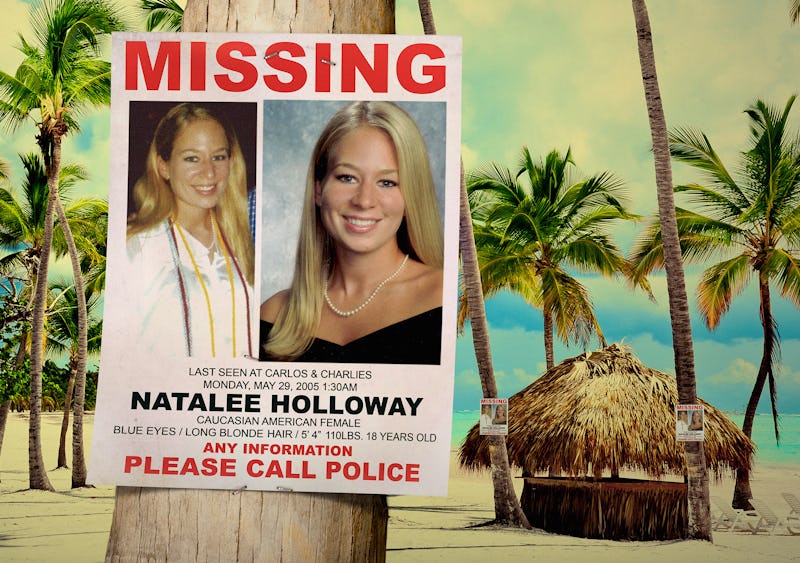 Oxygen
Twelve years after she vanished on vacation, there are 2017 updates to the Natalee Holloway case, which began in 2005 when the 18-year-old disappeared in Aruba. According to Today, human remains were found in Aruba that are being tested to see whether they're a DNA match for Holloway. The remains were discovered over the course of an investigation led by the missing teen's father, Dave Holloway, and private investigator T.J. Ward. This investigation was documented in the new Oxygen series The Disappearance of Natalee Holloway, which will premiere on Saturday, Aug. 19. Though this discovery has given new hope for a case that has remained officially unsolved since 2005, Dave is still reluctant to be too optimistic.
"In 2012 we had Natalie declared deceased, and then things were calm for several years," Dave Holloway says in a sit down interview with Bustle. "You have your closure and then you go into this [new discovery] thinking, OK, is this going to reopen those wounds? And you remain skeptical until you actually see a DNA scan. Are we hopeful? I am, but again there could be disappointment once again."
Natalee disappeared on the island of Aruba in 2005, while on a high school graduation trip. According to CNN, she was last seen getting into a car with three men: Joran Van der Sloot, and brothers Deepak and Satish Kalpoe. Though they have been arrested multiple times in connection with Natalee's disappearance, no one has ever been charged in her case. Van der Sloot is currently serving a prison sentence for killing Peruvian woman Stephany Flores. Natalee's body has yet to be found — perhaps, until now.
But the Holloway family has never given up on finding out what happened to Natalee. During the course of their most recent investigation, a new informant came forward claiming a friend of his had an intimate friendship with Van der Sloot, and knew the location of Natalee's remains. "This information was supposed to go to the grave. And this guy [Van der Sloot's friend] knows, this guy has shared a lot of information with me," private investigator T.J. Ward says in the same sit down interview with Bustle. It was allegedly this information that led to the discovery of human remains behind a house on the island.
Yet this is not the first time the Holloway family has chased down a lead, only to be left disappointed. Dave recounts an incident in 2015, in which a man claimed that Natalee's body had been buried under a Marriott Hotel in Aruba. This information proved false, and the experience has haunted Dave. "After that incident, my wife just fell apart 'cause we've been through so many of these — draining the ponds and bloody mattresses on the other side of the island — just over and over and over," says Dave. "I swore after this Marriott Hotel incident that never again will I get my hopes up high, and never again will I involve my wife and family in hopes of any lead coming forward ... show me the DNA first."
Despite Dave's reservations about investigating another lead, however, the information provided by the informant seemed too good to pass up. And ultimately the investigation has led to the discovery of human remains, though it remains unclear whose body it might be. "If these remains, either way, come back in favor of Dave's family, and or not, there's some explaining to do by this individual who was friends with Joran Van der Sloot, because he possessed these human remains," says Ward. "And he got them. And [the remains] were put in our hands. And we did what we had to do with them to get them tested. And the Aruban authorities have to do something."
The Holloway family has been vocal in their criticism of how the Aruban authorities handled the case, but Ward hopes that the recent discovery of human remains will spur them into action. "I think when the results come back, then we're onto another level. And where's that level going to go? I can't tell you right now, but we have to see what [the Aruban police's] response and reaction is, and who's going to get involved and who's going to take the reins and do something about it," says Ward.
But for now, the Holloway family is hoping they haven't been led down another dead end. "We may be onto something, but then again I had to step back and say wait a minute, I'm leading myself to a path of destruction where even though we've come up with human remains it's like, could it be somebody else?" says Dave.
Ultimately, Ward hopes that this new discovery will end in justice for the Alabama teen who disappeared 12 years ago. "My objective and my goal from 2005 to now, is to bring closure for this family and to prosecute those involved in the disappearance of Natalee Holloway," says Ward. "We need to make sure that somebody pays the ultimate price for Natalee Holloway." And, with Dave and Ward's dedication to the case and the discovery of these remains, that justice and closure may finally come.